On Oct. 24, the U.S. Food and Drug Administration approved the first generic versions of Eli Lilly and Co.'s best-seller, ending 15 years of highly lucrative sales.

The antipsychotic medication racked up $53.6 billion in worldwide sales since it hit the market in October 1996, including roughly $5 billion in each of the past two years.

Now nearly all those sales in the United States and Europe will disappear as patients switch to the low-cost versions of the drug made by India-based Dr. Reddy's Laboratories and by Israel-based Teva Pharmaceutical Industries.

Lilly retains its Zyprexa patent in Japan and some other minor markets.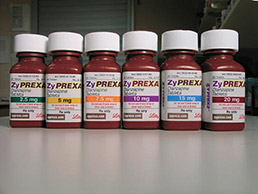 Zyprexa has earned $53.6 billion for Lilly since it hit the market in October 1996. (Photo Courtesy Eli Lilly and Co.)
Lilly also faces the loss of revenue from its No. 2-selling drug, the antidepressant Cymbalta, in 2013. Cymbalta is on pace this year for $4 billion in sales.

In preparation for the loss of Zyprexa and Cymbalta sales, Lilly has been trying to ramp up revenue in emerging markets and its animal health business. At the same time, it has slashed expenses, including laying off 5,500 workers by the end of this year.

Fewer people in-house means Lilly has been turning more to help from outside companies. In Indiana alone, Lilly spent $1.1 billion with more than 1,300 vendors.

"The business climate is going to require us to develop more partnerships," said Mike O'Connor, Lilly's director of state government affairs, adding, "Our vendor network has to be included in our business strategy, more so than it's ever been."