Security for the Super Bowl—which is already several notches higher than it would be for a regular-season NFL game—could get even tighter in Indianapolis.
Sources familiar with the state's and city's security plan said there have been discussions about President Obama's possible attendance at the big game. If that happens, it would be the first time a sitting president has attended a Super Bowl, and it would cause significant security headaches for local, state and federal law enforcement officials.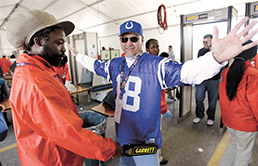 A security guard checks an Indianapolis Colts fan entering Sun Life Stadium before the 2010 Super Bowl in Miami. (AP Photo)
One state official told IBJ that state and other government buildings and parking garages being used for the Super Bowl are getting a closer examination for security concerns in case the president does decide to attend the 2012 Super Bowl.
NFL spokesman Brian McCarthy referred all questions on the matter to the White House. White House officials said any travel plans—if there are any—would not be announced until much closer to the event.
Mike Bates, Indianapolis Metropolitan Police Department deputy chief in charge of homeland security, said if the president does come, his department wouldn't be notified until days before the game, which is set for Feb. 5 at Lucas Oil Stadium.
From a security standpoint, "my hope is that he absolutely does not come," Bates said. "I know he's a big Chicago Bears fan, so I'm hoping they don't make it," he added with a laugh.
With more than 70,000 people expected to attend the game, thousands of other visitors, and an estimated worldwide television audience of 110 million, the Super Bowl is already a tempting terrorist target.
If the president does come, Bates said, the Super Bowl would be tabbed a National Special Security Event, the highest national security concern. In addition, the Secret Service would take over as lead security agency from IMPD, which would continue to help staff the event and its surroundings.
"The current plan wouldn't be scrapped, it would just be added to," Bates said. "There would be an added layer to what's already a hectic situation."
Good for marketing, bad for fans
The Indianapolis Convention and Visitors Association would cheer a presidential visit.
"The Super Bowl is already a celebrity event that transcends sports," said ICVA spokesman Chris Gahl. "But a presidential visit would definitely create even a bigger splash around the world. It would certainly drive overall awareness for the event and host city, and from that standpoint, it would be good for Indianapolis."
Peter Beering, an Indianapolis-based security and emergency preparedness consultant who has worked at myriad large, high-profile events, said one of the biggest issues for fans will be the ease with which they get in and out of events, especially the Super Bowl itself.
"If a sitting president comes, anything and anyone is going to get screened like you're getting on an airplane, and maybe more stringent in some cases," Beering said. "It will create a tidal wave of logistical issues for event organizers and security officials."
Beering estimates that if a president comes to the Super Bowl, it could triple the time it takes fans to get through the gates before the game.
"Checkpoint security would definitely be ratcheted up," Beering said. "The Secret Service won't leave anything to chance."
It's not as though Super Bowl security isn't already tight.
IMPD plans to deploy hundreds of police officers downtown the week of the Super Bowl, including more than 300 patrolling the area outside the stadium and around downtown on game day and another 200 or so inside the stadium. That's about twice as many officers as would be used for a regular-season Indianapolis Colts game or an event such as the Circle City Classic.
There will also be a considerable number of state and federal officers on hand, as well as hundreds of NFL security officers at the stadium.
The FBI plans to bring in at least 200 agents who are trained to handle shooters, bombs and other hazards related to chemical, biological, radiological or nuclear threats.
Networks such as ESPN and some large NFL sponsors will bring in their own security forces, some hiring off-duty local police officers to assist with protecting their on-location equipment, vehicles and staff.
SAFE Management, a Florida-based company that has set up an office in Fountain Square, was hired last month by the NFL to hire and train 2,500 employees for the game, many of which will be deployed as security guards and screeners.
City pays about $4 million, NFL pays $6 million
McCarthy, the NFL spokesman, said the league will spend $6 million for security at the 2012 Super Bowl. It's not clear how much—if any of that—will go toward offsetting IMPD costs.
Dallas officials said the NFL paid them $3 million last year to offset security costs for the Super Bowl in North Texas. Dallas officials estimated their own security costs at $5 million, and NFL officials said they paid a total of about $6 million last year.
Marc Lotter, spokesman for Indianapolis Mayor Greg Ballard, said the Capital Improvement Board will pay the city up to $4 million to handle security. Lotter was unsure of the city's total Super Bowl security costs, but thinks the funds from CIB will cover the majority of the expenses. CIB officials said the money for security will come primarily from taxes generated by Super Bowl visitors.
Indianapolis' Super Bowl security plan has been three years in the making, addressing everything from escorting teams to and from their hotels to securing the NFL's Super Bowl headquarters and NFL Experience at the Indiana Convention Center. The plan also accounts for controlling the crowd of about 150,000 expected to descend on Indianapolis for Super Bowl week and managing traffic flow downtown and around the city.
Also of concern are the 130 parties expected to take place in the five-day run-up to the Super Bowl.
"Maintaining a protective posture for nine or 10 days is the big challenge," said Dallas Police Department Assistant Police Chief Charlie Cato.
Those attending the game can expect to pass through magnetometers—booths and hand-held wands—and be patted down, whether the president is there or not. Large items such as backpacks are banned, as are camcorders, camera and binocular cases, umbrellas and a litany of other items.
ATF teams with bomb-detecting dogs will sweep the stadium before the game. All areas in and around the stadium will be off limits to anyone without a ticket or other credential.
Not only dogs, but also armed police officers and security officials specially trained to detect suspicious behavior will be part of the detail before, during and after the game.
Officials from the National Nuclear Security Administration will be deployed in the days leading up to and including Super Bowl Sunday with equipment to detect radioactive isotopes that could be emitted by a dirty bomb.
During the game, the airspace for a 30-mile radius around the stadium will be restricted and patrolled by NORAD fighter jets.
Newer NFL stadiums—such as Texas Stadium, which hosted the 2011 Super Bowl, and Lucas Oil Stadium—were built with security in mind, including features such as perches for police snipers and surveillance systems that monitor and record nearly every square inch of the property.
In preparation for the Super Bowl, Indianapolis police officials are installing seven security cameras around Lucas Oil Stadium and another six along Georgia Street. A federal grant, city officials said, will pay for the cameras, which cost about $4,000 each.
Some of the security plan's specifics are still being finalized, said IMPD's Bates.
Beering, the consultant, isn't surprised.
"Security plans are like shoes," he said. "You can have very formal shoes that look pretty or you can have running shoes. When you're handling security for something like the Super Bowl, you have to be nimble. And I don't like running in Florsheims."
IMPD's Bates said the plan is "fluid," but that specifics about things like traffic flow and restrictions and crowd-control initiatives would be released in December.•
Please enable JavaScript to view this content.