Peyton Manning's football future isn't the only thing in question.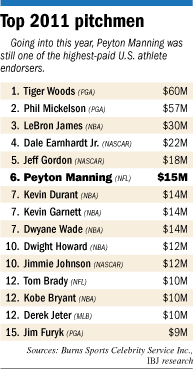 Sidelined for eight weeks and counting with a neck injury, Manning's future as a corporate pitchman is also unclear.
Since Manning underwent neck surgery in early September, gone are almost all the television, print, billboard and myriad other commercials featuring the Indianapolis Colts quarterback.
"It's all about relevance, especially in the midst of a season," said Matt Delzell, group account director for The Marketing Arm, a Dallas-based agency that handles athlete endorsements. "Relevance is who's playing well and leading their team to a Super Bowl. Relevance right now is Aaron Rodgers, Tom Brady and Drew Brees."
Manning—who makes $15 million annually as a corporate pitchman for companies like Reebok, Gatorade, Sony and DirecTV—has long been considered by sports marketers as a figure that transcends his own sport.
According to Chicago-based Burns Sports Celebrity Services Inc., Manning this year is the sixth-highest-paid athlete endorser, and tops in the National Football League. That makes his absence from almost any commercial campaign since September—especially in the heart of the football season—striking.
"I think since he isn't playing and is no longer front and center in terms of his on-field performance, his [corporate partners] have sidelined him," said Jim Andrews, senior vice president for IEG LLC, a Chicago-based branding and sponsorship research and consulting firm. "For athlete endorsers, the association is primarily about their prowess in competition. For Manning, that's not there right now."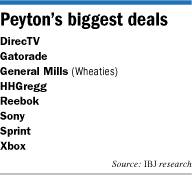 The Manning ad spots, sports marketers said, became iconic in a cluttered advertising landscape and had almost as much to do with making him a household name as his reputation as one of the NFL's all-time great quarterbacks.
Manning became widely known for MasterCard spots in which he cheered on everyday workers and for Oreo and ESPN commercials that showed him clowning around with his brother, N.Y. Giants quarterback Eli Manning. In his most recent campaign for DirecTV, he and Eli posed as cops who used footballs as weapons.
Things have changed quickly for Manning. He ranked fifth in the 2010 Power 100, a list of the most powerful athletes on and off the field compiled by Bloomberg Businessweek and Capital Sports & Entertainment, an Austin, Texas-based sports and entertainment firm.
A 2010 60 Minutes/Vanity Fair nationwide poll ranked Manning as the most apt to replace Tiger Woods as the nation's leading athletic role model in the wake of Woods' sex scandal. Twenty-three percent of poll respondents chose Manning. No other athlete got more than 6 percent.
"You're talking about a guy who for the last 10 years has been one of the most marketable athletes in the world," Delzell said. "The way he's completely dropped off the radar is stark, in some ways stunning. In another way, it's a reminder how short the window of opportunity is for a lot of athletes. Even a great one like Peyton Manning."
Coincidence?
Officials for IMG Worldwide, which represents Manning, said the injury has had little impact on the quarterback's corporate deals. All those deals, IMG said, are good through 2012 and beyond. IMG declined to discuss Manning's situation in detail.
Sources close to Manning said the fact he is largely absent from commercial campaigns this fall is mostly happenstance, noting that the ad buys and placements were made far in advance of Manning's decision to undergo neck surgery and perhaps miss the entire 2011 season.
Sony shot its Manning ads in December and ran those spots in August and September. The fact that Manning was in the ads in plain clothes, not his trademark No. 18 jersey, had nothing to do with his injury, said Sony officials. Sony also decided before the extent of Manning's injury was known to end its HD campaign on CBS—a campaign that featured Manning and other NFL players.
DirecTV ran its campaign featuring Manning over the summer leading up to this season. Reebok officials said they decided to use previously made commercials for the company's fall campaign.
Kraft Food officials said they parted ways with Peyton before this season started, but had decided to continue with Eli Manning for its Oreo cookies campaign.
Officials for MasterCard said its decision to end its relationship with Manning before last year had nothing to do with the quarterback's on-field future.
General Mills officials said Manning is still a pitchman for their Wheaties cereal, but they decided not to run extensive TV ads this year.
What's not a coincidence is that the NFL and its TV partners have removed Manning from most of their promotions. Most noticeably, Manning is no longer present—as he has been in years past—for Sunday and Monday night games promotions.
"His total disappearance from the commercial landscape is simply too widespread to be coincidental," said Larry DeGaris, director of academic sports marketing programs at the University of Indianapolis. "There's no doubt that Manning was the star of the decade, certainly in the NFL. Now, his decade may be over. It makes you wonder if he has a commercial future after his football career is over."
Cost not an issue
There are several reasons his corporate partners might have sacked Manning this year, but cost likely isn't one of them.
While each of Manning's national corporate deals pays him $1 million to $3 million annually, whether he appears in an ad or not, his salary is not the greatest cost for his corporate partners.
"Buying the ad time is a far greater cost than paying Manning," DeGaris said. "Even if they've already produced ads with Manning in them, the production costs still pale in comparison to the time buys."
Manning's price tag is a "relative drop in the bucket," for the blue chip companies that have hired him, Delzell said.
Sony, for instance, will spend $5 billion on advertising and marketing this year. The Japanese company has a $250 million marketing budget just to promote its PlayStation products in the United States.
"The types of companies that Manning has partnered with are major corporations with a lot of resources and a lot of options," Andrews said.
There are other reasons.
"It's about image," he said. "They don't want their ads associated with reminding people about Manning's injury or the fact that the Colts are winless without him. There's also the perception by fans that Manning should be rehabbing his injury, not shooting commercials. So a company, even if the perception is wrong, wouldn't want to be seen as hindering Manning's recovery in any way."
Commercial future questioned
There's always been a notion among marketers that stars like Manning—who are smart, funny, personable and good on camera—transcend the appeal they have as athletes. Andrews still thinks Manning has a bright endorsement career once his playing days are over—whether that's next year or beyond.
"Advertisers were caught off guard by the injury," Andrews said. "They were prepared to cast him in the role of a player this year. When he's retired, they can recast him in whatever role he takes."
DeGaris isn't so sure.
"In the modern environment, there are very few athletes with long-term staying power," DeGaris said. "Look at Joe Montana. In his day, no quarterback was more celebrated. Now he's doing commercials for Sketchers Shape-Ups."
There are a few athletes who have had post-retirement commercial lives. Brett Favre is still doing Wrangler jeans ads. Michael Jordan remains a prominent pitchman for Haines underwear. No one had a longer commercial career than Joe DiMaggio, who did Mr. Coffee and other commercials years after he retired from baseball.
"Jordan, and especially DiMaggio, very carefully managed their image," DeGaris said. "Some of Jordan's ads might have been humorous, but he is always the straight man. DiMaggio always portrayed himself as dignified. When you have the Manning brothers acting like kids in an Oreo commercial, that's not what legends do. When you appear in an ad wearing a fake mustache and toupee, I don't think that type of image is enduring."
Companies need answers
Next year is going to be Manning's most intriguing season. Colts officials aren't the only ones who want to know—soon—if No. 18 will be back on the field.
Most endorsement contracts have morals clauses to govern behavior, but few have performance or injury clauses allowing companies to opt out of endorsement deals when athletes can't play.
Besides, Delzell said, despite the injury, Manning is still a considerable marketing asset. In a study concluded in September, The Marketing Arm found that 84 percent of U.S. consumers know Manning. Of those who know him, 88 percent say they like him to some degree. The study showed that Manning's endorsement score is on par with stars like George Clooney, Sean Connery and Clint Eastwood.
"His image is up there with some well-respected A-list celebrities," Delzell said. "Corporations with a spokesman of that stature won't just shove him aside without some serious thought. You want to preserve an asset like that as long as you can."
So Manning's corporate partners must decide how to use the star quarterback in their 2012 campaigns. Most large corporations begin in the fall planning ad campaigns for the following year.
NFL players usually start doing commercial work shortly after the season ends in February and before the start of mandatory off-season workouts later in the spring and summer.
"A lot of people on a lot of levels want to know the same thing," Andrews said. "Can Peyton play? Will he ever be able to lead a team on the field again?"•
Please enable JavaScript to view this content.