A new real estate development firm launched by a pair of tech-savvy twentysomethings is cutting its teeth on a $1.5 million boutique office project in the heart of Broad Ripple.
Kyle Robinson, 28, and Drew Loftus, 26, are in the process of buying and rezoning a trio of vacant, connected buildings at 6334 Westfield Blvd., where the Monon Trail crosses the canal.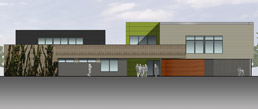 The renovation project will create 9,000 square feet of office space.
The renovation project, the cost of which includes acquisition, will result in 9,000 square feet of office space flanking a small courtyard facing the Monon.
The new firm, Loftus Robinson Development, is asking $26 per square foot for the space, which Robinson said will probably house from three to seven office tenants. Though all inquiries so far have been from office-space users, it's possible there will be a retail tenant on the Monon side, he said.
The asking rent is higher than what most Class A suburban buildings charge, but prospective tenants haven't objected, said Jack Hogan, the Jones Lang LaSalle broker who has the listing.
"People are willing to pay a little more to be in Broad Ripple," he said. It's essentially brand new office space in a highly desirable part of town where office space is scarce, he said. "There isn't a lot of unique, interesting office space in Broad Ripple that appeals to young entrepreneurs."
Hogan expects half the space to be spoken for in the next week. The price includes parking. The developer is in the process of securing spaces off site that are close to the property.
Bike racks might be just as important to the kinds of tenants that are showing interest, Hogan said. The development will include bike storage and showers. The LEED-certified building will have direct access to the Monon Trail, one of the city's busiest bike trails.   
Hogan just joined Jones Lang LaSalle after working independently for about a year. He previously had a long career with Lauth Property Group.
That's where he met Robinson, a Rose-Hulman grad with an engineering degree who became a lawyer before working as an analyst for Lauth. Robinson's day job now is in-house legal counsel and director of operations for local start-up Precise Path Robotics.
Loftus, who graduated from Indiana State, had been a development intern at Thompson Thrift Development before joining the firm full time in 2008. He's now in charge of business development for local technology start-up TinderBox.
The Broad Ripple Village Association supports the project, but no one involved with the group was available to comment.
The buildings involved in the Loftus Robinson project previously housed at various times a boat-engine repair shop, a veterinary clinic and a pet supply store. The southernmost of the three buildings is believed to be at least 100 years old.
All of the structures will be gutted and reskinned and a second floor will be added to one of them. Completion is scheduled for next spring. The architect is Eric Weflen
Please enable JavaScript to view this content.