The Oct. 21 shooting of a clerk at a north-side Village Pantry came just four months after the convenience-store chain settled allegations by state inspectors that another of its Indianapolis stores failed to establish and maintain "reasonably safe" working conditions.
The settlement will keep every Village Pantry in Indiana under state scrutiny through June 2014. During that time, the North Carolina-based chain will have to submit quarterly reports detailing corrective actions to improve safety and security.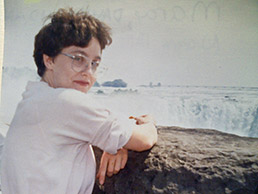 Marcella Birnell was robbed repeatedly during her 10 years at Village Pantry. (Photo Courtesy Perry Tole)
The Indiana Occupational Safety and Health Administration opened its investigation after two men fatally shot a 62-year-old female clerk at the 1402 S. Meridian St. store during an early-morning robbery in November 2009.
The investigation found employees at that store had been involved in more than 32 robberies involving force since 2000. As part of the settlement—which reduced Village Pantry's fine from the originally proposed $67,500 to $7,000—the chain "did come forward with a very extensive commitment to change processes and procedures in all 134 of their stores in Indiana," said Robert Dittmer, a spokesman for the Indiana Department of Labor, which administers the IOSHA program.
Village Pantry had picked the site of the latest shooting—1415 W. 86th St.—as one of its four demonstration sites for new equipment and processes it planned to roll out statewide, and it had begun to make changes there, Dittmer said.
But the family of Marcella Birnell, who is in critical condition at St. Vincent Hospital after being shot in the head while working the overnight shift at the store, said they're unaware of new steps to protect workers.
Police arrested a 15-year-old North Central High School student in the shooting. They say Village Pantry provided video camera footage showing the student wandering around the store, then preparing  to purchase a package of Runts candies before changing his mind and instead bringing two bags of chips and a Powerade to the counter.
After Birnell rang up the total, the male pulled out a black revolver and demanded the money in the register, court records say. As Birnell began to turn away, the suspect stuck the gun about 3 feet from Birnell's head and pulled the trigger.
Police reports show Birnell, 45, who normally worked alone and was the only clerk the night of the shooting, had been robbed five previous times while working at that store or another location at 4921 W. 71st St.
"I know for a fact Marcy had asked several times after being robbed—after being punched to the floor unconscious, after being shot in the chest with a BB gun—for additional security," said Perry Tole, her brother-in-law. "But they refused. They told her no."
Tole said he believes Village Pantry is playing "Russian roulette" with the lives of employees. The solution, he said, is passage of a "Marcy's law"—state legislation the family is championing that would mandate basic safety standards for convenience stores, including bulletproof safe zones and a prohibition against clerks working alone.
Tole has begun contacting lawmakers to rally support. Among the legislators he's scheduled to meet with is Rep. Ed DeLaney, an Indianapolis Democrat whose district encompasses the store where the shooting occurred.
"I'm very concerned about violent crime, and I'm very concerned about the risks ordinary citizens take in working long hours at convenience stores," DeLaney said. However, he added, "It's very complex, because we don't want to overburden stores."
Village Pantry, founded in the 1960s by Marsh Supermarkets, now is part of Wilmington, N.C.-based VPS Convenience Store Group. VPS, owned by Florida-based Sun Capital Partners, operates more than 400 locations under such names as Scotchman Scores, Lil' Cricket Convenience Stores and Next Door Stores.
The company's PR counsel, Stanton Public Relations in New York City, would not make executives available for an interview. But in a written statement, VPS said: "We are deeply saddened by this tragic incident, and are providing Marcy with strong support so she can continue to heal."
The company added: "We are well ahead of schedule in implementing a comprehensive safety plan developed in cooperation with IOSHA, but we are also continuously assessing additional measures that may be necessary to protect employees and customers."
VPS said it's providing employees with mandatory monthly and quarterly safety education. The chain said it also is installing advanced digital video surveillance equipment, safety barrier doors at high-risk locations, and time-delayed safes allowing employees to make frequent cash deposits. In addition, VPS said it has removed excessive window signage and reconfigured store layouts to eliminate blind spots.
Stanton officials did not respond to inquiries about whether Village Pantry would consider having a second clerk working during overnight shifts. Nothing in the chain's agreement with the state would require it to do so. "Multiple clerks is something most of our stores have gone to over the years," said Joseph Lackey, president of the Indiana Grocery & Convenience Store Association since 1973.
Dittmer of the Indiana Department of Labor said Indiana law requires that IOSHA investigate any time a worker is killed on the job. While the recent shooting doesn't trigger a new probe, Dittmer noted IOSHA already is monitoring the chain under the terms of the settlement and will look into what occurred and whether Village Pantry should have taken additional preventive actions.
Reducing risk
Lackey said chains have been taking steps for decades to reduce risk, though nothing can eliminate it entirely. One positive step has been frequent cash drops into safes clerks can't open.
"Word gets around on the street you are not going to get any money," he said.
Convenience store robberies have long plagued communities across the country, in part because the stores are so ubiquitous and have locations in beaten-down areas that other kinds of businesses avoid.
It's not clear whether the problem is getting worse. While the Indianapolis Metropolitan Police Department tracks business robberies, it doesn't track convenience stores as a subgroup, department spokeswoman Catherine Cummings said.
The FBI, using estimates and submissions by police agencies, reported 22,642 robberies of gas stations or convenience stores nationwide in 2009, the latest year available. That was down nearly 13 percent from 2008. According to the FBI, 7.5 percent of all robberies in 2009 occurred at gas stations or convenience stores.
Tougher standards
Indiana wouldn't be the first state to crack down. In 2004, the New Mexico Environmental Improvement Board rolled out a host of rules, including a requirement that stores have two clerks during late shifts unless they install bullet-resistant glass to protect an employee working alone.
Four years after implementation, the state studied convenience-store crimes in six communities. It found slayings decreased 44 percent a year, while theft and robberies fell 92 percent.
Some municipalities—including Houston and Hartford, Conn.—also have passed ordinances mandating minimum safety and security procedures.
Trade groups say they're open to discussing ways to improve the safety and security of employees and shoppers in Indiana. But some industry leaders say oft-discussed measures—such as keeping employees behind bullet-resistant glass or staffing stores with at least two employees—can have unintended consequences.
A robber wanting to lure a clerk out from behind glass, for instance, might take a customer hostage, said Scot Imus, executive director of the Indiana Petroleum Marketers & Convenience Store Association.
And someone determined to rob a convenience store staffed with two clerks might end up shooting both, he said.
"Until we see [proposed legislation], we won't have an opinion either way," Imus said. "Our standard is, let's make sure what we are passing proves to be effective and doesn't just create additional problems."•
Please enable JavaScript to view this content.