City planners are recommending denial of a variance request for a Jack in the Box restaurant proposed for Meridian Street just south of 16th Street.
In a staff report, planners expressed concerns about the proximity of the restaurant's sign to a neighboring sign for CVS and a proposed drive-through along the building's east façade.
Urban design guidelines prohibit new drive-throughs along Meridian or Pennsylvania streets in the downtown vicinity. The noise and lights from cars and the drive-through speaker would disturb residential properties nearby, the report notes.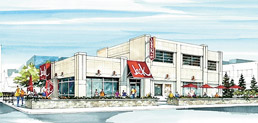 The proposed design for a new Jack in the Box restaurant near Meridian and 16th streets is a departure from the chain's standard-format restaurants. (Courtesy rendering)
But several businesses in the immediate vicinity, including CVS, Walgreens, McDonald's, Chase and White Castle, already operate drive-throughs, a point that likely won't be lost on attorneys representing the San Diego-based restaurant chain.
The plans are scheduled for a Board of Zoning Appeals hearing Nov. 15.
Please enable JavaScript to view this content.