The new green awning and giant letters on the façade of 10 E. Washington St. make it official: The 500-location menswear chain Jos. A. Bank is joining the city's most testosterone-charged downtown block.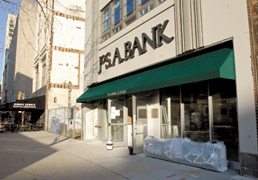 Jos. A. Bank, on East Washington Street, is the first men's clothing store at street level in the downtown core since the 1990s. (IBJ Photo/ Perry Reichanadter)
The 4,000-square-foot men's store is the newest tenant on a stretch that features Red's Classic Barber Shop, Prohibition-inspired The Libertine restaurant and liquor bar, the Sport Events ticket brokerage and American Top Team of Indianapolis, which offers courses in kickboxing, wrestling and mixed martial arts.

The vote of confidence from a growing national retailer like Jos. A. Bank could help persuade other stores to give downtown a look. Most retailers have gravitated to Circle Centre mall, while restaurants fill downtown's street-level spaces.

"By nature, retailers are followers, not pioneers," said Brian Epstein, a veteran retail broker and president of Indianapolis-based Urban Space Commercial Properties. "They want to see other people doing well. To get more street-front retail, you need success stories."

The closure earlier this year of Borders, which occupied the southeast corner of Meridian and Washington streets, was undoubtedly a setback. But that was a chain-wide issue.

A more encouraging example is the T-Mobile store at the intersection's northwest corner. The mobile phone company in 2009 agreed to pay $70 per foot—still the city's richest retail deal—for the billboard-quality 2,200-square-foot space.

One challenge for retailers looking at downtown is all but a few of the prime locations have been snapped up by restaurants—a more proven user for street-level spaces, said John Byrne, a vice president in the local office of Cassidy Turley who represented T-Mobile in its deal at Meridian and Washington.

He called the arrival of the discount-oriented Jos. A. Bank a "coup" for downtown—particularly since there are few retail success stories to date east of Meridian Street.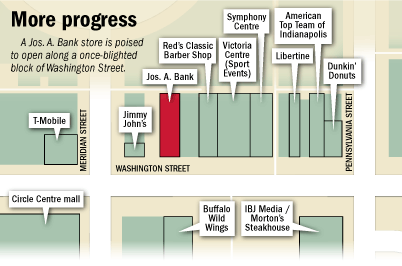 Byrne said he expects another jewelry store or cell phone company could be among the next street-level retailers downtown. Many national retailers maintain a list of tenants they hope to have as neighbors; deals are unlikely if no stores nearby are targeting a similar customer demographic.

Circle Centre's former Nordstrom space is another story since it could offer access to both street-level and mall traffic.

"If one fashion retailer with a national name would come into that Nordstrom area, it could bring in several more," Byrne said, though he noted the first-floor spaces are more likely to attract restaurant users.

The Jos. A. Bank store is the first men's store at street level in the downtown core since Redwood & Ross shut down in the 1990s. The upscale menswear chain had occupied street-level space in the 17-story Barnes & Thornburg Building at 11 S. Meridian St., which most recently was home to Borders.

Jos. A. Bank, founded in 1905 and based in Maryland, sells suits, tuxedos and other menswear to budget-conscious customers. The chain has expanded rapidly, with a focus on opening stores near major shopping malls, said Bill French, a Cassidy Turley principal.

"It's a component that's really missing in the downtown mix," French said. "They have a specific niche" that appeals to both business travelers and downtown office workers.

The shop is the first tenant for a redevelopment project dubbed McOuat (pronounced "Mc-Coo-it") Place after the seven-story McOuat Building next door at 14 E. Washington St.

Plans call for the McOuat to house 19 to 21 one-bedroom loft apartments on floors three to seven. Available retail spaces on the first and second floors will range from 3,600 square feet to about 15,500 square feet.

The developer, Uptown Realty Investors, is led by Summit Realty Group principals John Demaree and Bill Ehret.

A restaurant is the most likely tenant for the first-floor space, which carries an asking rent of about $40 per square foot, local brokers said.

Street-level spaces farther east along Washington Street command in the range of $15 to $20 per square foot.

Demaree and Ehret began acquiring pieces of the redevelopment property about a decade ago, when they bought and demolished the first two buildings.

In 2007, the pair began working on plans to build a 10-story structure, a move that would have required demolition of the building Jos. A. Bank now occupies, but that deal fell through in 2009. They also hope to build a structure on a vacant lot to the west of 10 E. Washington St.•