Is this the way to train quality school teachers?

Indiana University's School of Education hands out A's to nearly four out of every five undergraduates—twice as many as given by IU professors in fields such as English, history and sociology.

There's a similar abundance of A's doled out by the education colleges at Purdue and Ball State universities, even though education students don't outperform their peers on standardized tests.

It's a sign of low expectations, which can only lead to unprepared schoolteachers and to low expectations in public schools, says Tony Bennett, Indiana's superintendent of public instruction.

Bennett wants the university education colleges to improve the rigor of their programs—he hopes on their own—but if not, with the encouragement of new regulations or laws.

"It's an intellectual disconnect. You either have grade inflation by the professors or you have less-rigorous courses," Bennett said. Either way, he added, it's a hindrance to improving schools.

To no surprise, education deans at IU, Purdue and Ball State disagree. They say the higher percentage of A's reflects a different philosophy toward grading and different goals than those held by other academic departments.

"The important thing is, we look at what students are able to do. I see students who are being hired, who are completing their education, who are staying in the profession, who are winning statewide and

national awards," said Gerardo Gonzalez, dean of IU's education school.

And public school administrators say grades are a minor part of whom they hire. Classroom performance and references are more important, they say.

The dispute over whether Indiana's teacher training programs are rigorous enough is not a new one. In 2009, Bennett sparred with education deans—especially Gonzalez—when he pushed new teacher licensing requirements that forced teachers-to-be to take more courses in their field of concentration, rather than an abundance of pedagogical courses.

And it has long been a common assumption on college campuses that education courses are easier to pass and, therefore, are a magnet for students who can't hack it in other departments.

"If you can pass elementary school, you can pass elementary education," goes one joke among IU students.

But the debate has fresh urgency. The Legislature passed a requirement this year that teachers in Indiana's K-12 public schools be evaluated annually and ranked in one of four categories. Only teachers in the highest two categories will be eligible for raises and promotions. And teachers who spend two years in the lowest category can be fired.

These evaluations will be based, in part, on how well each teacher's students do at improving their scores on the state's standardized ISTEP test, and perhaps other tests, too. Those students' performance data also will be tracked back to the university that trained the students' teacher, so that each education school in the state will have a profile showing how well its graduates appear to do at advancing student learning.

Bennett said those teacher college performance reports could be ready within a year or two.

"We have to continue to illustrate to school corporations, to school principals, and to students and parents, how well teacher ed programs contribute to teacher preparation," Bennett said. "This is exactly why we pursued the reforms we pursued in aligning student performance with the preparation programs. So we can have exactly the data we need so we can show which preparatory programs are doing a good job."

Lower standards?

At first blush, it appears Indiana's largest teacher training programs are making it hard not to look like a superstar teacher candidate.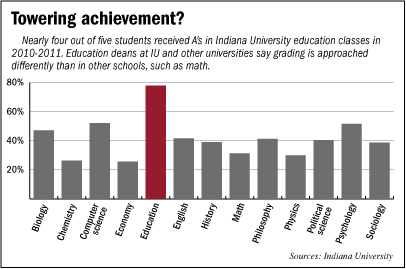 IBJ tallied all A-through-F grades given in the 2010-2011 school year to undergraduates taught by education faculty at IU, Ball State and Purdue. IBJ's analysis excluded 100-level courses in order to make the education grades more comparable to other departments. For example, education colleges have no equivalent to the massive 100-level writing courses taught by most university English departments to nearly all students at the university.

At IU, 78 percent of grades given in the education courses were an A or A-. Only 5 percent of the grades were a C, D or F.

At Ball State, 72 percent of education grades were an A or A-. Fewer than 10 percent were C's, D's or F's.

And at Purdue, 70 percent of education grades were an A or A-. Fewer than 7 percent were C's, D's or F's.

Using the same method, Cory Koedel, an economist at the University of Missouri, found similar results at 11 public universities, according to an August article he published in the academic journal Education Policy Analysis Archives.

In every case, education department grades were markedly higher than in 12 other departments Koedel studied: biology, chemistry, computer science, economics, math, history, English, philosophy, physics, political science, psychology and sociology.

"I think it's pretty universal," Koedel said in an interview. About what he called inflated education grades, Koedel added, "I knew this was going on, but I didn't realize it was this bad."

Koedel determined that the higher grades cannot be explained as stemming from smaller class sizes or higher test scores among education students. In fact, students who major in education—particularly elementary education—tend to have lower SAT and ACT scores in high school than students majoring in other disciplines.

Koedel did conclude, however, that university education departments have lower grading standards than other departments.

"There are lots of reasons that this could hurt kids in K-12 schools. This could cause students to learn less. It creates a culture of lower expectations," he said. "I haven't heard of a single way that it could help."

Different priorities

But the leaders of the IU, Purdue and Ball State education colleges say Koedel is way off base to link high grades to low expectations in schools.

In fact, they say, the gap in grades between education schools and other departments is not nearly so great in reality as it is in Koedel's statistics.

Part of the gap stems from women dominating education schools, they said, noting that women tend to have higher grades than men.

And even though education majors have lower test scores, Purdue's Office of Enrollment Management Analysis produced a study of grade data showing that education majors have outscored their peers in the common courses nearly all Purdue students take—such as introductions to chemistry, sociology, psychology and English—in three of the past four semesters.

In addition, the deans at IU and Ball State both mentioned that they require grade-point averages of 2.5 to admit students to their education colleges—higher than the 2.0 GPAs required for admission to the university as a whole.

"We're teaching high achievers who already have a track record of academic success," John Jacobson, dean of the teachers college at Ball State, said in an e-mail.

Jacobson didn't mention that the average undergraduate GPA at Ball State is roughly 3.0—as it is at IU, Purdue and nearly all public universities nationwide. The Teachers College's 2.5 GPA threshold is, therefore, modest by comparison.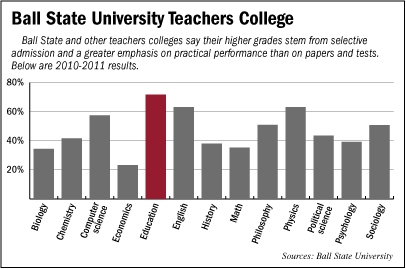 But perhaps the bigger issue is that education faculty approach grading quite differently than do their peers in other departments. They fundamentally reject the notion of grading on a bell curve, which most departments follow. Instead, most education professors grade students based on whether their work meets professional teaching standards. Such standards call for teachers to demonstrate adequate knowledge of their subjects, the ability to teach it in multiple ways to students of differing learning styles, as well as the know-how to assess students in a variety of ways to determine if they have learned the material.

Such an approach allows for the possibility that large percentages of students will meet those standards.

It's also common for Purdue and IU education faculty to give their students multiple tries to reach those standards—something far less common in other departments.

"Sometimes they need to do that particular task or assignment three or four times until it rises to the level of an A," said Maryann Santos de Barona, dean of Purdue's education college. "Just giving students in elementary school or high school or at the undergraduate level one opportunity to learn is not providing an optimal level for experience. Because very often we learn better when we are given feedback about our errors."

That's a defensible approach, the deans said, because the goal of teacher training is not merely to make sure students know the content they need to know, but also that they can communicate it to a whole variety of students. Such student-dependent communication is a skill itself—though an underappreciated one, in the deans' minds—and can only be proved by doing, not by writing papers or taking tests on the topic.

That's what Christine Collier, administrator of Indianapolis Public Schools' Center for Inquiry three magnet schools, looks for when she hires a teacher. In fact, she never hires someone without first going to watch them teach in a classroom.

"It's not just about the grades," Collier said. "It's all the other skills in practice."

Gonzalez said the goals of IU's education school are more like the music school, where reading a score, knowing music theory and even history are all important. But in the end, it's being able to play the music that really counts.

At IU's music school, incidentally, 66 percent of the grades handed out last year were an A or A-. About 12 percent were C's, D's or F's.

"What we really need to do is look at the performance of those who make it through the program," Gonzalez said.

On that point, at least, Gonzalez and Bennett agree. Where they part ways is on whether the education schools—including pre-eminent ones like IU, Purdue and Ball State—are doing an adequate job now or not.

"I've personally spoken to juniors and seniors in some of our teacher ed programs in our state university teacher ed programs, and they do not feel ready," Bennett said.

"I would hope that Dean Gonzalez would focus on how schools of education can continue to improve and continue to contribute to education reform, and not continue his pattern of defending the status quo."•