Christine Collier, the longtime leader of the Center for Inquiry elementary and middle schools, spends most of her time these days dreaming about high school.
Collier is designing a new high school within the Indianapolis Public Schools system, which will be the first in the area to use the rigorous International Baccalaureate curriculum with all its students. Collier hopes it draws students who now attend some of the highest-achieving K-8 schools in the IPS system.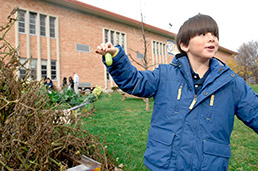 Ezra Liu, a kindergartener at one of the IPS Center for Inquiry schools, holds up a plucked pepper for his fellow students in gardening club to see. (IBJ Photo/ Perry Reichanadter)
An increasing number of those students have been leaving IPS recently, Collier said, heading off to North Central High School or to the Herron High charter school, rather than to IPS' special programs at Arsenal Technical, Broad Ripple and Northwest high schools.
"It will fill a need that maybe wasn't being met," said Collier of the high school she's planning, which will be called Gambold Preparatory Magnet High School and is scheduled to open in the fall of 2012. She added, "One of the goals is to retain kids in our district."
That's increasingly important for IPS to do. Its enrollment already has been sharply reduced by the nearly 30 charter schools opened in Marion County in the past decade. And Indianapolis Mayor Greg Ballard has vowed to create at least 20 more in the next five years.
In addition, new state-funded vouchers for private-school tuition drew more than 350 of IPS' 32,000 students this year.
The new Gambold school, on 38th Street west of Lafayette Square Mall, is IPS' attempt to address a problem that Superintendent Eugene White has long admitted: While IPS boasted many K-8 schools with stellar academic results, the district has had no high schools that matched them.
This summer's high-profile process in which the Indiana Department of Education took over three of IPS' poorest-performing high schools only reinforced public perceptions that IPS is undesirable for high school students.
But perhaps the Gambold school will change that.
The school initially will offer ninth grade only, but will grow to include 400 to 600 students in grades 9-12. It is specifically designed to attract the graduates from seven IPS middle schools: the three Center for Inquiry schools Collier oversees, three Montessori schools and the Merle Sidener Gifted Academy. But as a magnet school, it would be open to any IPS students who apply.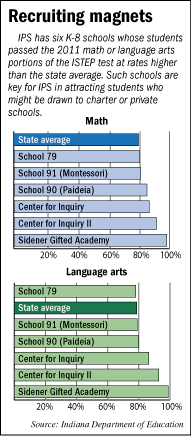 The six of those schools that were open last year enrolled 2,500 students, less than 10 percent of IPS' total. The students at those schools tended to be wealthier, with one in three paying full price for their lunches, as opposed to fewer than one in five in IPS as a whole.
The six schools have slightly higher percentages of special education students and students learning English as a second language.
The six had higher percentages of white and Hispanic students, but lower percentages of black students than the district as a whole. Overall, 81 percent of IPS students are minorities, compared with 66 percent at the six schools that will feed Gambold.
But their academic results are far superior. For all students in IPS, 57 percent passed the language arts portion of the state-standardized ISTEP test this spring, and 59 percent passed the math portion.
But in the six schools that will feed into Gambold, 81 percent passed the language arts test and 84 percent passed the math test.
To be sure, IPS has other schools that post high results, some even higher than two of the Montessori schools. But these six have proved both popular and high-performing. And perhaps none more so than the Center for Inquiry schools.
Collier was named the top elementary school principal in the state last year by the Indiana Association of School Principals. And the Center for Inquiry II, in the Meridian Kessler neighborhood, was named the top magnet elementary school in the country this year by Magnet Schools of America.
With kindergarten waiting lists of 260 families at the two existing Center for Inquiry schools, IPS created a third one this year.
The curriculum at Center for Inquiry uses the International Baccalaureate program, something rare for elementary and middle schools. The curriculum focuses on kids experimenting and asking questions as the starting points for learning.
This month at the newest Center for Inquiry, in the Herron-Morton neighborhood, 10 students followed their teacher outside for an hour of gardening, which began with the students wrestling the vines of a tomato plant to pluck off the last fruits of the season.
"That is the first time I ever had a cherry tomato. That was delicious," said second-grader Jazmine Wampler after popping a half-ripe one into her mouth. "It was a new taste to my mouth."
  IPS' Center for Inquiry school has students experiment and ask questions as the starting points for their learning, and has achieved impressive academic results. (IBJ Photo/ Perry Reichanadter)
Wampler, who is 7 but pretends to be 9 "because I so want to be 9," said her favorite thing about her school is writing, "because I get to write my own stories."
Stiff competition
Such schools have been key for IPS, in the face of stiffer competition, to keep attracting families with the means to send their kids outside the district or to charter schools. For instance, Leonard Hoops, who in March was named CEO of the Indianapolis Convention & Visitors Association, enrolled his son Cannon as a kindergartner at the newest Center for Inquiry.
"We heard things that were not glowing about IPS. People were pushing us to move to Hamilton County," said Hoops, who moved his family to Indianapolis from San Francisco.
But Hoops and his wife, Dorene, were impressed with the passion of IPS' special education team, which developed a plan for their son, who has cerebral palsy. And they liked the quality and international focus of the Center for Inquiry.
"We didn't take the job until Dorene felt convinced that a CFI program would work," Hoops said.
Attracting parents like the Hoops is key, said IPS spokeswoman Mary Louise Bewley, because they can help woo other families, who often avoid the district based on its reputation, not realizing that many IPS schools are high-performers.
Battling perceptions
"There's a perception that IPS schools are dirty, that IPS schools have graffiti on the wall, that IPS schools are violent," said Bewley, who handles IPS marketing. "For some reason, folks continue to focus on the negatives of the district, even though there are so many positives. It's just an ongoing struggle to break through the noise of negative."
One concern that even Collier has with the Gambold school is whether its West 38th Street location will be unattractive to families with kids enrolled in the seven K-8 schools that will feed it. The district picked the site because it has a shuttered school there. But it's far from the feeder schools, which are north and east of downtown.
Even so, the Gambold school got twice as many applications as any other magnet school IPS has created, Bewley said, giving her confidence parents will make the trek.
Rep. Mary Ann Sullivan, D-Indianapolis, said IPS' efforts to expand magnet programs is the right strategy. But she said the district needs to show it can spread its success at its K-8 magnet schools to the rest of its schools.
"Most of the IPS successful magnets are skewed toward middle-income families," said Sullivan, whose daughter teaches at one of the Center for Inquiry schools. "I would like to see them do some things with their populations that are having the most difficulty."
She mentioned the Arlington Woods Elementary School, a neighborhood school with no special magnet program, that last year advanced its students' test scores much faster than the state average, boosting its math-passing percentage to 77 percent.
"High-poverty schools that are getting great results with kids against the odds—can the district help replicate those kinds of successes?" Sullivan said. "That's where you're really getting at the core of the problem."•
Please enable JavaScript to view this content.