A real estate brokerage picked by the city to spearhead redevelopment of a prime Mass Ave parcel occupied by the Indianapolis Fire Department stands to collect a million-dollar-plus payday if it closes the deal.
The local office of CB Richard Ellis—which is helping the city seek proposals for the 1.45-acre property at Massachusetts Avenue and New Jersey Street—is entitled to a fee equal to 4 percent of the total cost of redeveloping the site and relocating the Indianapolis Fire Department headquarters, Fire Station No. 7 and the Firefighters Credit Union.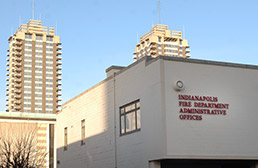 The city is hoping to land a dense mixed-use project on a Mass Ave parcel. (IBJ Photo/ Perry Reichanadter)
The unusual arrangement has local developers grumbling. They say the fee—to be paid by the project's developer—means the city will have to kick in a larger subsidy to make the numbers work.
Prominent local developers including Browning Investments, Flaherty & Collins Properties and Milhaus Development are expected to submit bids by the Nov. 21 deadline. The proposals likely will include a mix of apartments or office space combined with ground-floor retail.
Observers expect the project's price will range from $30 million to $50 million, resulting in a fee to CB Richard Ellis from $1.2 million to $2 million. Separate deals involving new locations for fire department functions could push that total higher.
Unique arrangement, deal
Typically, consultants or brokers working on behalf of a public-sector agency are compensated either with a flat or hourly fee paid by the municipality that hired them, said Rob Hunden, president of Chicago-based Hunden Strategic Partners, which consults on mixed-use development projects.
"It just doesn't make sense why the developer, whoever is chosen, has to absorb those costs," Hunden said. "It makes the deal less competitive. It's not something that we have ever seen. It will just add to the requested government incentive."
John Merrill, CB Richard Ellis' local managing director, contends the fee is competitive given the number of moving parts.
Merrill noted that the company has invested six months advising the city, studying the site and seeking developers, and it won't be paid unless a feasible deal comes together.
At least four of the firm's brokers have worked on the project to date.
"People always have opinions about fees, and we don't always agree with them," Merrill said.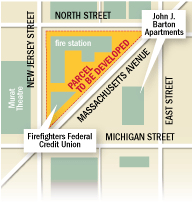 The city opted for the commission arrangement so it could move forward on redevelopment without paying upfront fees, said Kurt Fullbeck, a project manager for the Indianapolis Local Public Improvement Bond Bank.
Fullbeck said CB Richard Ellis surveyed neighbors and developers on what makes sense for the site, is working with surrounding property owners to find a spot to build a parking garage and a new location for Fire Station No. 7, and will advise the city on which development proposal is most feasible.
The arrangement is unique for an RFP deal, though city leaders took a similar approach with the parking-meter lease. In that deal, the city paid Morgan Stanley a fee of more than $1.5 million.
Fullbeck acknowledged the commission payment could result in a higher overall cost for the project.
"It's a risk we were willing to take in order for this complicated project to move forward," he said.
'A bad use of funds'?
Records show CB Richard Ellis also is entitled to send the city the bill for expenses from "specialty consultants, legal fees, architects and engineers" as it works on the deal.
And if the city does not select a project to move forward, it will owe CB Richard Ellis a breakup fee of $50,000. That fee will rise to $100,000 if the city selects a project, negotiates a project agreement, and the deal does not materialize.
Hunden would have preferred an hourly fee or a set rate of $100,000 or $200,000, maybe with a bonus if the deal comes together. But he said the math on a 4-percent commission doesn't compute.
The number of hours to justify the fee on a $40 million project would be 8,000—roughly $200 per hour for 40 hours a week for about four years.
"Ultimately, the fee will cause this deal to be less feasible, which would then cause the city to subsidize it," said Hunden, who began his real estate career as a project manager for the Indianapolis Public Improvement Bond Bank. "So, ultimately, this is a bad use of funds."
No shortage of bidders
Bid partners Milhaus Development and Shiel Sexton are focused on developing a project that is feasible given the RFP's parameters, said David Leazenby, a Milhaus principal.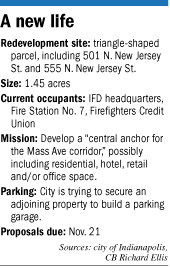 He said "any major redevelopment today" requires a subsidy, and the extra expense of paying CB Richard Ellis a commission logically means a higher subsidy.
"I don't know what their scope of work was in full," Leazenby said. "If that's what the city and they agreed to pay, it's not for me to question. We have to go with what was asked of us and that's how we're responding."
Leazenby declined to share specifics of his firm's proposal, though Milhaus is primarily focused on multifamily development. He said the project would register in the $30 million range.
Flaherty & Collins is partnering on a bid with Insight Development, the not-for-profit development arm of the Indianapolis Housing Agency. Officials with both companies declined to discuss details.
Browning Investments Inc. is working on plans for a headquarters office building with some first-floor retail, said Dennis Dye, executive vice president for the locally based developer.
The firm's proposal, which would cost about $40 million to develop, contemplates a project on a neighboring site that would include residential units and a new home for the Firefighters Credit Union. The real challenge will be parking, Dye said.
Dye declined to comment on the city's commission arrangement with CB Richard Ellis.
The city chose the firm after a request for qualifications in March. The other bidders for the work were Cassidy Turley and Mansur Real Estate Services.•
Please enable JavaScript to view this content.