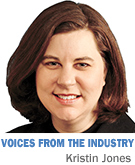 With rare bipartisan support, the United States recently passed the America Invents Act, making the first significant changes to U.S. patent legislation since 1952. For many, the passage of the act was an important milestone, creating a filing system in line with the rest of the world, allowing the U.S. Patent and Trademark Office to keep the user fees it collects (and I hope support the elimination of a backlog of some 700,000 pending applications), and establishing a path for priority review.
For others, this act has been labeled an "innovation killer," handing over market control to large corporations, driving inventors and potential entrepreneurs back into their labs to toil in secret, and basically halting America's leadership in research and development.
For Indiana's life sciences sector, it both raises hopes and creates challenges for continued growth.
For large or small companies, the product development life cycle for a biological therapy comes with a lot of risk. It can take a decade or more and over $1 billion to bring a product to market, and the product can fail at pretty much any point in that process. For the majority of the time in development, a company's intellectual property is its primary asset.
For larger companies, that risk is spread across multiple products (the company's pipeline); for smaller companies, everything may depend on the success or failure of a single molecule or protein. Large or small, intellectual property plays a huge role in a life sciences company's valuation and business strategy.
The new act made changes in two areas relevant to our discussion: It moves the U.S. from a first-to-invent to a first-to-file system, and it adds a path to challenge a patent's validity. The impact of each of these changes depends on the scale at which a company operates.
For biotech entrepreneurs, the changes couldn't have come at a much worse time. Already challenged by a reduction of funding for early-stage research both nationally and statewide, the change to a first-to-file system increases the risk potential investors in the sector are asked to assume.
Under the first-to-invent system, companies could develop a life sciences product enough to prove a degree of efficacy and give investors a certain amount of confidence in the company's intellectual property. Under the new first-to-file system, the key is who gets to the patent office first.
Inventors now have to balance the risk of having their invention copied with the speed at which they can afford to apply. Weaker applications may also be viewed as having less value.
However, the move to a first-to-file system isn't without merit. For larger companies, the impact of having a predictable, more-transparent process in line with global practices greatly reduces their costs, can lead to a much greater emphasis on innovation, and should result in job creation to support further discovery.
The yin and yang of reform also extends to patent challenges. Even if you get to the patent office first, anyone can now challenge a newly granted patent on broad grounds, for a period of up to nine months after a patent has been issued. Intended to provide a cheaper and faster alternative to litigation, the new path (post-grant review) to challenge a patent can both add to venture investor uncertainty and provide additional security.
The review itself may take a year and a half or more—an appreciated finite time for a well-resourced defender, but a period that can drain a startup of funds that otherwise would be spent furthering the patented discovery.
For large companies, the post-grant review provides a more transparent resolution process. A defined time frame equates to decreased defense costs and increased investor confidence in the company's pipeline. In world financial markets, stronger patents raise investor confidence and grow company value for shareholders.
Likewise, should a startup successfully conclude a challenge to its patent, venture investors may more highly value its intellectual property.
For Indiana, the results of these changes will be mixed. Our industry is characterized by its dichotomy of size—we are dominated by large global players and are growing a fairly successful crop of entrepreneurial life sciences companies.
As a nation, we are at a critical juncture where we are pinning a lot of hopes to reduce medical spending on innovations and breakthroughs that have yet to occur.•
__________
Jones is president and CEO of the Indiana Health Industry Forum. Views expressed here are the writer's.
Please enable JavaScript to view this content.