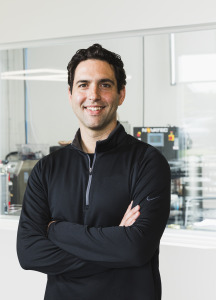 The Indianapolis-based company behind artisanal chocolate brand SoChatti has landed $5.25 million in venturing funding and finalized its first industrial licensing agreement, it announced Friday.
True Essence said the funding round from private investors included participation from Indianapolis-based Elevate Ventures.
The company said the capital infusion will be used to acquire equipment to expand research and development, expand sales distribution of existing products and help it launch new products and developments into the market.
Founded by CEO Matt Rubin in 2013 as Trade Secrets Chocolates Inc., the company did business as SoChatti from 2018 to late-2020 before taking on the True Essence name.
SoChatti, a liquid chocolate that's packaged in pouches and can be drizzled on top of other foods or used in recipes, is now a True Essence brand—and could be one of many if the company's plans come to fruition.
True Essence, which is officially launching on Friday, plans to work with partners at every stage of the supply chain to solve problems through products and technologies.
Those solutions could involve flavor-preservation, shelf-stability and sustainable-packaging advancements the company originated while developing SoChatti and one of its its other products, True Essence Fruit Nectars.
True Essence said it is "testing and executing" possible innovations with more than 15 industrial company partners in a variety of food and beverage categories including juices and concentrates, fruits and vegetables, fermented products and beverages, and herbs, spices and cannabinoids.
If successful, those testing partnerships could yield official licensing partnerships like the one True Essence just inked with organic juice bar, restaurant and food company Greenleaf Foods Inc.
Portland, Oregon-based Greenleaf, which operates Greenleaf Juicing Co. in downtown Indianapolis, plans to use a True Essence technology to launch an organic, shelf-stable fruit and vegetable juice packet that when reconstituted becomes a fresh pressed juice. The process, called True Essence Flavor Symmetry, removes water from fresh foods, making them shelf stable and inexpensive to transport and store while preserving and protecting flavor.
The licensing agreement could be lucrative for True Essence if the product is successful.
"True Essence demonstrated throughout the innovation cycle that its platform technology can revolutionize food storage and preservation without the typical flavor and shelf-life sacrifices," said Mark Gramelspacher, entrepreneur-in-residence at Elevate Ventures, in written comments. "We believe this technology will create new uses for food while solving some very large problems facing today's global food supply chain."
In addition to Elevate Ventures, other investors in True Essence include Bob Kirch managing partner of Kirch Equity Investments and former CEO of Caito Foods, and Omar Robinson, one of the founding members of Sun King Brewing.
True Essence opened a production and research facility in early 2020 at the Circle City Industrial Complex at 1125 Brookside Ave. under the SoChatti name. The facility also has a retail counter and tasting room. It has developed processes for both flavor preservation and flavor balancing that can be applied to a variety of foods and beverages, and it has dozens of patents either pending or already issued to protect its processes, equipment, industrial designs and production methods.
True Essence has fewer than 20 employees but expects to grow as it adds products and licensing partners. In 2019, the business reached an agreement with the Indiana Economic Development Corp. to boost employment to 75 by the end of 2023. It stands to land $500,000 in tax credits if it can meet that goal. True Essence also has incentives agreements with the City of Indianapolis.
Please enable JavaScript to view this content.