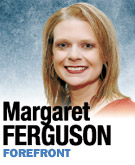 On Nov. 8, voters in our neighbor to the east, Ohio, voted overwhelmingly to overturn Senate Bill 5. The bill, while not a "right to work" law per se, set new limits on collective bargaining for public employees. And Ohio's voters roundly rejected the law after a heated media and grass-roots campaign. Hoosier lawmakers should take notice.
Ohio Gov. Kasich, who last year unseated the incumbent, pressed hard for SB 5. Though he won election by a slim margin, he was emboldened by Republican sweeps of many other statewide offices. Republicans in Ohio (much like their party counterparts in Indiana) believed they had a mandate for major changes. And they made the most of the opportunity. The voters, however, clearly disagreed.
Meanwhile, Gov. Walker of Wisconsin achieved passage of similar anti-union legislation, sparking near riots in the state capital and ultimately resulting in a recall election for several legislators who supported him. The governor himself now faces a recall campaign just one year into his term. The issue is clearly not settled in Wisconsin.
In this year's session, Republicans in the Indiana General Assembly also pushed for right-to-work legislation. Interestingly, they did so against the wishes of our Republican governor.
Though he favored the law, Daniels feared (quite rightly, I believe) that it would distract too much attention from his main policy goals, particularly school vouchers.
Republicans nevertheless pushed ahead and, ultimately, all but two Democrats walked out so that no vote could be taken. State government was at a standstill and relations among legislators were badly strained.
Republicans in Indiana are poised to revisit right-to-work legislation in the 2012 session of the General Assembly. A legislative study committee has issued a report (adopted on a party-line vote) recommending such a law.
Unlike in Ohio and Wisconsin, however, Daniels is not the driving force behind this push, though he has publicly stated his support in principle.
In the last session, the governor indicated the state needed more time to discuss the idea and hold hearings. Many assert the state has now undergone that process and that 2012 is the time to actively consider the law. Republicans predictably believe it will lead to a better business climate while Democrats unsurprisingly label it an attempt to devastate unions and wages.
Much like in Ohio, Republicans in Indiana were emboldened by gains in last year's legislative elections. The election of new Republican mayors across the state this month will surely add to this confidence and drive.
And right-to-work may indeed be what the voters of Indiana want, though nothing we have seen so far proves that to be true. This issue has not been the subject of election campaigns.
Ohio and Wisconsin illustrate the danger of an emboldened majority's over-reaching in pursuit of its policy goals. What will happen in Indiana will depend on the choices of the House speaker, who has not yet said officially that he will champion the law; the governor, who also supports it but has not made it a priority; and the minority party leadership, which reports it will "reserve the right to respond appropriately" to such a push.
It isn't entirely clear what this means, however, given that Republicans in the General Assembly have instituted fines meant to prevent an unhappy minority from walking out.
Leaders in our neighboring states quickly passed sweeping changes and faced serious voter backlash. We cannot afford a stalemate such as we experienced last session. It was not good for Indiana. Not for the economy nor for our people, nor ultimately for our elected officials.
Whatever they are now thinking, Hoosier lawmakers would do well to look to the experience of our neighbors. And try to find some way to work together rather than engage in the class warfare that has plagued our neighbors.•
__________
Ferguson is an associate professor of political science in the School of Liberal Arts at IUPUI with expertise in state politics. Views expressed here are the writer's. Send comments on this column to ibjedit@ibj.com.
Please enable JavaScript to view this content.