Black Friday is just another busy day at Martinsville Candy Kitchen.
Owners John and Pam Badger are more focused on Dec. 24—the red- (and white) letter day each year when they hope their business becomes profitable.
"It's a struggle to get through the year to Christmas," John Badger admitted. "We depend on November and December to make it."
They get to the finish line thanks to the popularity of the shop's signature item: handmade candy canes. Of course, the seasonal rush also means lots of late nights and weekends spent churning out the traditional holiday treats.
Last year, Martinsville Candy Kitchen made the equivalent of 22,900 6-inch canes—in batches of 200, 300 and 400 at a time. The record is 25,400 in 2009.
"I used to love Christmas," Pam said. "I'm not so sure about it anymore."
Pam, 51, and her high school sweetheart husband John, 55, bought the Morgan County business seven years ago after an epic misunderstanding.
The couple heard at a historic preservation meeting that the octogenarian owners were closing the store because they couldn't find anyone to take over. The Badgers couldn't stand the idea of their hometown candy shop going away. So even though they didn't have business experience, they 'decided to give it a try.
"I thought she wanted it. She thought I wanted it," John Badger recalled. "Come to find out a few years later, we were buying it for each other and didn't know it."
They borrowed against John's retirement account to make the down payment, then paid the rest of the $25,000 purchase price in installments.
The Badgers spent a slow summer month learning the recipes and techniques that had been passed down from owner to owner since Greek immigrant Jimmy Zapapas founded the shop in 1919.
Their first canes were red, white and blue—fitting for the new owners' July 2004 debut as candy makers.
"We thought they were beautiful," John said.
"They weren't," Pam clarified.
Her husband smiled. "Yeah, we found that out later."
'Taste of home'
That wasn't their only discovery in the early years. The biggest lesson: "It's hard, hard work," Pam said.
And they don't get any help from technology. The Badgers still use Zapapas' original gas stove, copper pot, marble slab and metal hook—and cross their fingers that they don't need to find replacement parts any time soon.
Candy canes date to the 1600s, when a German choirmaster supposedly gave his singers sugar sticks bent into shepherds' hooks to keep them quiet during a long ceremony. The National Confectioners Association says it took about 200 years for them to get the traditional red-and-white stripes and peppermint taste.
The Badgers' shop sells canes in 16 flavors and three standard sizes: 6-inch, 9-inch and 12-inch. Peppermint and cinnamon are the most popular, but they also get orders for more obscure varieties like horehound, clove and cappuccino.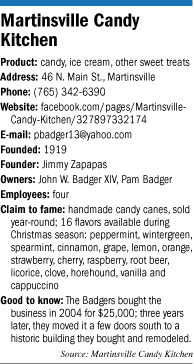 Each batch starts as a pot of molten sugar and corn syrup. Flavor is added to the entire concoction when it comes off the stove, and the color gets mixed into what will become the stripe as it cools on the marble.
It takes John Badger and a helper (sometimes Pam, sometimes another relative) about 1-1/2 hours to muscle through the process, pulling the cooling candy over the hook to add air. That process also evens out the stripe coloring and turns the main part of the cane white.
The resulting 15-pound "loaf"—three sides for three stripes—is literally manhandled until John works one end into a point that he twists into a candy rope. His helper then cuts it and bends the end into the proper shape. They work near an open flame to keep the candy pliable until they're done.
The Badgers make canes and other goodies year-round, but orders start picking up in November. After Thanksgiving, they come fast and furious. Shipments leave daily for destinations across the country—and some as far-flung as Italy and Afghanistan.
"It's a taste of home," said Martinsville resident Joanne Stuttgen, who is active in the Morgan County Historic Preservation Society and Rediscover Martinsville revitalization group.
'Holidays are big'
The Badgers are involved in both groups, along with a bevy of other community activities. John ran for City Council earlier this year, and Pam is a past president of the downtown merchant's association.
In 2007, they were named the Martinsville Chamber of Commerce's Outstanding Business Owners of the Year and the Historic Preservation Society's Preservationists of the Year.
Not coincidentally, that was the year they bought and renovated the former Bertelsen's Jewelry Store and moved the shop there. The historic building is only a few doors down from the old location on Martinsville's courthouse square, but it gave Candy Kitchen more space.
The shop remains cozy, with chocolates and other sweet treats lining display cases along one side of the narrow retail area and 29 flavors of ice cream along the other. Tables and chairs are set up in the back, overlooking the kitchen.
John and Pam like the set-up, even if it means both of them still have full-time day jobs to cover the $90,000 investment in the building and other bills. She works in the county clerk's office. He delivers fuel for Co-Alliance. Family members run the shop during the day.
"We weren't businesspeople when we bought it. That's part of the problem," John said. "We're just floating along, faking it real good. … When we get the overhead paid off from the move, it will be a lot better."
"As long as nothing bad happens," Pam added.
They learned that lesson the hard way, too. Two summers ago, the store's air-conditioner failed after an electrical storm and the Badgers lost most of their inventory in the heat. Insurance covered the cost of restocking, but it took weeks to fill the shelves.
Summer can be a challenging season for candy stores, said Chris Sackmann, owner of the Chocolate Emporium in Bloomington. Besides the warm weather, summer lacks any sweets-oriented celebrations like Halloween, Christmas and his favorite: Valentine's Day.
"Holidays are big" in this business, he said.
Chocolate Emporium, in fact, for several years has expanded its offerings this time of year to include canes from Martinsville Candy Kitchen.
"The candy canes are quite delicious," Sackmann said. "They're a huge hit."
Cautious growth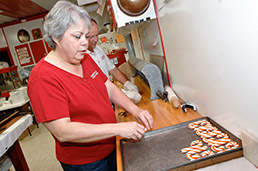 It takes two to make candy canes the old-fashioned way. As her husband works the 15-pound "loaf" into a candy rope, Pam Badger cuts and bends individual canes. Martinsville Candy Kitchen sells more than 20,000 canes a year. (IBJ Photo/ Perry Reichanadter)
The Badgers have tried to extend that popularity past December by getting creative. They use the same recipe to make candy cane lollipops, swizzle sticks and ribbon candy—not to mention hearts, shamrocks, Easter baskets and even blue-and-white horseshoes.
"There's not much interest in those this year," John said dryly.
Although Candy Kitchen has had some success, business remains uneven. John said he's surprised by how many people—even in Martinsville—don't know the shop exists.
Location is a factor, he said. If it were in a more touristy area like Brown County, for example, he thinks it would draw more customers without much effort.
The couple has tried advertising in newspapers and on the radio, and John said he'd like to buy billboard space along State Road 37. But that's not in the budget just yet.
"We've got to sell a lot of candy to make the payments on a billboard," he said.
They also have to be careful about aiming too high. The worst-case scenario would be attracting more customers than the small staff can serve. Candy Kitchen has held off on establishing a website, for example, because the Badgers are afraid they'll be overwhelmed with online candy cane orders.
"We have a hard time now," Pam said.
Despite their dedication, John and Pam haven't drawn a paycheck since they bought Candy Kitchen. But that's on their wish list, too.
"I want to retire and then work in here," John said.
Pam doesn't seem convinced.
"I'm tired," she admitted. "John holds up much better than I do."
Could it be the visions of sugarplums dancing in his head?
"When I go to sleep, I go to sleep," he said, dispelling that notion. "I don't do much tossing or turning."•
Please enable JavaScript to view this content.