FedEx has won federal approval to launch an air cargo route between Indianapolis and Mexico, the state's second-largest export destination.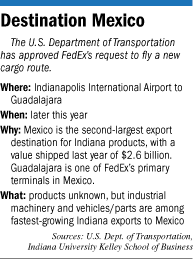 Flight records also show the cargo carrier has been making regularly scheduled flights from Indianapolis to Paris-Charles de Gaulle Airport.
Memphis-based FedEx in September filed an application with the U.S. Department of Transportation to fly nonstop between Indianapolis International Airport and Guadalajara, where FedEx has an air cargo terminal.
Indianapolis International is the home of FedEx's second-largest U.S. hub, behind Memphis.
The DOT's Office of the Secretary on Sept. 30 approved the request to fly "property and mail," according to DOT records.
FedEx officials declined to elaborate.
"I don't have any information available on Guadalajara," said FedEx spokeswoman Paula Bosler.
It's unknown whether the service could generate additional jobs at the Indianapolis hub, which employs more than 4,000 people.
The route approval bodes well for Indianapolis International, where airport officials have been luring additional cargo operators over the last several years.
Indianapolis is the world's 22nd-busiest cargo airport by tons, according to a 2010 ranking by Airports Council International and the Centre for Asia Pacific Aviation. Airports in Hong Kong and Memphis ranked No. 1 and No. 2, respectively.
"The Indianapolis Airport Authority certainly views FedEx approval for flights … to Guadalajara as a positive. It illustrates [Indianapolis'] importance in the FedEx global network and the airport's ability to support their direct air-cargo activities through Mexico," said Carlo Bertolini, IAA spokesman.
Guadalajara has been dubbed the Silicon Valley of Mexico, although its 4-million population metro area has a diversified industrial base.
"Anything that will facilitate trade with Mexico is a positive as far as we are concerned," said Mark Cahoon, vice president of government finance and economic development at the Indiana Manufacturers Association.
Hoosier companies exported $2.6 billion in goods to Mexico last year. The fastest-growing segments, by dollar amounts, were industrial machinery, vehicles/parts and electrical machinery, according to a study last September by the Indiana University Kelley School of Business.
It's unclear which Indiana firms would be interested in a direct cargo flight to Guadalajara.
Typically, goods sent by air are time-sensitive—in areas such as pharmaceuticals, medical devices and specialized components, said David Holt, vice president of operations and business development at Conexus, an Indianapolis-based logistics and advanced-manufacturing initiative.
Holt said FedEx often keeps such information under close wraps, given its competition with UPS, which has its main air cargo operation in nearby Louisville.
Indianapolis-based wireless phone distributor Brightpoint is not among firms calling for the Guadalajara route, with shipments to Mexico handled by a Miami firm. Still, said Mark Howell, president of Brightpoint Americas: "that [FedEx] flight would be very important to the logistics industry" in Indiana.
It's unclear whether FedEx has begun flying the Indianapolis-Guadalajara route.
Curiously, FedEx has been operating direct flights between Indianapolis and Paris-Charles de Gaulle airport, according to the flight database FlightAware.
Bosler would say only that FedEx has been flying Indianapolis-Paris "for some time."
Among other foreign destinations from here is a FedEx DC-10 that leaves early in the morning for Rafael Hernandez Airport, in Puerto Rico.
Last year, FedEx began nonstop service from Hong Kong to Indianapolis.
FedEx isn't the only international cargo carrier at Indianapolis International. Cargolux provides a rare glimpse of a Boeing 747 lumbering over Indianapolis, flying directly here from Luxembourg. Helping land Cargolux were the shipping needs of a handful of companies with local operations, most notably Roche Diagnostics.
Cargo is big business for Indianapolis International—where FedEx alone pays more in landing fees than all 10 scheduled carriers here—about $10.4 million annually vs. $10 million for the passenger airlines.
In the first nine months of this year, FedEx shipped 1.45 billion pounds of cargo here, or 724,619 tons, according to IAA records. That's down 3.7 percent from the same period last year.
"FedEx will often shift aircraft between Indianapolis and Memphis based on their overall network demand," said the IAA's Bertolini.
Airport authority officials have an even bigger appetite for cargo operations. With the closure of the old airport terminal a few years ago, there's more than 2 million square feet of direct airfield access available on the northeast corner of the airport for wide-body freighter operations or other cargo services.
According to a land-use consultant hired by the authority, that's an amount roughly equal to what Chicago O'Hare has today.
Last September, Ivy Tech Community College inked a deal with the authority to locate a campus at the former ATA Airlines headquarters that will include a logistics curriculum.
Enhancing development of available land at Indianapolis International—including for air cargo operations—could generate up to $63 million in revenue a year by 2040, according to a land use study by aviation consultancy Landrum and Brown.•
Please enable JavaScript to view this content.