From a statistical standpoint, turning 18 in the foster-care system is not a happy milestone.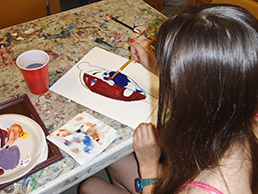 The Care for Kids Foundation has sent hundreds of children to summer camp in recent years. It soon will enroll 14-year-olds in a new effort it hopes will have a bigger impact. (Photo Courtesy Care for Kids Foundation)
Emancipated foster kids are likely to end up homeless, drop out of high school, and end up incarcerated, national research has found.

Grant makers and organizations like United Way have poured more resources on foster teens in the past five years. Now a group of longtime foster care supporters in Indianapolis plans to launch its own program.

The Care for Kids Foundation, which has its roots in raising money for the former Children's Guardian Home, will recruit its first class of 14-year-olds this summer for a four-year program called Opportunity Rox.
Baker
The program, a series of therapeutic camps and cultural outings, is part of the foundation's mission to provide ongoing support for foster youth. After six years of raising money to send 100 to 200 foster kids to summer camp, Care for Kids supporters wanted to do something that could change lives, founding President R. Kent Baker said.

"We didn't feel like we were impacting their lives in a significant way for the money we were spending," Baker said.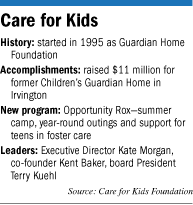 Care for Kids has been developing its mission, dubbed Project X, for more than a year and now is looking for support from major foundations. The organization has the $275,000 it needs to cover the first two years of Opportunity Rox, but it would take $1 million to build it up, Baker said.

If things go as planned, Care for Kids would start with one group of 20 teens, add a group each year, and follow them until they graduate.

Getting more attention

Though there aren't many organizations that focus solely on foster youth, the number is growing.

United Way of Central Indiana began a program called Connected by 25 in 2008 to work with current and emancipated foster-care youth on financial literacy, college readiness and finding housing.

Connected by 25 works with about 300 young people in Marion County, Director Sam Criss said, and about half of them are teens still in the system.

"Younger kids are always an appealing group of kids to work with because they're young, and they're cute," Criss said. "Older kids, especially teenagers, have been ignored."

The result is that 40 percent become homeless, 50 percent don't finish high school, and a quarter are incarcerated within two years of "aging out" of the system, according to research compiled by San Francisco-based Honoring Emancipated Youth.

Indiana had more than 12,000 kids in the foster system in 2009. About 800 in the Indianapolis area are ages 14 to 18, Criss said. Obviously, there's room to reach out to more foster teens, he said. He added, though, that it's difficult work.

"They are tough," he said. "They do have a lot of trauma and emotional baggage they carry with them."

The Nina Mason Pulliam Charitable Trust is supporting two programs aimed at foster kids in Indiana. One of them matches foster kids with "educational champions." Another gets them involved in shaping state policy on the system.

Though foster-care youth have become a higher priority in the past five years, the Pulliam trust wants evidence that new programs are going to make a difference, CEO Harriet Ivey said.

"How they're going about it, and how they're able to demonstrate the impact of what they're doing – that is very, very important," Ivey said. "Funds aren't growing."

Changing focus

Care for Kids began in 1995 as the Guardian Home Foundation and raised more than $11 million for renovation and expansion of the home, which was an emergency shelter that served as a gateway to the foster-care system.

The Guardian Home, in Irvington, closed in July 2009 after the Indiana Department of Child Services stopped referring kids there, part of a policy to avoid having kids in institutional settings.

Care for Kids, run by a group of volunteers, moved on to other projects. It created the "Hearts Remembered Memorial" at Crown Hill Cemetery for 699 children various institutions had buried in graves marked only by numbers. Then the group began sending foster kids to summer camp.

Care for Kids' new mission began taking shape last summer, when artist and teacher Kate Morgan introduced an art-therapy curriculum at the annual camp.

Morgan, who is pursuing a master's degree in philanthropic studies, later became the organization's executive director and first paid staff person. She created Opportunity Rox with the goal of expanding teens' world views while teaching lessons such as how to behave at dinner in a restaurant.

Camp and weekend outings might not sound like much, but Morgan said, "If you have nothing, this is a tremendous contribution to that child's life."

Care for Kids will select the first 20 teens next summer after a week-long camp at Bradford Woods in Morgan County that will be limited to 60 participants.

The board of directors is looking to get involved on a more personal level, so Morgan is counting on them to help lead outings. Tracking the kids' progress over four years will be a job unto itself, Morgan acknowledged. She's talking to a liaison at the Department of Child Services to set up that system.

"We're going to have to have a great team," Morgan said.•