Retired Junior Achievement CEO Jeffrey M. Miller has taken full advantage of a judge's order for news outlets to identify people who posted comments on their websites.
Miller
Miller and his wife, Cynthia, have sued 12 parties for defamation since Marion Superior Court Judge S.K. Reid issued an order earlier this year to IBJ, The Indianapolis Star and WRTV-TV Channel 6.
Most of the comments stem from the news outlets' reporting on turmoil at Junior Achievement of Central Indiana in early 2010. A construction project at the organization's North Keystone Avenue headquarters had come to a halt after a major benefactor, the Glick Fund at Central Indiana Community Foundation, stopped paying on a $2 million grant, pending an audit.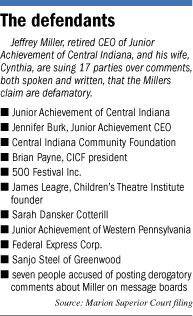 Miller already had retired from Junior Achievement, but he was president of a related entity that was overseeing the construction.
The fact that posters were responding to news articles could boost defendants' arguments that they simply were expressing opinions, which would not amount to defamation, said Andrew Klein, the Paul E. Beam professor of law at Indiana University School of Law in Indianapolis.
That's exactly what Andrew Wirick, an attorney for commenter Dave Wilson, has argued. Wilson, who works at 500 Festival Inc., admitted to posting two comments on the IBJ site from an office computer.
Although Wilson's comments refer to a misuse of funds—something Miller was not accused of in IBJ articles—"Wilson was merely commenting and editorializing on the contents of the articles," Wirick, a partner at Hume Smith Geddes Green and Simmons, argued in a recent court filing.
Miller's attorney, Kevin Betz, did not respond to voice messages.
Wilson is one of several defendants hoping to be dismissed from the case after a Dec. 8 hearing. The case, which now has a total of 17 defendants, is before Marion Superior Court Judge Michael Keele, who set a trial date for January 2013.
Several of the defendants hoping for dismissal—including Federal Express Corp., Junior Achievement of Western Pennsylvania and Sanjo Steel Inc. of Greenwood—are companies where computers were used to post the comments.
James Leagre, founder of Children's Theatre Institute, which rented space in JA's Keystone Avenue headquarters, is in a similar situation. A comment posted by his wife, Suzy, was traced to the Internet connection in his name, and he was named as a defendant.
The companies argue that supplying Internet access doesn't make them liable, and they are protected by the Communications Decency Act, the same statute that protects Internet service providers.
That argument hasn't been tested at the appellate-court level in Indiana, said Steven Springer, senior partner at Kightlinger & Gray, which represents Federal Express. "If Indiana follows the other states, that should be the end of it," he said. "Our position is, we don't even belong in the lawsuit."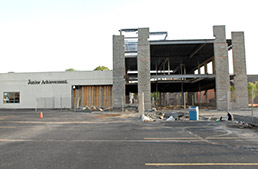 Turmoil around a project at the Junior Achievement building on North Keystone Avenue in 2010 prompted media coverage and anonymous comments from readers. (IBJ File Photo)
Miller retired from Junior Achievement at the end of 2008, but he remained president of the Experiential Learning and Entrepreneurship Foundation.
The foundation owns JA's headquarters, and it was overseeing construction of a 25,000-square-foot addition to house a culinary school in late 2009. That's when the Glick Fund stopped payment on its grant.
The issue hit headlines in early 2010, after contractors, who complained they hadn't been paid, stopped working. The Central Indiana Community Foundation was holding up the grant until it had audited money it had previously released, IBJ reported at the time.
CICF has never made public the results of its audit, but it ultimately withdrew the grant.
In March 2010, Miller filed his defamation suit against Junior Achievement; its current CEO, Jennifer Burk; CICF; and its president, Brian Payne.
Miller claimed that he lost out on a job opportunity in Mayor Greg Ballard's office because of rumors spread by Burk and Payne that he misused money. Later, he also sued Sarah Dansker Cotterill, wife of Ballard's chief of staff, Chris Cotterill.
Miller alleges that Sarah Cotterill told her husband Junior Achievement was preparing a suit of its own against Miller.
Miller's lawsuit also alleges that Performance Professionals, a consulting firm Miller and his wife formed, has lost business because of the various defamatory statements.
Not all the comments posted online relate to Junior Achievement. One defendant, who is identified only as John Doe No. 7, made potentially embarrassing allegations about Miller's personal life.
That kind of statement leaves Miller with far fewer legal hurdles to clear, Klein said.
"He might be able to go after that commenter and argue that statement was not related to his arena of the public, which means the defendant would be forced to raise truth as a defense," he said.
Most defamation cases boil down to "actual malice"—in other words, knowingly asserting something that isn't true, or acting with a reckless disregard for truth. In those cases, the plaintiff bears the burden of proof.
John Doe No. 7 is one of three defendants who remain unidentified, possibly because Miller wasn't able to trace the Internet protocol address to a specific person. In the case of John Doe No. 3, also known as "DownWithTheColts," The Indianapolis Star refused to turn over the information.
All three media outlets objected to Miller's request for the commenters' Internet addresses, but Reid ruled in Miller's favor. IBJ and Channel 6 complied with the judge's order, but The Star filed an appeal.
The Star has cited Indiana's shield law for journalists and First Amendment protection for anonymous speech. The Indiana Court of Appeals will hear oral arguments on that matter Dec. 12.
Reid's order was the first of its kind that Jan Carroll, co-chairwoman of the media practice at Barnes and Thornburg LLC, has seen. Because lower-court decisions aren't published, she said, it's hard to tell whether Reid is the first judge in the state to issue such an order.•
Please enable JavaScript to view this content.