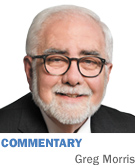 Have you taken in a performance by the Indianapolis Children's Choir recently? If the answer is yes, you know why I'm enthused. If no, then I hope you'll take a few minutes to read further. My goal is to encourage you to discover this gem of our arts community for yourself.

Not that long ago, Jim Morris, president and CEO of Pacers Sports and Entertainment, asked me if I would serve on the inaugural honorary advisory board for the Indianapolis Children's Choir. I really didn't know much about the organization. Now that I've been involved, I want to share the group's story with you.

The Indianapolis Children's Choir, founded in 1986 by Artistic Director Henry Leck, has grown to become one of the largest children's choirs in the world. Now in its 26th season, the ICC serves over 3,000 central Indiana children from preschool through high school. The organization is composed of 16 choirs and is housed on the campus of Butler University. It's a diverse group. Nineteen area counties are represented, including all the Indianapolis-area suburbs and many nearby rural communities. The participants represent more than 350 schools.

You have to see these kids perform. They're singers. They love to sing. The more advanced choirs sound as good as or better than many professional singers you've heard. Sometimes we hear a lot of negative talk about our young people. But if you want to escape that chatter and see what's right about our future leaders, check these kids out.

The Indianapolis Children's Choir performs regularly around central Indiana, but over the years it has toured nationally and internationally. The ICC singers and their families have had memorable experiences in Argentina, Australia, Canada, China, England, France, Germany, Russia, South Africa and a long list of other countries. They've performed in New York City and even made an appearance on "CBS Sunday Morning." Recently, singers from three ICC choirs came together to honor Izod Indy Car series race car driver Dan Wheldon at a memorial service celebrating his life.

This is not your average local singing group. They are first in class when it comes to talent and professionalism. Here's praise from one admirer: "Every time I want to showcase Indianapolis to the world, I invite the ICC to sing. Their glorious voices are so touching and their artistry is way beyond their age." This is from Glen Kwok, executive director of the International Violin Competition of Indianapolis. That's a nice endorsement from somebody who knows music.

With all the success, you might have the impression this organization is reserved for participants who come from well-to-do families. That's not the case. Through ICC's Everyone Counts program, about 1,400 disadvantaged families and children have the opportunity to be involved with this great organization. That fits the choir's mission: to offer music education to all children in central Indiana, thereby assisting in community development by providing a means through which children's characters, morals and values can be enhanced.

For many central Indiana children, ICC may be the only music education available due to state budget constraints. It takes a lot of money to fund this effort. The total cost of ICC's Everyone Counts program exceeds $350,000 annually.

I've just scratched the surface here. I encourage you to seek out more information at www.icchoir.org. I hope you'll take in a performance soon, maybe at one of ICC's many holiday concerts. If you have a child or know a child who would benefit from being involved, please contact ICC for more information.

Congratulations to Founder and Artistic Director Henry Leck, Executive Director Don Steffy and the entire staff at the Indianapolis Children's Choir, the board members, families and the children for a job well done. Keep up the great work!•

__________

Morris is publisher of IBJ. His column appears every other week. To comment on this column, send e-mail to gmorris@ibj.com.