Midwest Energy Partners has stuck more than a symbolic thumb-in-the-eye of an OPEC sheik.
The Indianapolis company has completed its fifth oil exploration partnership, which, as the boys in Texas will tell you, deserves a proper name—in this case "Autumn Harvest I."
Midwest wrangled up investors who put in $4.6 million that will be used to drill a total of seven wells—in Indiana and Illinois—through a partnership with Lawrenceville, Ill.-based Pioneer Oil Group.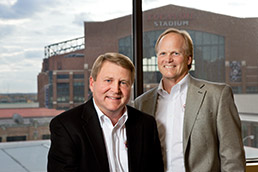 William Herrick and Steven Meyer, principals of Midwest Energy Partners, have completed their fifth oil well deal. (Photo Courtesy Midwest Energy Partners)
If all goes well, production will begin within weeks and bring to 75 the number of oil wells in the Illinois basin in which Midwest has an interest. The wells produce about 500 barrels a day.
Midwest was launched in 2009 to provide qualified oil and gas investors the ability to get a return on wells in the Illinois basin, which includes portions of southwestern Indiana and southern Illinois.
Midwest's president, Bill Herrick, said the Autumn Harvest I completion came "in spite of very difficult capital markets."
Herrick is former director of business development at oil refiner and retailer CountryMark.
Joining Midwest Energy Partners of late is Steven Meyer, as executive vice president. Meyer is former treasurer and vice president of fuel supply for Indianapolis Power & Light.
Midwest recently moved to new headquarters at the Pan Am Plaza building, 201 S. Capitol Ave. Its office faces Lucas Oil Stadium.
The only company in the metro area directly engaged in oil drilling downstate is Citizens Energy Group, which has been tapping oil under Greene County since the late 1960s.
Please enable JavaScript to view this content.