After the financial crisis of 2008, foundations in Indiana and across the country set up special relief funds for their communities.
Three years later, the one created in Indianapolis has collected $11.9 million, and it will be open for business again in 2012.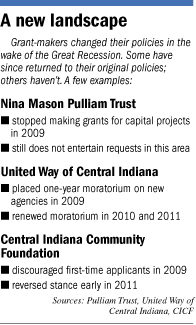 Multiple foundations pooled their money to set up the Community Economic Relief Fund in Indianapolis, which provides money to front-line organizations, such as food pantries and community centers, to cover individuals' basic needs. Ongoing support for that fund – which is largely driven by Lilly Endowment Inc. – is just one sign of how the poor economy is still influencing grant-makers' decisions.
Some are sticking with recession-era policies about who can apply and for what purposes. Others have loosened the rules, but ultimately funnel their money in a new direction.
"We can't do and operate our grant-making the way we've done for the past decade," said Liz Tate, vice president for grants at the $560 million Central Indiana Community Foundation. "We have to be very responsive. Our job is a lot harder."
Early this year, the community foundation reversed a policy, enacted in 2009, of not considering first-time applicants, Tate said.
At the same time, CICF changed its focus, at least in the social services arena, to long-term solutions to poverty. The $208 million Indianapolis Foundation, which is under CICF, increased its giving over the past two years to neighborhood-based community centers, Tate said. But now all the money that's been going to community centers, about $1.3 million this year, supports Centers for Working Families, a program that attempts to address needs for employment, housing and financial literacy all at once.
Foundation mind-sets tend to be driven by how far their investment portfolios have climbed since cratering in the first quarter of 2009.
A survey by the Indiana Grantmakers Alliance in 2010 found that many foundations were increasing their grant budget sooner than expected, and fewer of them felt pressure to change their giving priorities.
At that time, the stock market seemed to be in a sustained recovery mode, but that faltered in July of this year as the European debt crisis rattled investors.
Assets at The Clowes Fund, a family foundation, "certainly haven't rebounded," Executive Director Beth Casselman said. Nevertheless, the foundation reversed its temporary ban on first-time applications because its directors didn't want any not-for-profit managers to feel they needed an inside track to get consideration, she said.
The Clowes Fund has several areas of interest, but it's still directing most of its resources toward social services, Casselman said.
Financial advisers to the $343 million Nina Mason Pulliam Charitable Trust said two years ago that a total economic recovery could take six to eight years, CEO Harriet Ivey said.
Twyman
"That's started to play out," she said.
The Pulliam trust, like CICF, is focusing its grant-making in social services around long-term solutions to poverty.
The key phrase is "self-sufficiency," said Michael Twyman, director of Indiana grant programs. (The trust splits its grants between Indiana and Arizona.) That means the trust is placing a higher priority on work-force development and access to higher education.
The trust continues its 2009 policy of not accepting requests for grants to capital campaigns, an area in which it made some notable gifts before the recession.
It's also continuing, along with the Richard M. Fairbanks Foundation and Lilly Endowment, to support the Community Economic Relief Fund for 2012.
The relief fund formed in December 2008, with six foundations and donor-advised funds plus United Way of Central Indiana pooling $3.2 million. At the time, Indiana's unemployment rate was 8.2 percent and climbing.
Since then, the fund has provided support 53,000 times for such basic needs as rent, utility payments and transportation, United Way reported.
United Way limits its core program of annual grants to a list of 99 approved not-for-profits. No organizations have been added to the list since March 2009 because funding to existing agencies has been reduced 14 percent over the last three years, said Christie Gillespie, director of agency services.
Tate
That's largely the result of declining support for United Way's annual campaign, which brought in $38.3 million last year.
This October, Indiana's unemployment rate rose to 9 percent, and the relief fund was replenished for a fourth time.
"This situation is assessed with United Way and others every few months," Lilly Endowment spokeswoman Gretchen Wolfram said. "We try to respond to the best of our ability."
Lilly Endowment is the fund's single-largest backer, providing $9.5 million to date and $2 million of the $2.2 million that will be available next year.
In addition to supporting the relief fund, the $5 billion Lilly Endowment has given $3.75 million over the past three years to the Indianapolis Neighhood Housing Partnership for foreclosure prevention, Wolfram said. Otherwise, she said the endowment hasn't changed its grant-making policies in response to the downturn.•
 
Please enable JavaScript to view this content.