Top Honoree, Private Companies (revenue $100 million or less)
The seeds of Mike Reffeitt's success were sown in his modest childhood.
"I was always exceedingly financially conscious and responsible," he said. "I saved my pennies, hated waste and was an extreme planner. That allowed me as a CFO to be financially responsible and look down the road and be a strategic thinker and an effective leader."
Those traits have paid off in his work as CFO of Indianapolis-based BioStorage Technologies Inc., which provides tissue and blood sample management, biomaterial storage and cold-chain logistics for the bioscience industry worldwide. The company has 120 employees and revenue of nearly $20 million.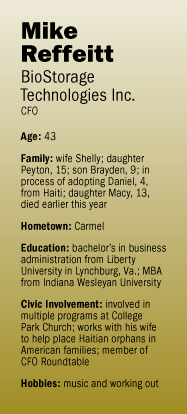 Reffeitt has helped drive BioStorage's annual growth of 60 percent to 70 percent in recent years by spearheading both short-and long-term growth plans and serving as the main conduit between the company and its investors and other global stakeholders.
He played a central role in the opening of the company's 60,000-square-foot headquarters near Indianapolis International Airport in May. He secured financing and worked with city and state officials to secure millions of dollars in tax incentives and abatements. The expansion will result in 125 new jobs.
Reffeitt also has been involved in the company's move from being purely an off-site storage provider to one that brings its services directly to clients. Those customers include pharmaceutical firms, donor banks and academic organizations. On-site services will be a prime avenue for growth in the coming years, he said. The company also plans to make a big push into Asia and the Pacific region within the next year.
In 2009, Reffeitt was instrumental in nearly doubling the size of BioStorage's German operations. He also oversaw all strategic development and financing for the launch of BioStorage's ReloFleet, the first-ever mobile biorepository.
"Mike Reffeitt has set the financial direction from the company's inception that has positioned Bio-Storage for sustainable fiscal success and long-term economic vitality," wrote CEO Gregory Swanberg in a letter nominating Reffeitt for CFO of the Year.
The company in 2008 received Techpoint's Mira Award for Innovations in Health and Life Sciences.
BioStorage, which has historically been backed by venture capital, remains almost debt-free, which enables it to continually reinvest its profits into new markets and services. BioStorage also consistently receives 100-percent clean external finance audits.
Reffeitt's responsibilities extend to overseeing strategic development, IT, human resources, facilities and shareholder relations.
Being a top-notch CFO requires both paying attention to detail and looking at the big picture, Reffeitt said.
"It's making sure that your processes and procedures are airtight, but not getting too caught up in the day-to-day details that you lose sight of the future," he said.
Successful CFOs also must keep on top of the latest advancements in the field and monitor market conditions, Reffeitt said, citing the saying that "Not all readers are leaders, but all leaders are readers."
Reffeitt said it has been particularly rewarding to help build 9-year-old BioStorage from the ground up. He started at the company when it was just him and the two co-founders in a cramped office in 2003. Those were the "blood, sweat and tears" days, he said. He played a major role in gathering early-stage funding and developed the company's financial controls and reporting processes. He also was involved in expanding services and moving into new markets. Over the years the company has regularly posted double-digit revenue increases and its staff has grown by 50 percent or more annually.
"I've enjoyed the satisfaction of creating high-paying jobs for people, developing a strategic road map for the company, securing financing, raising capital to grow … and expanding our service providers and markets," Reffeitt said.
He believes everyone at some point in their career should help launch an entrepreneurial company. It makes all the textbook knowledge come alive in an exciting way, he said.
Reffeitt previously spent almost 10 years as director of finance at Covance, which then was based in Indianapolis. He helped that company grow from 200 employees to more than 1,000.
Reffeitt puts a priority on balancing his life in a triangle: family, faith and career.
"The way I look at it, I've had a successful career because I've had that balance," he said.•
___


Click here to return to the CFO of the Year landing page.


Please enable JavaScript to view this content.