Honoree, Private Companies (Revenue $100 million or less)
T2 Systems Inc. aims to be a $50 million company by 2015. A move by CFO Jim Zaloudek this year might just take it there.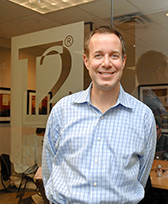 (IBJ Photo/ Perry Reichanadter)
He succeeded in scoring a $28 million equity investment from North Carolina-based Pamlico Capital.
"Pamlico sets the company up for another 10 years of growth," Zaloudek said. "It gives us access to capital we've never had in our history."
Indianapolis-based T2 Systems, founded in 1994, now has $20 million in annual revenue and 110 employees. The company provides parking management services, including permits, citations, collections, event parking and parking in gated facilities. It has 300 customers in the United States and Canada, including universities, cities, airports and hospitals.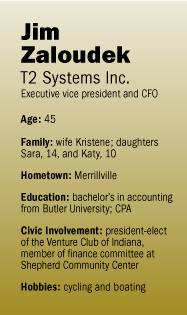 Landing the Pamlico investment was a 14-month process, he said. With the fresh capital in place, T2 plans to add 15 people a year and go on a buying spree. The company is now looking at two or three candidates.
When Zaloudek joined T2 in 2005, his goal was to raise capital for growth. He succeeded in attracting an initial round of $3 million from Petra Capital in Nashville, Tenn., in 2007.
T2, which has grown by 25 percent or more in recent years, has repeatedly been named to the Inc. 5,000 list of fastest-growing companies.
Zaloudek has put in place metrics that have enabled the company to better measure the impact of its efforts on revenue, said Michael Simmons, T2 chairman and CEO, who nominated Zaloudek for CFO of the Year. Those metrics in turn have helped the company refine its pricing and develop more reliable budgets. One of Zaloudek's earliest moves at the company was helping it evolve from selling licenses for its products to selling subscriptions, which evened out cash flow.
"I'm most proud of my ability to plan to handle difficult times as well as leverage good times to the best advantage of the staff and customers," Zaloudek said. "As long as you keep those two groups happy, usually cash flow and the rest of the business does well."
One way he tries to keep those groups satisfied is by not taking himself too seriously, he said. He has been known to juggle at company meetings. He even finds a way to joke about EBITDA (earnings before interest, taxes, depreciation and amortization). "If we have "eh-buh-duh," then we can make payroll," he regularly announces to the staff. He sometimes leads them in chants of "eh-buh-duh!" to help them get a handle on what they can do to help the company's bottom line.
"There's pressure, but you can use humor to diffuse some of that and make numbers more approachable," Zaloudek said.
Humor also can help minimize the ivory tower image that a finance department sometimes projects, said Zaloudek, who has tried to fashion his team after Nordstrom department store's example of outstanding customer service.
Zaloudek previously was CFO of eGix Inc., an Indianapolis-based telecommunications company. Before that he spent 12 years in public accounting, which he calls an excellent way to start a career in finance. It exposes budding accountants to a variety of executives and companies. His advice:
"Pick the one that you enjoy working in each day and see if you can leverage that into an individual job you like," Zaloudek said. "You have to be able to enjoy your work each day. If not, you're going to have a tough 40 years."•
_____


Click here to return to the CFO of the Year landing page.


Please enable JavaScript to view this content.