Top Honoree, Private Companies (Revenue over $100 million)
Being nimble has been the secret of Harlan Bakeries LLC's recent success, said John Menne, CFO.
"We're constantly open to new ideas, new products, new customers—that has helped allow the company to grow even in tougher economic times," Menne said. Whether it's adding a product line, purchasing equipment, altering a manufacturing process or tweaking packaging to suit a customer, Harlan tries to be flexible enough to do what needs to be done.
Menne has helped the company achieve annual revenue increases of 13 percent in recent years, a figure that should jump to 30 percent this year.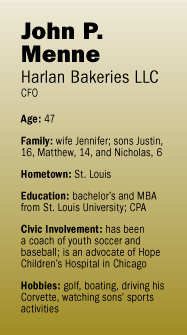 Avon-based Harlan is a commercial bakery with $300 million in revenue and 1,800 employees in nine facilities in the United States and Canada. The company was founded in 1991 by the Harlan family and remains family-owned. It provides bagels, breads, rolls, pies, cakes, cookies and energy bars to major supermarkets, club stores and restaurant chains.
"Menne has played a key role in helping Harlan Bakeries continue to be one of the fastest-growing commercial bakery companies in the world," said Hugh Harlan, president of Harlan Bakeries.
Menne's skills have been central to Harlan's significant expansion over the past year. Here are some highlights:
• The company made two acquisitions: a pie- and tart-shell manufacturer in Edmonton, Alberta, and a sales and marketing company in Florida. The first purchase will strengthen Harlan's presence in Canada, Menne said. Acquiring the Florida company, which handled promotion of one of Harlan's bagel bars, gives the company "360-degree" control over that product, he added.
• Menne took the lead in working with local government officials to obtain bond financing and property tax incentives for a 170,000-square-foot addition to Harlan's northwest-side facility, which will open in the first quarter of next year. The expansion will create 100 jobs.
• The company secured long-term contracts with some of the largest food companies worldwide.
Over the next year Menne will focus on staying on top of Harlan's new business: bringing new products on line, achieving targeted volume levels, training people properly and meeting or exceeding customer expectations. Maximizing the benefits of new technology will be another priority.
Harlan's culture is one of cross-company involvement, so Menne's role is broader than that of many CFOs, he said. In addition to being involved with pricing, contracts, managing working capital to provide liquidity, and monitoring volatility in the commodity markets, he spends a lot of time in the plant determining order lead times, shipping destinations, even variations in product flavors and sizing.
"I'm keenly involved in all those aspects because it all has economic impact to the business," Menne said. "You need the CFO involved to keep it grounded and keep the best interests of the business in mind."
Being aware of all areas of the business has been a key to his success, Menne said. A good CFO must have a solid grasp of both manufacturing and marketing, both customers and vendors, he said, adding, "Seek first to understand and then to be understood."
His advice for those starting out in the field is: "Don't lose sight of what moves the business. It's not all in the debits and credits and bookkeeping."
When Menne joined Harlan in 2007, he brought with him 20 years of financial experience, including 13 years as an executive in the food industry at such companies as Illinois-based Pennant Foods, California-based Fresh Start Bakeries, and CSM Worldwide, a company based in the Netherlands. He is a member of the American Institute of CPAs.
Menne also has led the company's donations of truckloads of surplus products every year to Gleaners Food Bank of Indiana, as well as funding of local groups such as Boy Scouts and police and fire departments.
If things continue on an upward track, Menne hopes to be able to give plenty of support to area not-for-profits in the coming years.
"It's been exciting," Menne said. "We've been in a growth mode. We've grown both organically and acquisitively. I've had a lot of fun at Harlan Bakeries."•


Click here to return to the CFO of the Year landing page.


Please enable JavaScript to view this content.