Honoree, Private Companies (Revenue over $100 million)
This year has seen Herff Jones Inc. make its biggest-ever acquisition as well as its only significant sale. The mastermind behind both deals was Vice President and CFO Michael Parrett.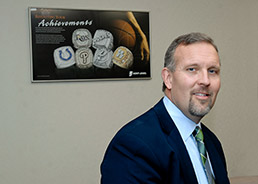 (IBJ Photo/ Perry Reichanadter)
The purchase of Memphis, Tenn.-based Varsity Brands brings with it $200 million in revenue and 1,000 employees. The acquisition is expected to push Herff Jones' revenue to $724 million next year, up from $485 million in fiscal 2011.
"It was a lot of fun, but a lot of work," Parrett said of the process of completing the deal.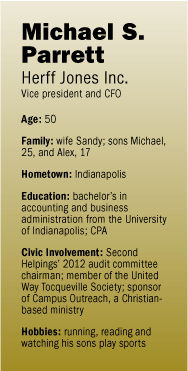 Cash for the purchase came from the sale of Herff Jones' $50 million photography division, which was draining resources that would be better spent on the company's core divisions, Parrett said.
Founded in 1920, Indianapolis-based Herff Jones makes commemorative educational products, such as class rings, awards and yearbooks, among other items. Varsity focuses on cheerleading apparel, competitions and camps.
In addition to expanding Herff Jones' product lines, the addition of Varsity will result in consolidation of computer, marketing and financial systems.
Just after the Varsity deal, another acquisition opportunity of a similar size arose. But after about six weeks of due diligence, Herff Jones' executives decided it was not a good fit.
"Sometimes those are the hardest decisions to make: the ones to walk away from," Parrett said. "You get so tied up in the effort that went into it. It's hard to decide to walk away."
But Herff Jones continues to look for opportunities to grow, Parrett said.
He has been with the company in a variety of roles for 27 years, and became CFO in 2008. In that capacity, he oversees treasury and risk-management functions. He has served as secretary on Herff Jones' board since 2002. Staying with Herff Jones so long has been both comfortable and challenging, he said.
"At a different kind of company, you'd get bored. You'd think 'How can somebody stay at an organization for 27 years?' But it's not been the same organization. It's like I get a new job every three or four years."
Herff Jones has one of the country's oldest and largest employee-stock ownership plans, with outstanding shares valued in excess of $500 million.
The ESOP is where Parrett believes he has made his greatest contribution. The Varsity deal has increased the value of shares in the ESOP by 7 percent, to $128.
"As an employee owner, you worry about things only an owner would worry about," he said.
Parrett coordinated credit facilities for the ESOP in 1999 and 2005 totaling more than $120 million. He also has overseen four previous acquisitions. Other accomplishments include expanding the internal audit department and beefing up processes dealing with disaster recovery, information-technology security and financial risk.
Parrett has become intimately familiar with the company's operations and sales functions, as well as becoming active in the industry and the community.
"You need that variety of experiences," he said.•
_____


Click here to return to the CFO of the Year landing page.


Please enable JavaScript to view this content.