Honoree, Public Companies
There was no time for settling in when Jeffrey Blade started his position as CFO at Vera Bradley Inc. in April 2010.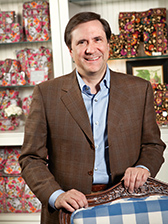 (Photo Courtesy Vera Bradley Inc.)
The Fort Wayne company would go public six months later, so he was busy establishing investor relations and governance processes at the same time he was finding his way to the copy room.
Blade brought with him experience at public companies such as Kraft Foods and Steak n Shake. But, although he had worked for a number of public companies, he had never gone through the initial public offering process. He said the IPO was a good combination of leveraging experience and tackling new challenges.
Blade led Vera Bradley's IPO readiness process, which involved everything from recruiting talent to refining financial processes to developing long-term sales targets. Those goals include revenue and store growth in the mid- to high teens, same-store sales growth in the mid- to high single digits and profit growth in the high teens. Blade also helped the designer and maker of handbags and accessories tell its story to the financial community.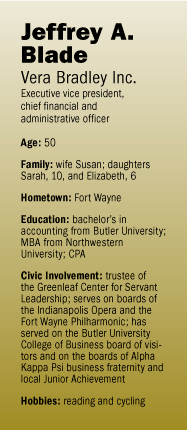 In October 2010, his labor paid off when Vera Bradley raised $176 million in the IPO. Blade described the first year as a public company as "seamless."
"We've been able to navigate in a really choppy public market," he said. "We're in the consumer sector, where analysts have been very nervous. But we've been consistent about telling our long-term growth strategy, and we're very optimistic about growth opportunities."
Blade believes one key to his success has been thinking of himself as a businessperson first and foremost. As opposed to the adversarial role that some financial types play, he tries to behave as a business partner. He views his role as helping to run and grow the company, rather than just doing accounting and finance.
As chief administrative officer, Blade oversees information technology, legal services and human resources. He is spearheading a "human capital development strategy" to ensure that the company continues to hire great people and nurture existing employees.
He is pleased that being public has not altered the company's culture, which he termed "people-centric." Vera Bradley was founded in 1982 by Fort Wayne entrepreneurs. Barbara Bradley Baekgaard and Patricia Miller. As the company grew, the founders hired friends and neighbors who shared their passion for Vera Bradley products.
Although the company now has $366 million in revenue and 1,800 employees, it retains the feel of a family-run business, Blade said. And he is doing his best to keep it that way. The company's culture is one of its most valuable assets, he said.
He noted that potential job candidates are first evaluated in terms of whether their personality and attitude would fit into the company. Only if they pass that test are their job skills considered.
"No matter how technically strong you might be, it doesn't trump your ability to build relationships," Blade said.
His management style has been informed by his philosophy of servant leadership, which he has cultivated through his volunteer work with the local Greenleaf Center for Servant Leadership. The guiding principle is that a leader puts top priority on meeting the needs of those whom he leads.
"I'm really interested in how to help individuals unlock their potential … how to create a workplace where everyone can make a difference," he said.•
_____


Click here to return to the CFO of the Year landing page.


Please enable JavaScript to view this content.