Honoree, Public Companies
G. Patrick Corydon has been the CFO at Baldwin & Lyons Inc. for 32 years, but that doesn't mean he's been doing the same job all that time.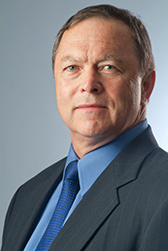 (Photo Courtesy Baldwin & Lyons Inc.)
During his tenure, the Indianapolis insurance company has grown from 80 to 320 employees and has added subsidiaries in Canada and Bermuda.
Over the past four years Corydon's role has expanded to executive vice president, overseeing the company's reinsurance and actuarial departments. He helped spearhead Baldwin & Lyons' diversification beyond coverage for long-haul trucking.
"You'd think after being in the business 30 years that I'd have known more than I did," Corydon joked. "But I've learned. It's been really challenging and rewarding for me."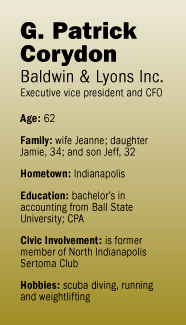 The results have paid off. Baldwin & Lyons' revenue grew from $240 million in 2006 to $330 million last year. This was during a period when most of the competition was holding its own or declining, said Joe DeVito, CEO. The company succeeded in its expansion while retaining its A+ (superior) A.M. Best rating.
"We committed four years ago that we were going to grow the company in a controlled and responsible fashion," Corydon said. "We have been able to swim against the current."
Corydon oversaw all financial and accounting aspects of increasing the company's product line from one to more than a dozen. He has especially enjoyed delving into reinsurance purchasing, which requires him to travel and develop new relationships, some of them overseas.
"Pat is the perfect combination of warrior and team player. He is tenacious—no, ferocious—in his pursuit of excellence," DeVito said. "However, he leads by example, ruffles feathers only when necessary, accepts responsibility and distributes credit."
Corydon, the first member of his family to attend college, started his career in public accounting. While he was an audit manager at Ernst & Ernst (now Ernst & Young), Baldwin & Lyons was among his clients. When he decided to seek out a new employer, he decided that, of all his clients, Baldwin & Lyons was the one that needed him most.
"The accounting finance area was, well, to say it was inadequate would be an understatement," Corydon said.
He went to work for the company in 1978 as a financial analyst, and within a year he had been named CFO. He was all of 30 years old. And he soon discovered that his auditing experience had not completely prepared him for his new challenges.
"Public accounting is a wonderful way to start a career, but you don't learn much about running a company," he said.
He set about hiring some good people, several of whom are still with the company. He eventually settled into the role, finding that Baldwin & Lyons was a good fit for him. It has the feel of a family business, and it's not unusual for people to spend most of their working lives there, he said.
Now, as Corydon finds himself past the midpoint in his career, his goals are shifting. Although he has no plans to retire, he wants to make sure that the company is prepared to operate without him.
Corydon, who supervises a department of 44 people, enjoys the opportunity to mentor younger staff members. He gets a thrill from giving employees challenges and watching them thrive and rise through the organization.
"You start to feel paternal about the department and the company," he said. "Next to my family, it's the most important thing in my life."•
_____


Click here to return to the CFO of the Year landing page.


Please enable JavaScript to view this content.