Top Honoree, Not-for-Profit
It's been a big year for Citizens Energy Group's John Brehm, who helped close the largest municipal water and wastewater acquisition in U.S history.
Brehm, senior vice president and CFO, oversaw all financial aspects of the $1.9 billion acquisition of the city's water and wastewater systems.
The deal doubled Citizens' revenue to $800 million, added 40,000 to its customer base of 260,000, and hiked its employee count from 700 to 1,100. Its capitalization grew 400 percent, to $2.8 billion.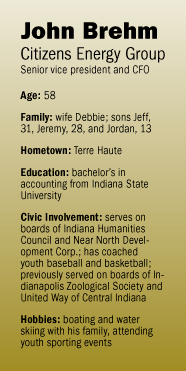 The deal was three years in the making. First came the due diligence, negotiating the deal with the city and communicating the benefits to the public.
"It was extremely challenging to maneuver through all that," Brehm said.
Next came the process of gaining regulatory approval, which meant projecting capital expenditures and necessary rate increases. The Indiana Utility Regulatory Commission had not previously regulated the city's wastewater treatment services, so it would be gaining a new responsibility.
Then came arranging the financing of the transaction, which meant talking to ratings agencies and potential investors. Since Citizens is a public charitable trust, it has no stockholders or equity. So the deal had to be financed with bonds. The sale closed in August.
Now Citizens is in the integration phase.
"It's one thing to model a transaction, and another thing to actually implement it," Brehm said. "Suddenly these employees are your responsibility and the services are your responsibility."
Still, Brehm said he feels "a great sense of anticipation" about the future of Citizens with these acquisitions under its belt.
The deal is projected to save Citizens $60 million in construction, operations and back-office costs over the next three years. And water-rate increases are expected to be lower than they would have been under city ownership. Citizens said it will improve customer service through consolidated billing and other changes.
Brehm was making his mark at Citizens even before the water and wastewater deal came up. He refinanced $275 million in debt in 2008, which helped the utility avoid the potentially dramatic negative effect of the financial meltdown that year. And his preparation for rate cases has resulted in multiple successful settlements and decisions.
"John Brehm is an exceptionally strong strategic thinker," wrote Carey Lykins, Citizens CEO, who nominated Brehm for CFO of the Year. "He makes decisions today fully contemplating the impact those decisions will have on the company and its employees 30 years from now."
Thinking over the long term comes naturally to Brehm, he said. He tends to think about where Citizens needs to be, and then works backward to gauge what actions need to be taken in order to get there.
Brehm views his role as CFO as helping operate what he calls Citizens' signal system. What gets measured and reported typically is what gets done, he said. So by measuring carefully and reporting accurately, he is helping assure that the right signals are sent through the system, which ideally results in making the best decisions.
Brehm enjoys mentoring his younger colleagues. The importance of grooming the next generation of leaders was impressed upon him by a previous boss, who told him this:
"You have to understand things in a continuum," he said. "There were folks that built the company before you occupied that chair. And folks will come after you. So you need to make provisions for things continuing to get better and better after you leave."
Brehm joined Citizens in 2005 after a 29-year career at Indianapolis Power & Light Co., during which he rose from staff accountant to chief financial officer. The job at Citizens grew out of his work for the company as a co-op student at Indiana State University. The difficulty of alternately working and studying for five straight years was worth it, he said.
"It was intense. It gave me a great perspective on the real world as opposed to the book world," Brehm said.
His advice for young people starting their careers today is to be relentlessly curious. It's important to ask why an action matters, both theoretically and tactically.
"Just because you can do a task is not really mastery," he said. "Mastery comes when you have a broader understanding of how it connects to other things."•
____


Click here to return to the CFO of the Year landing page.


Please enable JavaScript to view this content.