Honoree, Not-for-Profit
"I'm just a band mom who spends some of her time doing accounting," jokes Nancy Carlson, vice president and CFO of Music for All Inc.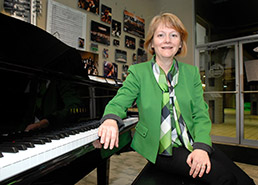 (IBJ Photo/ Perry Reichanadter)
But Carlson is far underestimating the impact she has had on Music for All, an arts advocacy and education organization that presents Bands of America marching band competitions, as well as other music contests, festivals and camps for teens. It also provides training for music teachers. The organization last year had revenue of $6 million and drew 300,000 attendees and more than 85,000 participants to its events.
The organization was in far less robust shape when Carlson arrived on the scene in January 2008.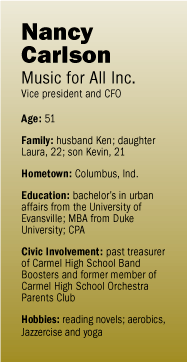 "Music for All was, from a financial perspective, on extremely shaky ground," she said. The group had negative cash flow and had been posting significant losses for several years. The most recent audit had a "going concern" clause, meaning that the organization's survival was in doubt.
As the mother of music students at Carmel High School, Carlson had become quite familiar with Music for All's programs, and she liked what she saw. But she knew the organization would have to learn to manage its money and develop alternate revenue sources.
The auditors arrived two weeks after Carlson started the job. "It did not go well," she said. Soon Carlson got to work establishing procedures and controls. The next year, Music for All passed its audit with flying colors.
"We went from an F to an A in one calendar year," said Carlson, who is a member of the Indiana CPA Society.
On the expense front, "we took very difficult steps that I don't want to ever do in my career again," she said, the worst of which was to cut staffing by 20 percent. That step meant eliminating "very good people." She froze salaries (a move still in effect) and temporarily stopped matching employee retirement contributions. She renegotiated equipment and service agreements. Those and other reductions cut overall operating expenses by more than 10 percent.
Carlson also helped develop a sensible cost structure for the organization. She led the creation of realistic budgets and conducted long-overdue cash-flow analysis and management. She maintained a successful relationship with the organization's bank, in spite of a negative fund balance and disappointing operating results.
Her contributions to Music for All are "the very essence of its recovery from serious fiscal problems to a clear path and plan for stabilization," wrote Eric Martin, the organization's new CEO, who nominated her for CFO of the Year. She rescued the organization from "uncontrolled mission and personality-based management," he added.
Staff turnover is down sharply in spite of the salary freeze, largely because Carlson has helped create a climate in which employees feel valued, he said.
Carlson arrived at Music for All after "most of a career" in insurance, most recently as a finance director at Indianapolis-based WellPoint Inc. But she enjoyed volunteering as a band parent so much that she decided it was time to marry her vocation and her avocation. She admits the move meant a bit of a pay cut.
"But the rewards of working for the kids more than makes up for the lost salary," she said.•
_____


Click here to return to the CFO of the Year landing page.


Please enable JavaScript to view this content.