Voters in Marion and Hamilton counties could be asked to approve a 0.3-percent increase in their local income-tax rates to help pay for a $1.3 billion rail and expanded bus system built over the next decade.
That's the long-awaited local funding mechanism to emerge from the Central Indiana Transit Task Force, which announced its plan Tuesday morning after nearly three years of study. Indianapolis Mayor Greg Ballard and Carmel Mayor Jim Brainard were among those making the announcement at the Indiana State Fairgrounds.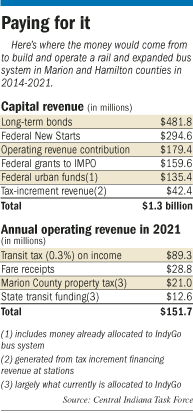 The next step: Obtain approval in the upcoming session of the Indiana General Assembly for a ballot referendum next November.
The message to legislators will be "allow the people to have a vote," said Mark Miles, head of the Central Indiana Corporate Partnership, which has been leading the transit task force efforts.
Legislative leaders have previously indicated a reluctance to pay for Indianapolis-area transit funding via a state sales-tax increase, thus the transit group's proposal to tap local income taxes in both counties.
The proposed increase would boost Marion County's local-option income tax to 1.92 percent from 1.62 percent; Hamilton County's income-tax rate would rise to 1.3 percent from 1 percent.
 A single taxpayer in either county earning $50,000 a year would pay about $12.25 more a month—or about $147 a year.
Details of the plan:
— Double the amount of bus service in Marion County, which currently is served by IndyGo.
— Launch an express bus service between Marion County and Hamilton County by 2014.
— Introduce bus rapid-transit, or BRT, in four corridors, including Washington Street, Keystone Avenue and 38th Street .  The BRT line would have more distance between stops and have its own stations. It would speed bus flow through the use of dedicated lanes and traffic-signal prioritization.
— Operate a 22-mile rail line between Union Station and Noblesville atop the Nickel Plate rail corridor by 2021. This is the most expensive element in the $1.3 billion plan, at $625 million.
These elements are consistent with a plan the task force revealed last year that would eventually extend rail and bus service to other surrounding counties – likely first to Hendricks and Johnson Counties. Those future segments would have to be approved by taxpayers in those counties.
For now, Marion and Hamilton counties are the focus.  Marion County is already the largest user of public transit, although IndyGo is perennially underfunded and thus constrained to expand.
Fast-growing Hamilton County is experiencing worsening highway congestion, particularly in the Interstate 69 corridor in Fishers.
Both Ballard and Brainard framed the transit system as a key tool for economic development and for keeping the region competitive with other large metro areas that already offer transit amenities.
Joe Slash, president and CEO of the Indianapolis Urban League, said there have been many times where his organization has found job opportunities for clients who couldn't get to the job because of a lack of public transportation connections.
Beyond better access to jobs, the system could provide connections to educational opportunities, better access to health care and a lifeline to senior citizens who can no longer drive, Brainard said.
Both Brainard and Hamilton County Commissioner Christine Altman noted that although such a transit system has been discussed for decades, the growing problem of urban sprawl and its costs in the form of increased government services make it time to move ahead.
"We have this big sprawl in the region…we're very disconnected," said Brainard. "This system will help pull us together as a region."
But will taxpayers have the stomach for a tax increase for a system almost certain to get more expensive over time? The transit task force is betting Marion and Hamilton County residents are ready to pull the trigger, given IndyGo's perennially poor funding and Hamilton County's growing highway bottlenecks.
"We think [those residents] are the first that are likely to opt in. … We think this is probably the minimum system that would get public support," said Ron Gifford, executive director of the Central Indiana Transit Tax Force.
Transit leaders expect 46 percent of capital revenue to come from federal sources for transit projects. Gifford said the task force tempered its expectations of federal funds, noting cutbacks in federal transit funding. Leaders are assuming no more than 32 percent of capital costs will covered by a federal grant.
"We wanted to make sure we didn't get to the point five years from now where, 'Oops, we don't have enough money,' as other communities have done," Gifford said.
The finer details of the Marion/Hamilton County system are still subject to study. Some early estimates indicate the train line could have up to 12 stops between downtown Indianapolis and Noblesville.
Engineering work also needs to be furthered to firm up a picture of the bus-rapid-transit line down busy corridors such as Washington Street. BRT was chosen because of its relatively lower cost compared to rail. But, "it's designed to emulate the light-rail experience," Gifford said, noting the use of rail-like stations at key points and dedicated right of way in some places.
The train cars likely would be lightweight units powered by efficient diesel engines. They wouldn't make the ruckus of a traditional diesel-electric locomotive.
The plan would create a new metropolitan transit authority, into which IndyGo would be folded. The authority board would include members from each county served by the system.
It remains to be seen who will carry a bill during the upcoming legislative session for the referendum plan.  If all goes according to plan, local residents would probably notice increased bus service starting in 2014.
Expanded bus service and rail lines have been studied for years by local transit planners. Groups such as the Greater Indianapolis Chamber of Commerce and Central Indiana Regional Transportation Authority have conducted numerous studies showing public support for expanded transit.
It's unclear whether the public is willing to pay higher taxes, however, especially in this economic climate.
In central Indiana, highways have received the lion's share of funding over the years, particularly under Gov. Mitch Daniels' ambitious "Major Moves" highway program.
The transit task force points out that the $1.3 billion plan is less than the $1.5 billion designated in recent years by the Indiana Department of Transportation for the rebuilding of Interstate 465 on the west side, upgrades to U.S. 31 in Hamilton County, and planned expansion of I-465/I-69 on the northeast side.
Still, leaders were peppered with questions about the cost of the transit plan Tuesday morning.
"Sometimes people say that transportation is expensive. A lot of what people don't realize is all transportation is expensive," Brainard said.
Slash said the region risks increase fragmentation and stagnation without better transportation options.
Please enable JavaScript to view this content.