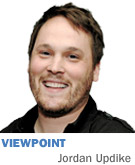 I'm among the firstborn of the millennial generation—that group of young folk who grew up with the Internet and can't really remember life without spell-check—and I've been thinking a lot about what it means to engage my budding generation.
I love this city, and I'm not the only one. In fact, young professionals are moving downtown in record numbers, and as we are making the realization that you will soon be handing the reins of the city over to us, we suddenly find ourselves paying close attention to the policy and infrastructure we will be inheriting.
We are of course compelled to imagine the kind of place that retains and attracts the best and the brightest to the urban core. If we're going to reach that goal, there are a few problems to solve in the next few years:
Education
As millennials begin to age into child-bearing years, I'm seeing more and more moving out of the urban core because they're not satisfied with the education options. I'm not going to pretend to know the solution; this is certainly not an Indianapolis-only issue, and people much smarter than I are working on this every day. But if we don't provide good, challenging academic experiences now, we will continue to bleed talent from within.
'Third place'
One cannot underestimate the power of third place—where someone spends their time when not at work or home—in the "Where should I live?" decision-making process. Cities like Austin, Texas, or Portland, Ore., often come up in lists of places attractive to millennials because they have vibrant local art and culture scenes.
If you want to know what this generation thinks about music opportunities in Indianapolis, ask a 19-year-old how many concerts he hasn't been able to attend, because our underwhelming all-ages scene puts most independent music in 21-plus clubs. If we're going to be a captivating option of city life for the creative class, we have to foster an environment that encourages the creation of culture, not just the consumption of it.
Transit
We will always be considered a small Midwestern town as long as we do not take mass transit seriously. I haven't done any research on which U.S. downtowns have the highest ratios of ground-level-parking-lots-per-acre, but I'm willing to bet Indianapolis ranks among the top. Our propensity to build out instead of up is all the more reason to get serious about connecting the city well.
When I lived in San Diego, I relied solely on cycling and public transportation to get around, and when I recently moved to downtown Indy, the relatively sane decision to go motorless in a city with reliable transport became borderline nutty in a municipality with a shockingly underfunded mass transit system.
I am absolutely convinced that IndyGo does the best it can with what it has, but when we fund our transit system at the levels we do, we have a serious problem.
Consider ignoring mass transit the equivalent of disregarding a functional fire department. Sure, we could get away without paying for it for a few years … but in the meantime we're just burning away potential, cash and pieces of the city.
It makes economic-development sense. It makes community-access sense. It makes job-creation sense.
We millennials have a lot of hope for this city; we're putting down roots and we're ready to pitch in as it continues to grow.
Let's get a move on it. This generation will thank you.•
__________
Updike is executive director of the Earth House Collective. You can follow him on twitter @jordanupdike or @EarthHouse.
Please enable JavaScript to view this content.