Downtown will be the focal point of Super Bowl XLVI, but communities from Zionsville to Columbus are aggressively pursuing some of the money visitors are expected to shower on the region.
"There's absolutely an element of competition between area cities and towns, and a lot of us are doing everything we can to stand out," said Ellie Brown, a Zionsville business owner and co-chairwoman of ZBowl, a group of volunteers who have coordinated an effort to promote the city northwest of Indianapolis to Super Bowl visitors.
"I think the important thing is to focus on the flavor your destination can bring to the Super Bowl experience," she said.
Officials for the local Super Bowl Host Committee have launched a collaborative effort to help all areas within 50 miles of Indianapolis maximize the economic impact of one of the nation's largest, most lucrative sporting events.
Townsend
"I'd say these areas will feed off and fuel each other more than compete with one another," said Susie Townsend, vice president of guest welcome and super service for Indianapolis' host committee. "There's a lot of idea-sharing."
A PricewaterhouseCoopers study estimated that direct visitor spending in central Indiana during Super Sunday and the week leading up to it will be $200 million.
It's inevitable that spending will spread beyond Indianapolis. NFL officials expect Super Bowl visitors to use close to 30,000 hotel rooms the Thursday through Sunday leading up to the Feb. 5 game. With 7,100 hotel rooms downtown and less than 20,000 in Marion County, there clearly will be spillover in the outlying areas.
"The areas with retail components and especially pockets of hotels will be in the best position to realize some of the financial windfall," said Jay Gladden, dean of the School of Physical Education and Tourism Management at IUPUI and an Indianapolis Convention and Visitors Association board member.
But it's not enough, Gladden added, "to merely have your doors open and your lights on. The communities that are the most proactive in reaching out to visitors, those that have the best coordinated effort to attract and entertain visitors, are going to be the ones that are the biggest benefactors of the Super Bowl."
From ice skating to art
Gladden's advice doesn't ring hollow. Some communities have laid ambitious plans to capture tourist dollars.
Zionsville is offering live entertainment on the buses that will run free of charge to and from downtown in the days leading up to the Super Bowl. The buses will serve as rolling billboards for the town's special activities, which will include a synthetic ice skating rink, an 80-foot toboggan run and musical performances. Zionsville will also offer carnival food, a mobile video game truck, a Hoosier pie-making class, surprise chef appearances and a presentation by artist Nancy Noel.
Zionsville has placed print ads and used social media to promote its events, Brown said.
Bohler Smith
"We didn't want to just sit back and wait for people to find us," Brown said. "When you're a visitor in a strange town, especially in a cold climate, sometimes you're not as likely to leave your comfy confines. We want to give people lots of reasons to come out and visit Zionsville."
Hendricks County officials said big sporting events by themselves don't guarantee a big payday.
"We're heavily invested in the auto racing industry, and we've seen what happens when you don't promote yourself and your events," said Jaime Bohler Smith, Hendricks County Convention & Visitors Bureau associate director. "With the Super Bowl, we feel we have a little bit of an advantage with our proximity to the airport, but we know we have to work hard to get people to choose to come to the west side."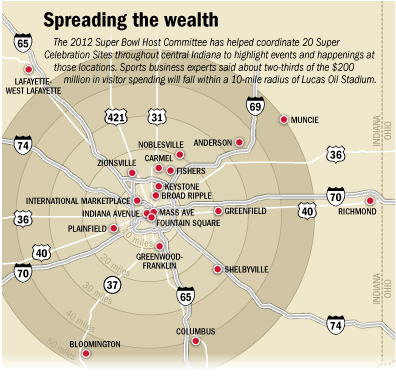 Hendricks County is also offering free bus service to and from downtown and is hosting a bevy of events at the Metropolis Mall in Plainfield, including video game tournaments, tailgate parties and prize giveaways.
Becky Harper, Columbus Area Visitors Bureau sales director, said her organization has been planning for Super Bowl week for nearly two years.
Among Columbus' offerings are architectural tours, a tree "koozie" decorating competition, and a family fitness fun festival and party.
Columbus officials expect all 1,500 rooms in Bartholomew County to be full, and they plan to disseminate information on local happenings at those establishments.
"We think the concierges and hotel desk workers are going to be key to directing traffic to our events," Harper said "We want to make sure everyone is working from the same page."
To assure that, Harper said, Columbus officials have encouraged everyone to take the Super Service program offered by the ICVA and Indianapolis' Super Bowl Host Committee.
"We think it's important to be a strong representative of Columbus and Bartholomew County, but also for Indiana," Harper said. "We think a strong, coordinated hospitality effort is the best way to earn repeat business for us and the state."
Harper said the Super Bowl is by far the biggest multi-county tourism initiative Columbus has been a part of.
Cashing in across county lines
Columbus is one of 20 communities designated as Super Celebration Sites by the Super Bowl host committee. Some of them are entertainment hubs within Indianapolis, such as Broad Ripple and Mass Ave, but others stretch from West Lafayette to Bloomington.
Each site is equipped to house and feed guests and has an organization in place to plan and execute programming, Townsend said. The host committee is promoting the sites online, providing marketing materials, and offering training for hotel and other tourism workers.
NFL officials said no Super Bowl host committee has ever had as deep a regional program as Indianapolis'.
"We advise communities to offer a variety of events with broad appeal, and I think Indianapolis and the surrounding communities are doing a great job of that," said Frank Supovitz, the NFL's senior vice president of events.
The payoff isn't necessarily limited to the spending that takes place through Feb. 5. The NFL says 65 percent of the people who come to the Super Bowl are corporate decision-makers. Impressing them could have longer-term implications. And lots of them bring their families along, Supovitz said.
Homespun touches will greet those families. The host committee spearheaded a program to have greeting cards made by area schoolchildren placed in every regional hotel room. Hotel lobbies will offer complimentary hot chocolate and snickerdoodle cookies.
Each of the Super Celebration Sites will also pay homage to the city's most famous sporting event by displaying an IndyCar decorated in the theme of one of the NFL's 32 teams. The cars, supplied by the Indianapolis Motor Speedway, will be lined up downtown, probably on Meridian Street, in the week leading up to the Super Bowl, Townsend said. Then they will be dispersed throughout the region.
The extra effort from surrounding communities can make a real difference in the Super Bowl's regional impact, said Michael Casinelli, president of San Diego-based Marketing Information Masters, which has conducted economic impact studies on four Super Bowls.
Those studies have shown the impact isn't static from year to year.
"While some of that fluctuation has to do with the general economy, the weather and even which teams play in the games and their fan bases, we think how a community responds to the game and week leading up to it also can have a big impact," Casinelli said.
"If a community has strong marketing and outreach around the event, if there's a warm welcome and a structured approach to pointing people to events and attractions, the economic impact can be pushed up by at least 10 percent. When you're talking about an event as big as the Super Bowl, that's a big score."•
Please enable JavaScript to view this content.