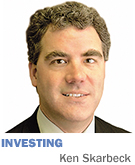 "The Boss," Bruce Springsteen, sang about it in the song "Born in the USA." Warren Buffett has called it winning the "ovarian lottery." Their message: Being born and living your life in America is a truly fortunate outcome.
Buffett submits that his investment skills would have been useless if he had been born elsewhere. He quips that in some parts of the world, his lack of foot speed might have meant his ending up as some animal's lunch.
Yes, America struggles with instances of poverty, unemployment and other hardships. But we also have the freedom and the opportunities available to improve our standard of living. Everyone experiences highs and lows in life, but where else would you want to live it? We have it pretty good here in the United States.
In the wake of the Great Recession, America is a little off track. Our economy is sputtering and our political system seems more ineffective than usual. Yet amid all the economic reports that accentuate our problems, there is something that can't be measured that holds the key to our future: an overlooked human characteristic called "animal spirits," or the confidence to take risks.
The late economist John Maynard Keynes coined the term "animal spirits" in his 1936 book "The General Theory of Employment, Interest, and Money." The esteemed value investor Jeremy Grantham calls Chapter 12 of Keynes' General Theory "a polished pearl." More recently, Yale economist Robert Shiller hailed the concept in the book he co-authored, "Animal Spirits: How Human Psychology Drives the Economy, and Why It Matters for Global Capitalism."
As we have seen in recent market cycles, animal spirits can be helpful or harmful. An overabundance can help create market bubbles, as risk takers push asset prices far above their intrinsic values. On the other hand, a lack of confidence can foster a depressed outlook and sink asset prices.
With all the dismal news that dominates our headlines, America is in need of a new burst of animal spirits.
As Keynes wrote, "Individual initiative will only be adequate when reasonable calculation is supplemented and supported by animal spirits, so that the thought of ultimate loss, which often overtakes pioneers, is put aside as a healthy man puts aside the expectation of death."
During the 1970s, Americans were dreary as the Vietnam War wound down and an energy crisis and stagflation wreaked economic havoc. Yet entrepreneurs like Steve Jobs and Bill Gates were toiling at nascent firms that would become Apple and Microsoft. Companies like FedEx and Buffett's Berkshire Hathaway were in their formative years. The world was in a quagmire, but those difficulties didn't slow the animal spirits of these risk takers.
And while we should always expect the best performance from our politicians, banks and regulators, they aren't going to be the ones to jump-start the economy. It will be Americans who have ideas and are willing to unleash the animal spirits that are critical for economic recovery.
As we close out 2011, the future appears somewhat dismal and uncertain. The theme circulating in the financial industry is that investors are in a de-risking mode. We respectfully disagree and believe it is time for investors—or calculating risk takers as Keynes might say—to populate their portfolios with attractive investment values.•
__________
Skarbeck is managing partner of Indianapolis-based Aldebaran Capital LLC, a money management firm. His column appears every other week. Views expressed are his own. He can be reached at 818-7828 or ken@aldebarancapital.com.
Please enable JavaScript to view this content.