Eli Lilly and Co. was the global pioneer in the insulin business. Now it needs to become a diabetes company.

The Indianapolis-based drugmaker, after more than a decade of setbacks in the business, is counting on diabetes to help it survive a string of patent losses on other products that have begun to sap the company's sales.
The company held a meeting of its top 100 diabetes managers in late November to strategize on how best to execute in an environment that has become increasingly competitive and price-pressured. Lilly held a town hall meeting of its diabetes sales reps in December for similar purposes.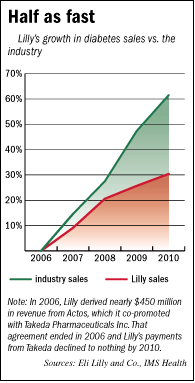 Lilly's diabetes sales are certain to grow in the future, simply because the chronic disease is rapidly spreading around the world, as the population in wealthy countries ages and as economic growth in Asia gives more people access to the diets and sedentary lifestyles that contribute to diabetes.
But Lilly's diabetes sales have grown just half as fast in the past four years as the entire pharmaceutical industry's, according to data from IMS Health, a New Jersey-based market research firm. They totaled $3.9 billion last year.
Lilly needs to outperform the diabetes industry to replace revenue lost by the October patent expiration of its best-selling drug, Zyprexa, as well as to offset the looming patent expirations of two more blockbuster drugs.
Conterno
"Lilly has set an ambitious long-term goal to reclaim leadership in diabetes," Enrique Conterno, president of Lilly Diabetes, proclaimed during a June presentation to investors. But Lilly is admittedly years—and several regulatory approvals of new products—away from returning to a position it held for 80 years—from the time it launched the world's first insulin in 1923 until the middle of the past decade.
Conterno's strategy is to move Lilly beyond its heavy reliance on insulin and other injectable medicines, and instead to develop a broad portfolio of medicines that could help diabetics across all stages of the chronic disease, which in most patients gets steadily worse over time.
In addition, Lilly is working to develop an array of convenient delivery devices and supportive programs to help physicians and patients cope with the challenging regimen diabetics must adhere to.
"We believe we can become a valued partner along every stage of a patient's journey with diabetes," Conterno said in an interview.
Toward that end, Lilly launched a new oral diabetes medication this year called Tradjenta in the United States and Europe, which has so far been a slow-seller. And it has three experimental diabetes drugs in the final stage of clinical trials, including two long-acting, basal insulins.
It's a strategy that Wall Street analysts have generally praised, since putting more products and tools in the hands of sales personnel when they call on doctors is considered a smart use of resources.
But Dr. Tim Story, a family physician in Carmel, doubts Lilly's strategy will work. He said he and other physicians prescribe the best medicines, or else comparable ones that cost less. They show little regard for which company makes each drug.
"This is the kind of idiotic, marketing-type thinking that just kills pharmaceutical companies," Story wrote in an e-mail. "Good docs [even most bad ones] will use the best med in each category, regardless of the manufacturer."
Regaining momentum
Lilly's insulins—Humulin and Humalog—were breakthroughs when they were launched in 1982 and 1996, respectively. And they continue to be strong sellers.

But the company has stumbled repeatedly trying to branch into medicines that require fewer sticks of the needle.
Oral diabetes medicines are a prime example. There have been such medicines for decades, but they were reinvigorated in the United States after Bristol-Myers Squibb Co. in 1995 launched Glucophage and saw its annual sales ramp up to $2 billion.
In the ensuing few years, oral diabetes medicines such as Actos and Avandia were launched successfully. Lilly partnered with Japan-based Takeda Pharmaceuticals Inc. to sell Actos, but Lilly never derived more than $450 million per year from the drug before ending the partnership in 2006.
Actos last year had $5 billion in sales. Avandia, made by U.K.-based GlaxoSmithKline plc, started losing sales in 2007, when researchers raised concerns about heart attack risks among patients, and the drug was pulled from the U.S. market earlier this year. But Avandia's multibillions in sales have been taken up by Januvia, made by New Jersey-based Merck & Co. Inc.
Story said he prescribes a lot more oral diabetes medications—in part because doctors have learned they need to attack diabetes long before a patient needs insulin. But he also acknowledged that patients resist injectable medicines as long as they can.
"No one wants the needle if they can avoid it," Story wrote.
The popularity of oral medications seems obvious in retrospect, yet it was anything but in the mid-1990s. Drug companies worried that, with the availability of so many older, cheaper, generic oral medications, called sulfonylureas, there would never be a profitable future in new oral medications.
But then doctors realized they could prescribe patients two or even three oral medications at the same time to give even more help at controlling blood glucose.
Many people were surprised that Glucophage, now sold generically as metformin, sold so well, said Nat Osborne, owner of Carmel-based Focus for Winning Consulting LLC. Osborne retired from Lilly in 2009 after heading the company's U.S. or global diabetes marketing for the previous 11 years.
"What surprised people, and what the big 'Aha!' was, [was] that we can combine these things," he said. "It wasn't one or the other."
That insight, combined with quicker actions by physicians to put patients on diabetes pills, has sales of those drugs poised to quadruple over the next decade in the world's eight largest markets, according to a forecast by IMS Health.
Avoiding injections
For patients who must start insulin, the fewer injections the better. But Lilly also missed an innovation in this area, called insulin glargine, which requires just one shot per day.
By contrast, Lilly's Humalog insulin is taken before mealtimes. And its Humulin insulin is typically taken two or three times per day.
France-based Sanofi-Aventis SA pioneered insulin glargine with its 2000 launch of Lantus, which has attained $4.5 billon in annual sales. Denmark-based Novo Nordisk A/S also developed its own insulin glargine, called Levemir, in 2005.
Lilly has tried but so far failed to match these products, which are also known as basal analogue insulins.
"Missing the opportunity to have a basal analogue was very, very significant," Conterno said. "For a company with our history and our heritage, that was a significant miss."
Indeed, Lilly's share of U.S. insulin sales collapsed after the launch of Lantus, falling from more than 80 percent to below 40 percent. Lilly also hurt itself by greatly reducing its diabetes sales force in 2002 to help it launch a string of new drugs, which were key to offsetting its 2001 loss of patent protection on its then-best-seller, Prozac.
Earlier this year, Lilly reversed Humalog's market-share losses for the first time in a decade. But there are signs it has had to accept lower profit margins to do so.
For example, Lilly underbid Novo in 2010 to win the contract to supply Wal-Mart Stores Inc. with insulin sold under the ReliOn brand. That led Dr. Ben Park, who runs a family practice in Lebanon, to switch most of his patients from Novo to Lilly—because he recommends Walmart as the cheapest place to fill prescriptions.
"Insulin is just starting to experience price pressure and it will get worse," Park wrote in an e-mail.
Those trends, combined with Lilly's larger need for new revenue, make it imperative that its diabetes pipeline deliver innovations that catch on in the market, said Tony Butler, a pharmaceutical analyst at Barclays Capital in New York.
"The diabetes franchise becomes an increasing piece of total revenues for them, so they need for it to work," Butler said. "It's incredibly important."
Missteps and bad luck
Butler said Lilly underinvested in diabetes a decade ago, but he noted the company hardly rested on its laurels. It just pursued a series of innovations that never panned out as expected.
For example, Lilly thought it had a new blockbuster with the drug Arxxant, which showed effectiveness at relieving blindness caused by diabetes.
But then the U.S. Food and Drug Administration ordered Lilly to conduct another expensive clinical trial. Lilly decided the costs weren't worth the potential benefits, and shelved the drug.
Lilly also worked hard to develop an inhaled form of insulin, which it hoped would combine insulin's superior control of blood glucose with the convenience of oral medications.
It was not to be. New York-based Pfizer Inc. beat Lilly to the market with an inhaled insulin product, but found that it was the winner of a losing game. Pfizer's inhaled insulin posted a woeful $12 million in 2007 sales before Pfizer killed the product. Lilly ended its program a short time later.
Lilly did have a breakthrough with Byetta, which pioneered a new class of diabetes medicines known as glucagon-like peptides, or GLPs. They control blood glucose not by suppressing it, as metformin does, but by inducing the production of insulin when glucose levels rise.
Demand for the injected drug was so strong initially that Lilly and its development partner Amylin Pharmaceuticals Inc. ran short of supplies—a misstep that some analysts blame for the drug's never quite reaching its sales potential.
But even more significantly, cautious FDA staff raised an alarm about Byetta's causing inflammation of the pancreas, where insulin is produced, based on negative results from a handful of patients. The FDA never took any action against Byetta and eventually concluded that pancreas problems in patients were not caused by Byetta. But the damage to the drug's reputation was done.
Byetta then faced new competition from Novo's Victoza, which needed only a daily injection instead of Byetta's twice-daily shots. Since being introduced in March 2010, Victoza has taken half of Byetta's U.S. market share, as well as significant sales around the world.
Lilly and Amylin thought they would quickly best Victoza with a weekly version of Byetta, called Bydureon, originally scheduled to be approved by the FDA in March 2010. But the FDA twice asked for more data from Lilly and Amylin, and has still not approved the drug. Bydureon launched earlier this year in Europe.
"I think they got enamored with the GLP space and thought they had something that could be competitive, when in fact they didn't," Butler said. "They lost a lot of momentum with diabetes."
Teaming with Boehringer
Given all these setbacks, Lilly turned to Boehringer Ingelheim GmbH, inking a deal last January that gave Lilly rights to two diabetes drugs, including Tradjenta, and secured Boehringer's help developing a basal insulin. Lilly officials touted the deal as giving them access to the broadest pipeline of diabetes drugs that any pharmaceutical company has.
The deal, however, ultimately ended Lilly's troubled relationship with Amylin. The California company sued Lilly to force it to use separate sales forces for Byetta and Tradjenta, since the drugs could compete against each other.
Being engaged in litigation at the same time the two companies were trying to launch Bydureon was unworkable, Conterno said. So Lilly agreed to give up its rights to Byetta and Bydureon in exchange for cash payments over the next few years.
Lilly will instead work to develop its own GLP medicine, called dulaglutide, which is in the final stage of clinical trials. But dulaglutide won't be ready to hit the market until 2014, according to Lilly's projections, giving Amylin and Novo at least two more years to solidify the market presence of their GLP drugs.
It's a problem that dogs most of Lilly's diabetes pipeline: Most of the drugs it's working to bring to market will be the second or third in their classes, throwing into considerable question whether they can attract significant sales.
"The fact that Lilly decided to go with [Boehringer] rather than Amylin is just one more sign that Lilly, once a leader in diabetes, will soon become an also-ran and non-factor in the space," wrote David Kliff, publisher of the Diabetic Investor newsletter, on Nov. 8. Of the molecules Lilly gained rights to in its deal with Boehringer, Kliff added, "They are nothing more than me-too, copycat, late-to-market drugs that when launched will be competing against well-established competitors."
Lilly's Conterno, naturally, disagrees. He thinks the drugs Lilly is developing—on its own and with Boehringer—all have shown distinct differences from drugs already on the market.
For example, even though Tradjenta is the third oral medication of its kind to market, it has shown significantly better outcomes in patients with kidney problems or at risk of kidney problems—who represent about 40 percent of all diabetes patients taking pills.
"We believe the people with diabetes have very different needs. So it's better to offer a better portfolio of options," Conterno said. "We like where we're sitting right now."•
Please enable JavaScript to view this content.