Frankly, I'm not terribly interested in which Kardashians come to which Indianapolis parties for the Super Bowl.

And while it's a kick to catch a glimpse of an honest-to-goodness celebrity entering St. Elmo Steak House, I'm a lot more interested in the arts and entertainment—not the arts and entertainment people—the big game lures.

From the Georgia Street concerts to Jimmy Fallon's TV show taping (with terrific house band, The Roots, coming along) at Hilbert Circle Theatre to the IDADA art pavilion, there's going to be a lot going on, even with many of our institutions backing away from programming during the craziness.

Already up and running (beautifully) is "46 for XLVI," the mural project honchoed by the Arts Council of Indianapolis and the city. Most of the work has been visible for long enough that opinions are forming. I've already picked some favorites.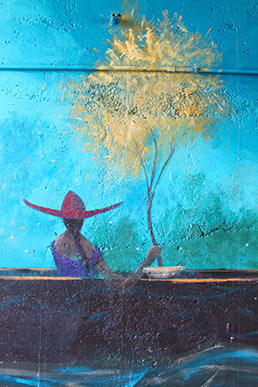 (Photos/Arts Council of Indianapolis)
Kyle Ragsdale's "Hoosier Hospitality on the Boatload of Knowledge"

While its title is unwieldy, Ragsdale's piece at Michigan Street and the Central Canal feels enshrouded in a fog of history and memory. Its imagery might be familiar to anyone who knows Ragsdale's work, but it smartly embraces not only the scale of its concrete canvas, but also its specific location on the water.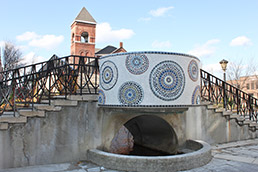 Barbara Zech's "Circle City"

Passersby might not think of Zech's mosaics as part of the mural series. The two works at Vermont Street and the Central Canal seem more like creative flourishes commissioned by the designers of the stairways connecting the Canal Walk to the street. The smart use of irregular rocks and the use of hundreds of handcrafted tiles turn an otherwise utilitarian canal feature into something joyful.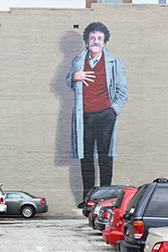 Pamela Bliss' "My Affair with Kurt Vonnegut"

In many public art pieces—including some that are part of this exhibition—attempts to render people come across as amateurish. The challenge is even greater with such a well-known figure as Kurt Vonnegut. I'm happy to report, though, that Pamela Bliss' Mass Ave tribute not only creates a charming Kurt, but also makes smart costume and placement choices. Expect pilgrimages from Billy Pilgrim fans.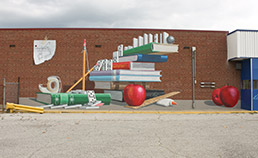 Will Schlough's "Apple Catapult"

At first, I thought this work was just creative signage for Teachers' Treasures, the educational support organization on whose wall at 1800 E. 10th St. it resides. But then the Rube Goldberg/Mouse Trap-like playfulness of the work fully registered. Now I look forward to any opportunity to head east on 10th Street.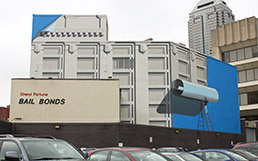 Michael Cooper's "Indy's Always on a Roll"

I dare you not to smile at the painted worker rolling up the wall at 44 Virginia Ave. next to Cheryl Fortune's Bail Bonds.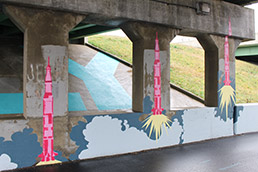 Eve Biddle and Josh Frankel's "Fly"

Big points here for simplicity and playfulness, great use of space, and unexpected color choices. Find it at West 71st Street and Interstate 65—but don't let it distract you from driving.
__________

I'm also a fan of Will Schlough's untitled Jacks mural (923 N. Meridian St.), Damon Lamar Reed's jazzy instruments (30th Street and Martin Luther King Jr. Drive), Eduardo Mendieta's aquatic "Dimensional Shadow" (609 Massachusetts Ave.) and Wug Laku's "Mud and Twigs, Brach Weaver, Still Stream" (924 N. Pennsylvania St.).•

–Lou Harry