Downtown hotels, retailers, restaurants and entertainment venues are busily girding themselves for a blizzard of Super Bowl-related business. But the story is different for urban enterprises offering more mundane, less-tourist-dependent wares. They're girding, too, but hoping their spot in the big game's storm shadow brings only a light dusting of logistical, scheduling and personnel hassles.
Peggy Best, president of Yellow Rose Carriages, is one of the few visitor-intensive entrepreneurs who have fallen afoul of the logistical overload bearing down on Indianapolis' urban core. Normally, Yellow Rose's eight horse-drawn carriages are pretty much free to go where they will, conducting ad hoc sightseeing excursions or picking up customers at hotels or restaurants.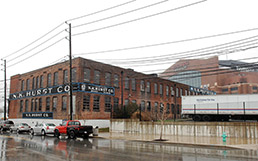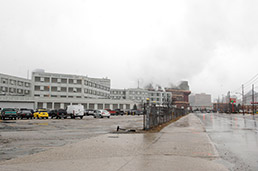 Parking lots at N.K. Hurst, top, and Diamond Chain Co. will be used for Super Bowl events, but operations during the work week won't be affected. (IBJ Photo/ Perry Reichanadter)
Not this time. For the duration of Super Bowl festivities, her carriages (along with those of the city's two other horse-drawn services) will be restricted to a route that begins on Monument Circle's northeast corner, heads north up Meridian Street, veers east and then west through a handful of nondescript blocks, then returns to the Circle.
"It's literally a wagon train," Best said. "We might as well throw ropes between the carriages and have one driver lead them all."
Though her company faced restrictions during events such as the NCAA Final Four, the edicts for the Feb. 5 Super Bowl are particularly draconian—and inflexible.
"I asked them if we would be permitted to have a different set of rules for the first six days [of Super Bowl festivities], as opposed to the last four days," she said. "But they pretty much said, 'You don't understand just how much traffic and how many logistical issues we have.'"
While Yellow Rose's problems are particularly onerous, plenty of other downtown companies are working to find ways to live with—and perhaps benefit from—the traffic and crowds generated by the big game. Ironically, these problems are worsened by one of Indianapolis' main selling points—the fact that the game venue, major hotels and top entertainment options are all within blocks of one another.
"The NFL has told us we are the most compact and urban Super Bowl they've experienced," said Dianna Boyce, director of communications for the Super Bowl XLVI Indianapolis Host Committee. "It makes everything readily available and walkable, but it also creates challenges. We've got to be able to get food in and trash out."
The Host Committee held the hands of downtown businesses for months, convening massive informational sessions at the former Conseco Fieldhouse last October, shooting off regular newsletters and, most recently, providing overviews of parking and street restrictions through its "Know Before You Go" campaign.
Shortening shifts
Emmis Communications Corp. will close its Monument Circle offices at noon on the Friday of game weekend and will shift the celebration of President's Day—a paid holiday for the company—from Feb. 20 to the Monday after the game.
It's also capitalizing on its prime real estate by renting out the building from Friday before the game through Sunday for a private event.
E-mail marketer ExactTarget—whose 20 N. Meridian St. headquarters is also at the epicenter of Super Bowl festivities—is keeping a close eye on traffic issues that might affect its 700 local employees. And it hasn't hurt that the company's CEO, Scott Dorsey, chairs the Super Bowl Host Committee's Marketing and Communications Division.
The company plans to end its workday at around 3 p.m. on the Thursday and Friday before game weekend, then not reconvene until noon of the following Monday, said Mitch Frazier, director of marketing strategy and communications. ExactTarget will use the opportunity to wine and dine select corporate friends—and possible friends-to-be.
Robert Tuchman, president of New York-based Elite Experiences, which has run corporate Super Bowl parties and excursions for 15 years, champions such go-with-the-flow spirit.
The Super Bowl is an unparalleled environment for deal-making, so businesses should worry less about traffic patterns and more about how to capitalize on the fact that the world—or at least the part of the world that pays attention to American football—is beating a path to their door.
"Maximize what you can do during the weekend, and be proactive," Tuchman said. "You have a lot of people coming to town in a festive mood, with money to spend on food, entertainment and basic needs. I'm sure that, like all the other Super Bowls, you'll see a lot of entrepreneurs out there."
Keeping products moving
The biggest no-brainer, he said, is for non-entertainment companies to rent out their strategically located parking lots. That's a tactic taken by one of Lucas Oil Stadium's most famous neighbors, N.K. Hurst Co. Not that the company will stop working on its primary product, beans. Hurst plans to keep making its dry soup mixes right up until the first RVs start lumbering into the area.
"We will continue to run our production and ship product until Friday of Super Bowl weekend," company President Rick Hurst said.
Once everyone clears out for Super Bowl weekend, the Hursts' parking lot will be used for event parking—just as it is for Indianapolis Colts games. No festivities are planned for the august factory itself. Hurst said that, while he's happy to be at the center of things, he doesn't harbor illusions that legions of football-happy sports fans will take all that much notice of his product.
"I'm not sure how that will translate into sales, but it can't hurt," he said.
Another old-guard business has a similarly matter-of-fact plan to soldier on. Diamond Chain Co., a heavy manufacturer with its headquarters and production facility at 302 Kentucky Ave., has churned out products for more than 120 years. A little thing like a Super Bowl isn't going to slow delivery of high-performance roller chain. Not much, anyway.
"We don't anticipate anything at this time, unless something comes at us out of the blue," said Bill Carpenter, the company's vice president of human resources, customer service and safety.
He can be so calm because, even though his plant sits in the shadow of Lucas Oil Stadium (the company will lease out its parking lot for the game), supplies arrive and finished products leave via Kentucky Avenue, which points away from the festivities.
Carpenter said Diamond Chain will weather the logistical storm by shutting down production after the second shift on the Friday before the Super Bowl, then forgo a Sunday night shift. The company has no plans to lease its building or place banner ads on the exterior.
"We are focused on making industrial roller chain," Carpenter said. "Putting ads on the building and other things like that, they're not our forte."
His biggest hassle so far has been rumor control. The firm's more than 300 employees have worked overtime cooking up game-related whoppers.
"We've had everything," Carpenter said. "We've got to shut down the week prior to and the week after the game. The FBI is going to be on the roof with sharpshooters. The police are going to search employees. You name it, people will dream it up."•
 
Please enable JavaScript to view this content.