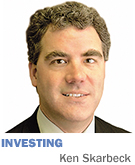 In 2011, large-capitalization, high-quality U.S. stocks significantly outperformed small-company stocks. This is readily seen in the divergence in performance of the Dow Jones industrial average, which represents 30 of the largest stocks, and the Russell 2000 Index of small-company stocks. Last year, the Dow rose 5.5 percent versus a decline of 5.5 percent for the Russell 2000—a sizable 11-percent difference in return.

The Dow's performance was led by McDonald's (up 30.7 percent) and IBM (up 25.3 percent). Large pharmaceutical companies, which began the year despised by investors, soared. Drugmaker Pfizer was up 23.6 percent, and locally based Eli Lilly and Co., although not part of the Dow, rose 18.6 percent. Other gainers included Home Depot, 19.9 percent, and Kraft, which gained 18.6 percent. Dow laggards were Bank of America, down 58.3 percent; Alcoa, off 43.8 percent; Hewlett-Packard, down 38.8 percent; and JP Morgan, which lost 21.6 percent.

The most successful strategy in 2001 was choosing large stocks that paid high dividends. The "Dogs of the Dow" strategy, where the investor builds a portfolio composed of the 10 highest-yielding stocks in Dow on Dec. 31 each year, outperformed for the second year in a row, providing a 16.7-percent total return in 2011. Also confirming the strength of dividend-paying stocks was the Dow Jones Utility Index, which gained 14.7 percent.

According to Birinyi Associates, the 100 highest-yielding dividend stocks in the Standard & Poor's 500 index last year gained 8.2 percent, versus an 8.6-percent decline of the 100 lowest-dividend payers.

Of course, this makes intuitive sense considering that the 3-percent to 5-percent dividend paid by many large companies far exceeds the return investors could get in money market funds and other savings vehicles. Investors, attracted by the dividends and the low valuations on large company stocks, bought heavily and pushed prices higher.

Interestingly, this outperformance by large companies is a relatively recent phenomenon. Small stocks far outperformed the Dow in the last decade. For example, $100,000 invested in the Russell 2000 index on Jan. 1, 2001, grew to $162,070 by the end of 2010, versus only $107,330 in the larger stocks.

Big U.S. stocks had underperformed since the stock market bubble in 2000, when their valuations reached nosebleed levels with price-to-earnings ratios above 30. As the bubble burst, the Dow dropped 27.5 percent from 2000 to 2002, then spent the rest of the decade with minimal price appreciation. Over time, the steadily growing earnings at many large companies caught up to their stock prices, and as 2011 began, PE ratios around 12 made them attractive investments.

Notable for 2012, Americans will have to endure a political year. Despite that sideshow, a wise investment strategy would appear to be more of the same: selectively investing in large, high-quality, dividend-paying U.S. stocks—with the caveat that we are always cautious about buying stocks that have recently jumped in price.

Globally, most developed and emerging markets were crushed in 2011, with many losing 10 percent to 20 percent in value—if not more. One area grabbing our attention is Japan, whose problems are well-known. Nevertheless, we cannot overcome our attraction to statistically cheap stocks and have put some money to work in Japanese companies at bargain prices.•

__________

Skarbeck is managing partner of Indianapolis-based Aldebaran Capital LLC, a money management firm. His column appears every other week. Views expressed are his own. He can be reached at 818-7827 or ken@aldebarancapital.com.