Economists project that $200 million in direct visitor spending will be dumped into Indiana during Super Bowl week.
At least 80 percent of that should land within the metro area, said a study conducted by PricewaterhouseCoopers.
While many of the companies scoring a windfall predictably will be hotels, restaurants and retail outlets, there will be a cadre of more unlikely winners from one of the world's biggest sporting events.
Eco Parking Lights
Nobody was more surprised than Eco Parking Lights principal Jeff Pinyot that the Super Bowl would give such a big boost to a lighting company.
"We've had an amazing number of people coming to us saying they want their properties looking good for the Super Bowl," Pinyot said. "The inquiries started about a year ago, but they've really intensified in the last couple of months."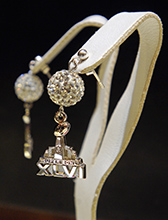 Windsor Jewelry received its first shipment of Super Bowl merchandise Jan. 17, and it's already selling fast. (IBJ Photo/ Perry Reichanadter)
The Fishers-based company has installed new lighting for three parking lots in recent months. And those aren't small projects. The average cost to "re-light" an entire multi-level parking garage is $150,000, Pinyot said. Job inquiries—anywhere from downtown to the far-north side—are still coming in, he added.
Pinyot is no stranger to big jobs. His company in November completed a project at Indianapolis International Airport's main parking garage. The cost: $700,000.
The upside of having Eco handle re-lighting projects, Pinyot said, is that the job won't have to be redone for a while.
"We specialize in energy-efficient lights," he said. "On average, you can go 11-1/2 years without changing one of our bulbs."
Red's Classic Barber Shop
Apparently, a lot of men like to get a haircut when they're on the road and about to go out on the town.


Red's Classic Barber Shop, at 22 E. Washington St., is staying open until 10 p.m. Monday through Saturday the week of the Super Bowl. The store will be open 8 a.m. to 6 p.m. on Super Bowl Sunday.
The six-chair shop normally cuts 250 to 350 heads of hair a week, but co-owner Roy Stevenson expects Reds to give about 600 cuts and shaves the first week of February. Each haircut costs $22, a straight-razor shave is $27, and a shoe shine is $7.
"People are surprised, but we always see an increase in business during the big events downtown," Stevenson said. "During events like the Final Four, firemen's convention, Gen Con and NFL Combine, our business goes up 20 percent. We expect the Super Bowl to have a lot bigger impact than that."
Red's isn't doing any special advertising for the Super Bowl, but Stevenson networks with hotel concierges.
"When hotels give us a recommendation, we know their reputation and our reputation is on the line," Stevenson said.
If visitors need a haircut, they shouldn't bother going to Red's the Friday night before the game. The New Orleans Super Bowl Host Committee—which is hosting the game in 2013—is renting the entire place.
Fifty guests will be treated to food, drinks and free haircuts, shaves, massages and shoe shines, courtesy of next year's host.
"It's something different nobody else is doing," Stevenson said. "That's what people look for at the Super Bowl."
Skydive Indianapolis
When the temperatures dip below freezing, Bob Dougherty generally doesn't expect to do much business—given that his business is training and taking people to jump out of airplanes.
But a healthy sideline for Skydive Indianapolis has long been commercial work, stunts and simulations for television, movies and special events.
So when Visa officials needed someone to help them stage a skydive jump landing in front of The Vogue in Broad Ripple as part of Visa's Super Bowl ticket giveaway promotion, they called Dougherty.
"We're relatively well-known, and we're local," Dougherty said, of why Visa called on his company.
After he advised Visa officials that landing in front of the nightclub on bustling College Avenue might be tricky and could take multiple jumps, they decided to simulate the landing using cranes and wind machines. Still, it took two days to get the shot.
"There's a lot more to setting it up than you might think," Dougherty said. "They wanted to look really authentic and they counted on us for that."
Skydive Indianapolis made $3,500 for the job, but Dougherty said the exposure for his company is invaluable.
"We've done work for the Hoosier Lottery and 'Good Morning America' before, but having work for a Super Bowl ad on your resume is really helpful in getting other jobs," he said.
The Visa commercial started airing Jan. 7 and will run through Feb. 4.
Windsor Jewelry
As one of downtown's only remaining jewelry stores, Windsor Jewelry is uniquely positioned to cash in on the Super Bowl.
Windsor owner Greg Bires was giddy when he found out the Super Bowl's huge trademark Roman numeral—this year, XLVI—monument would be placed less than a block north of his front door at the base of Monument Circle.
"We think that will draw tens of thousands of people by our front door every day," Bires said. "So many people want to go and see that and have their picture taken by it."
Windsor has scored a deal to sell NFL-licensed jewelry during Super Bowl week: things like silver pendants, earrings and money clips, ranging from $30 to $100. Gold items will be more expensive.
Bires has no Super Bowl sales projection.
"We have no benchmark for anything like this," he said. "I can tell you this; we sold through our sample inventory of Super Bowl items almost immediately."
Bires plans to stock "thousands of pieces" of merchandise featuring the NFL Super Bowl logo, Lucas Oil Stadium and both Super Bowl team logos. The first major shipment arrived Jan. 17, with another set to come sometime after Jan. 22.
Bires is extending his normal 5:30 p.m. closing time to 10 p.m.—or later.
"As long as there are people on the street, we'll be open to accommodate them," he said.
Sport Graphics
Sport Graphics, based on the city's far-east side, had built a reputation as one of the nation's best-known makers of signs, banners and other sports materials long before Indianapolis landed the NFL's marquee event. But the Super Bowl has intensified its first quarter significantly this year.
Company founder Frank Hancock inked an exclusive deal last year to handle all signage for the 2011 Super Bowl in Dallas, ramping up his firm's revenue from the event beyond $1 million. By continuing that deal and taking on a job for Indianapolis Colts owner Jim Irsay's team-owners party, and one for the local host committee, plus handling Super Bowl signage for other local clients, Hancock said his Super Bowl business is up at least another 20 percent this year.
Sport Graphics has 80 of its 110 employees handling the Super Bowl work, with some working six or seven days a week, Hancock said.
Slippery Noodle Inn
One of Indianapolis' oldest bars is getting ready for one of its biggest months ever.
Hal Yeagy, owner of the blues bar just a block east of Lucas Oil Stadium, is expecting to score three to six months' worth of business in the week leading up to and including Super Bowl Sunday. That would mean $700,000 to $1.4 million in gross sales, he added.
"I can hardly fathom it; it's scary to think about," Yeagy said.
The Noodle, which opened in 1850, has seen plenty of big events, but Yeagy said the Super Bowl will be its biggest.
Yeagy is spending nearly $300,000 to refurbish and update the club, and to create and operate a temporary tent-like annex in its parking lot with a capacity for 1,365 people in 10,000 square feet.
For the last several months, crews have been renovating the larger of the Noodle's two in-house music rooms, including expanding the stage, and replacing carpeting and sound insulation. Two new rooftop heating and air-conditioning units for the room were installed, with a third being installed in the Noodle's dining atrium. The two exterior business signs have been repainted, as well as the front barroom.
MainGate Inc.
MainGate Inc., an Indianapolis firm that makes and sells sports-related specialty items and commemoratives, will sell Super Bowl goods just about everyplace except Lucas Oil Stadium. California-based Facility Merchandising Inc. has that lucrative contract. MainGate has deals to sell Super Bowl goods at 11 major hotels near downtown and at the Colts Pro Shop at Circle Centre mall.
MainGate also will run a 1,000-square-foot, all-glass, high-end Super Bowl store inside Union Station that will feature such goods as NFL-themed crystal vases and leather accessories. Those items will range in price from a few hundred to several thousand dollars.
MainGate CEO Dave Moroknek is projecting his company's sales will be up at least 30 percent over a typical February. Moroknek is also hoping to prove his company is worthy of a bigger Super Bowl contract next year, possibly even inside the Super Bowl stadium.
Kahn's Fine Wines
Kahn's Fine Wines, which has a store downtown and another on Keystone Avenue, is stocking a wide array of Super-Bowl-themed gift baskets, a broadened line of gourmet cheeses, fancy wine and champagne glasses, specialty beers imported from the two home cities of the Super Bowl teams, pocket flasks, and more.
Kahn's owner Jim Arnold is even breaking out a specially designed bicycle to ride around downtown promoting the store and its offerings to visitors.
"We called a [liquor] store in Dallas, and they told us to expect one month's worth of business during the Super Bowl week," Arnold said. "We've been told that the sale of champagne and some beers will be crazy good."
Kahn's sizable downtown storage room will be "stuffed to the gills," Arnold said, with quadruple the amount of the store's top-selling brands.
Arnold said he is on target to sell 300 to 600 specialty gift baskets—priced at $39 to $99—to area hotels for their guests and at other gatherings. During a normal week in February, Arnold said, he'd sell fewer than six specialty baskets.
All told, Arnold said his company could do $100,000 in business during Super Bowl week.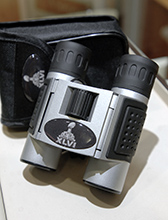 Roberts photography store on Meridian Street downtown is stocking myriad items, including binoculars, for Super Bowl visitors. (IBJ Photo/ Perry Reichanadter)
Roberts
It's not all peaches and cream during Super Bowl week.
Bruce Pallman, general partner of Roberts photography store, is concerned about parking and access to his downtown store's loading dock.
Of course, there's a score to be made as well.
As the city's only downtown photography store, Pallman expects to do big business selling point-and-shoot cameras, digital memory cards, binoculars, batteries and other accessories to tourists.
Due to the NFL Combine held here each year and the Indianapolis Colts, many professional photographers covering the game also know where to find the store, which has been at its 255 S. Meridian St. location for four decades.
"We are very familiar with the people from Sports Illustrated, Time and most newspapers," Pallman said.
While Pallman expects a 50-percent increase in business during the week of the Super Bowl, he doesn't think it will make up for the business Roberts lost due to traffic snarls caused by Super-Bowl-related construction on Georgia Street and other nearby street projects.•
Please enable JavaScript to view this content.