Mark Burrus is in his 50s and has a felony record, so he's not a great job candidate in the eyes of most employers.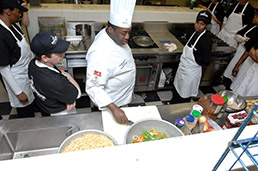 Chef Sam Brown, director of culinary training at Second Helpings, will likely lose at least a third of this new class of culinary students, because of the organization's high expectations. (IBJ Photo/ Perry Reichanadter)
He's also a graduate of Second Helpings' culinary-training program, and that means something to Glinda Willis, head chef at Harry & Izzy's north-side location. She hired Burrus last fall because Second Helpings is known for turning out humble, hard-working students.

"Are they trainable? Are they going to listen?" Willis said. "If the answer is 'yes,' I'll give anybody a chance."
Second Helpings is a not-for-profit that rescues perishable food from local grocery stores, hotels and restaurants and turns it into hot meals that are delivered to shelters, community centers and the like. It also teaches people in need of jobs the basics of safe food handling and preparation.

The free, 10-week training program boasts a job-placement rate of 85 percent to 95 percent within 30 days of completion. That's a "phenomenal" statistic, said Sharon Salathe, a general manager for Employ Indy, the area's work-force-training board. "That's better than any job-training provider could ask for."

Employ Indy, which manages various federal and state-funded training programs, shoots for 70 percent to 80 percent job placement, though actual results vary.

Second Helpings' enviable statistics stem partly from its founding by three chefs in 1998, and it enjoys strong support in the local food-service industry.

It also operates much differently than other job-training programs. Second Helpings selects each class of 15 to 20 people from an applicant pool of 150 to 250. So it's starting with people who are most likely to be successful.

"If I don't hear the words, 'I want a job,' that sends up red flags for me," said chef Sam Brown, director of culinary training. He interviews each student candidate himself.

Second Helpings is also demanding. Thirty percent to 50 percent of participants drop out or are asked to leave because they aren't showing up on time or finishing the homework.

"We expect high performance every single day," Brown said.

By contrast, the not-for-profit recycling company RecycleForce, which employs ex-cons, accepts anyone who's referred by a probation or parole officer. RecycleForce employees work for six months, then try to find jobs elsewhere. President Gregg Keesling said the job-placement rate since the recession has dropped from around 60 percent to 42 percent.

Though the numbers aren't satisfying, Keesling said he counts everyone who enters the program, whether they finish or not.

"It's a better and more honest way," he said.

Measuring progress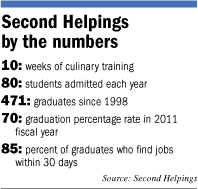 Second Helpings will see its 500th graduate this year, and Brown and CEO Jennifer Vigran are looking for more meaningful measures of success. They want to see more students stick out the 10 weeks and make sure those graduates progress in their careers.

"People want to see results," Vigran said. "That's what this program is about—it's about employment."

Second Helpings has plenty of anecdotes about successful alumni—Indianapolis Colts Executive Chef DeWitt Jackson is one. Brown is another. A 1999 graduate of Second Helpings, he went on to the Cordon Bleu Culinary Arts Institute in Ottawa, Canada, and has held top jobs at the former RCA Dome and Fairbanks Hospital.

Until now, the organization hasn't had the staff to do much long-term tracking.

Though it offers a stipend to graduates for progress reports, just 54 of them checked in after six months in the last fiscal year ended June 30, Program Director Nora Spitznogle said.

About 40 of those graduates, or 74 percent, still had jobs, and their average pay was $8.69 per hour, she said. (Second Helpings aims to have its graduates start at least one step above dishwasher and earn more than the minimum wage of $7.25 an hour.)

Spitznogle now has the task of building a formal alumni network.

"As we continue to build more structure around our alumni network, the recognition the program receives will only grow," Vigran said.
Robert Bratcher, a recent Second Helpings graduate who is now a cook at the Columbia Club on Monument Circle, sought out Second Helpings after leaving a construction career. (IBJ Photo/ Perry Reichanadter)
Brown is the one who began the push for a better graduation rate. Having worked as training director in the early 2000s, he rejoined Second Helpings last January and noticed that things had changed since the recession.

Students could no longer count on friends and family to give them rides to class or take care of bills while they were in class all day for 10 weeks. More students were dropping out.

"We're asking people who are in crisis situations already to come here and go 10 more weeks without income," Brown said.

So now, Second Helpings is buying bus passes and finding ways to help students in emergencies.

"Any time you can address those basic needs along with the training, you would be more successful," Employ Indy's Salathe said.

Moving up

Federally funded training programs target higher-wage industries, including health care and information technology, Salathe said.

Although local employment in accommodations and food service is down since the recession, the Bureau of Labor Statistics says it's one of 10 industries with the highest projected growth for 2008 through 2018.

Nationwide, the BLS forecasts employment in full-service restaurants will grow 7.5 percent, to 4.9 million, by 2018. In nursing homes, an oft-overlooked place for food workers, employment is projected to grow 24 percent, to 2 million.

Brown summed up the prospects for his students on their first day of class this month: "Until humans stop eating food, you're always going to have a job."

He guesses that 70 percent of his students have a felony on their records, but said it won't matter to their employers.

That's partly because turnover is so high. Spitznogle, who was a hospitality manager for years before joining Second Helpings, said she probably fired 200 people in her career.

Food service is also one of the few industries where a willingness to prove oneself is more important than pedigree or the past. Perhaps that's why Burrus, 56, sounds so optimistic.

"I want to learn all of it," he said.

Willis has Burrus working as a dishwasher until he adapts to the blazing-fast pace of Harry & Izzy's new location in the Rivers Edge shopping center on East 82nd Street.

That's OK with him, he said. "I run that dish tank with precision."•