This story has been corrected.
___
It takes a map of the entire metro area to show all the projects the YMCA of Greater Indianapolis has on its drawing board.
The $30 million plan calls for building two brand-new facilities, one in Avon and one in Pike Township; expanding the Fishers YMCA; and building a new outdoor pool in Lawrence.
YMCA leaders are pressing ahead, despite a recession that's slowed fund raising to a trickle. The organization also is competing with several for-profit gyms that have expanded in the Indianapolis market since the YMCA began raising money in 2007.
CEO Eric Ellsworth said demand is still strong for new and bigger YMCAs.
"We don't do projects without first doing a market study," Ellsworth said. "Those studies give us confidence. People trust the YMCA. In a community like Hendricks County, or Pike [Township], it becomes a focal point for activity."
The organization has raised $17.5 million since mid-2007, and Ellsworth said he would like to wrap up the campaign by the end of 2010. If donations fail to close the gap, he said, the not-for-profit, which now has almost no debt, will consider borrowing the rest.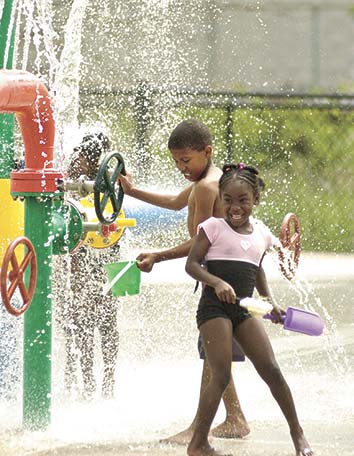 The Fishers YMCA has 22,000 members and is planning a $2.5-million expansion.
The YMCA's aggressive push forward contrasts with the decision by several other local organizations, including the Jewish Community Center, to shelve early-stage campaigns.
"I don't know how anybody's raised capital funds," said Ira Jaffee, executive director of the JCC. It planned to raise $3 million to $4 million for renovations before putting its campaign on hold.
But stopping a campaign midstream comes with its own risks, said David Goettler, CEO of Goettler Associates, a Columbus, Ohio, fund-raising consultant.
"It's tough—you're already in the water," he said. "You don't want to give money back and estrange donors."
Alienation is a real risk for the YMCA in Indianapolis. The YMCA's decision to close the Fall Creek branch west of downtown in 2003 prompted questions about the organization's commitment to low-income neighborhoods.
Michele Goodrich, executive vice president for advancement, said the branch closed because its membership base had migrated west. The YMCA promised to serve those members by building in Pike Township, she said.
"We do have volunteers and community leaders who are very anxious to get that one up, so we can fulfill that promise," she said.
Pinched by recession
The chilly environment for capital campaigns isn't the only factor weighing on the YMCA's ambitions. The organization is attracting more families who can't afford to pay full price for membership or kids' programs.
More than 1,000 households joined the YMCA in the last year, bringing total household membership to 30,125, and individual membership to 83,000. The pickup in demand isn't helping the bottom line this year. Membership revenue was down slightly, about 2 percent, through the end of May.
Membership dues accounted for $15 million, or 48 percent, of the YMCA's $31.2 million in revenue in 2008. Another 46 percent comes from program fees. The rest is made up in contributions and income from a small foundation. Largely because of investment losses, the YMCA had a $3.1 million deficit in 2008.
At the same time the YMCA is feeling financial pressure, so are many of its families. Raising money for scholarships is an ongoing effort, Goodrich said. This summer, the YMCA offered 300 additional summer camp scholarships to children of families where a parent lost a job, or is on a military deployment.
"Right now, we're in the middle of a campaign to support that," Goodrich said. The "Send a Kid to Camp" effort has a goal of about $150,000.
"We got the kids." she said. "Now we need the dollars."
Possible delays
The YMCA needs its affluent suburban members to support operations elsewhere. YMCA officials said the flow of subsidies changes from year to year, but the Ransburg branch on the east side of Indianapolis and Pike Township are two places that have received subsidies.
The slowdown in fund raising might delay construction in two key areas, Fishers and Avon.
The Fishers YMCA, which has an operating budget of $6 million, already generates a surplus. The point of the expansion there is to more comfortably accommodate its 22,000 members.
Ellsworth expects the new $18 million facility in Avon to generate a surplus as well. Both Fishers and Avon may help support a new full-service branch in Pike Township. Ellsworth said he expects it to require a subsidy.
Both Fishers and Avon are scheduled for ground breaking this year, but Goodrich said the YMCA wants to meet its fund-raising goals first.
"The economy has definitely affected the pace of the campaign," she said.
The YMCA is about $200,000 away from starting work on a $2.5 million expansion in Fishers.
"Any day now," Goodrich said.
Fishers members will get bigger workout and child care areas. A St. Vincent Health physical therapy center will occupy about 3,900 of the 10,000 additional square feet.
The YMCA's hospital partner in Avon, Hendricks Regional Health, is eager to start work on a 105,000-square-foot building that combines the usual YMCA fitness facilities with medical offices.
First, the YMCA has to raise $5.1 million to reach the $13.5 million goal for that facility. Goodrich said there's a chance the hoped-for November ground breaking will be delayed.
Expansions in Lawrence and Pike Township are further down the list.
The Benjamin Harrison branch in Lawrence has received $1.9 million in upgrades, but awaits a new outdoor pool. Goodrich said the pool, estimated to cost $1.6 million, would be the only one in Lawrence where access isn't limited to subdivision residents.
A $12 million YMCA planned for Pike Township would replace the Y's current storefront gym near 71st Street and Georgetown Road. The YMCA has raised $4.7 million, and recently struck a deal with Pike schools to use land adjacent to Snacks Crossing Elementary at Lafayette Road.
Ellsworth wants to finish the whole capital campaign in the next 18 months, but he doesn't know if the YMCA will be able to raise all of the $30 million it needs. Ellsworth said he's willing to borrow because the YMCA's existing debt is less than $1 million—the lowest of the 30 largest YMCAs in the country.
"We have some very conservative finance practices," he said.
The YMCA is counting on these new and bigger facilities to continue their magnetic effect on local families.
Ellsworth expects the new YMCAs to fill up just as quickly as did the one that opened in Fishers in 2002 because the YMCA prefers to under-build.
"We find that we're overcrowded almost instantly," he said.
The Indianapolis JCC had similar success with its 1998 expansion. Membership immediately jumped from 1,500 to 3,000, said Jaffee, the executive director.
But he's not sure the JCC could repeat that performance today. Families have more options for sports teams and camps, and the competition for revenue-generating adult fitness is "fierce," he said.
Four major chains—Life Time Fitness, Lifestyle Fitness, L.A. Fitness and Gold's Gym—have opened full-service gyms in the Indianapolis area since 2007.
Jaffee said many prospective members see no difference between the commercial gyms and YMCAs or JCCs.
"That's the perception when one comes through the door, whether it's the Y or the J," he said. "They're looking at fitness or aquatics."
Forming partnerships
The YMCA always has relied on partners like the town of Fishers or Pike Township schools to provide valuable real estate for new locations. It's going one step further with its recent hospital partnerships.
Ellsworth said he made a point of showing the YMCA's expansion plans to area hospitals two years ago. "There's a wave of hospital-YMCA partnerships across the country going on right now," he said.
The hospitals and YMCA might generate referrals for each other, and they share costs.
"The only reason things are getting built these days is partnerships," said Julie Skolnicki, regional vice president at Brailsford and Dunlavey, a Washington, D.C., consultant on rec centers.
The YMCA and Hendricks Regional ramped up their plans after the hospital bought 72 acres of land on U.S. 36 near Dan Jones Road—the center of action on a busy strip. The hospital later gave the YMCA a $5 million lead gift toward construction.
 Dr. John Sparzo, the hospital's point person on the project, is eager to see work start on the YMCA, which is the cornerstone of the hospital's own expansion. Sparzo said he also knows the YMCA team has multiple projects on its plate.
"This is the first of a big plan the Y hopes to execute," he said. "What they're doing is really ambitious, but it's not unreasonable."
Please enable JavaScript to view this content.