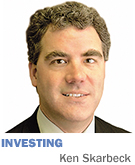 A behind-the-scenes battle is being waged over securities regulators' proposal to hold investment advisers and stockbrokers to the same fiduciary standard—something investors wrongly assume is already the case.
Nearly a year ago, the SEC recommended a regulation to Congress that would compel anyone who provides investment advice to the public to act in the client's "best interest." Currently, only registered investment advisers are held to that high standard. Stockbrokers' obligation to the client is less stringent, requiring only that they recommend "suitable" investment products.
To many, the argument may appear to be an exercise in semantics. But the rubber meets the road when disputes go to court, and the legal system holds registered advisers to a higher level of responsibility.
The SEC's proposal recognizes that the lines have blurred in the financial industry, with many stockbrokers now calling themselves financial advisers and charging fees instead of commissions. As a result, there is confusion over the differences between registered investment advisers and stockbrokers.
Lobbyists representing broker-dealers are fighting the proposed fiduciary regulation, arguing it will raise compliance and litigation costs. One group naively suggests that this regulation could force financial firms to abandon the middle-income market, where representatives are paid commissions, in favor of higher-end, fee-based business.
Although stockbrokers are not fiduciaries, that doesn't mean they aren't trying to make good decisions for their clients; the argument really is a battle over regulatory legalese. But it is a bit curious that the industry lobby is fighting the proposal. After all, as one might imagine, the public expects financial professionals to always have the client's "best interest" in mind.
A recent survey found that three out of four investors mistakenly believe that financial advisers at brokerage firms are required to put the client's interest first. And 97 percent of respondents support a uniform fiduciary standard, including a requirement that advisers disclose any fees or commissions they earn and any conflicts of interest that could influence their advice.
Of course, politics also are influencing the discussion. The two Republican SEC commissioners dissented on the initial fiduciary proposal. And the GOP has pressured regulators to justify new rules by conducting cost-benefit studies, a bureaucratic delay that likely will please financial lobbyists by pushing a decision into 2013.
Advocate Barbara Roper, director of investor protection at the Consumer Federation of America, says the case for a uniform fiduciary standard can be made in the sale of high-cost, low-value insurance products. Roper offers, "If you want Exhibit A on why we need a fiduciary duty, it can be found in the sale of high cost, substandard variable annuities when investors would be better off in another investment."
Another supporter submits that the days of "buyer beware" are over—and with good riddance—noting that, now more than ever, individuals need to be able to trust their advisers. We have the same view of the situation: "If any adviser or stockbroker is unwilling to accept the fiduciary requirements, they should exit the business."•
__________
Skarbeck is managing partner of Indianapolis-based Aldebaran Capital LLC, a money management firm. His column appears every other week. Views expressed are his own. He can be reached at 818-7827 or ken @aldebarancapital.com.
Please enable JavaScript to view this content.