Business was booming at specialty construction firm ProClad Inc. when founder Brad Hitzfield realized he needed to make some big changes.
Revenue had reached $12 million in just five years, but profits were not keeping pace. In fact, the 18-employee company lost money in 2008 despite record sales.
"We were on top of the world. Everything was awesome," recalled Hitzfield, 46. "Then boom—we fell flat on our face. We lost lots of money before we started getting it right."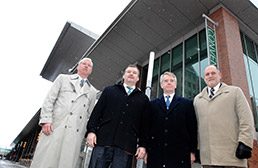 Company founder Brad Hitzfield, second from left, brought in experienced leaders Doug Luyk, Jim Garber and Craig Caudill to keep ProClad on track. (IBJ Photo/ Perry Reichanadter)
Cost overruns were killing the Noblesville-based contractor, which engineers and installs mostly metal building "envelopes"—functional exterior façades designed to withstand weather.
And with the national economy starting to stumble, Hitzfield knew there wasn't much room for error. But rather than cut expenses and slip into survival mode, he decided to invest in growth. Hitzfield hired Craig Caudill, a businessman with 30 years of leadership experience, to help retool the company.
"Getting work is easy," Hitzfield said. "Execution is the hard part."
Using a technique called process mapping, ProClad wrote detailed job descriptions for every position from engineer to receptionist—complete with specific tasks and expected results. And if an employee couldn't deliver, they found someone who would. By the end of 2010, ProClad had experienced 100-percent staff turnover.
A year later, the firm is thriving. Sales topped $14 million in 2011 and are on track to jump another 50 percent in 2012. ProClad has landed some big local projects, including work on the much-ballyhooed Indiana Convention Center expansion, and it is building an impressive out-of-state resume.
Hitzfield credits the firm's process map—a multipage flow-chart-like document on display in ProClad's offices—for keeping the company running efficiently.
That's the idea, said Brian Landis, managing director of the Butler Business Accelerator in Indianapolis. When done correctly, process mapping can help a business understand where it is spending time and resources, which often reveals problem areas.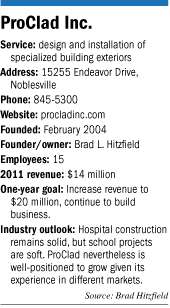 "It is a golden nugget of opportunity to eliminate" waste, Landis said.
The technique is useful for entrepreneurs struggling to scale up their businesses, he said. Putting processes in place can prepare a firm for growth—and free owners from the day-to-day operational minutia.
"The boss's job changes," Landis said. "In the beginning, he knew everything, knew what everyone was doing; he managed by walking around. That changes."
Indeed, Hitzfield came to the conclusion that he had to give up some control if he wanted the company to reach its potential.
"I was able to elevate the business to a certain level, but at some point you can't do it all yourself," he said. "We hit the limit of what we could do with one leader."
So Caudill transitioned from consultant to executive vice president, focusing on sales outside Indiana. Construction industry veteran Jim Garber joined the firm to oversee the engineers and project managers. And former FinishMaster executive Doug Luyk came out of early retirement to be ProClad's controller.
With an experienced management team in place, Hitzfield could focus on strategy. He also handles in-state sales, given his two decades of local experience in building exteriors.
"My role is to look forward" and not get bogged down in the "weeds," he said. "The last three years, I've tried to separate myself."
Something appears to be working. ProClad last year landed a $3 million deal to install the aluminum composite panels that adorn the Indiana Convention Center expansion, and it also is working on the IU Health Neurosciences building near Wishard Hospital. The company has clients across the country and just signed on for a consulting gig in Canada.
Despite the sluggish economy, ProClad already has enough work on the books to surpass $20 million in sales this year, Hitzfield said. And most important, the firm's renewed focus on quality control has helped keep project costs down—and clients happy.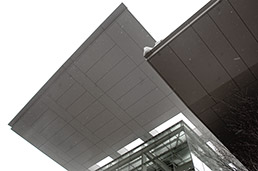 ProClad scored a $3 million deal to install aluminum composite panels as part of the Indiana Convention Center expansion. (IBJ Photo/ Perry Reichanadter)
"We have been very successful at mitigating risk and keeping costs relatively close to budget," he said. "2011 was the first time in two or three years that we didn't have major losses on any projects."
Another benefit of the time spent reviewing and refining ProClad's processes: an annual operating plan leaders use as their road map, complete with a handful of "strategic thrusts" to focus on.
Last year, for example, ProClad started working on standardizing its estimating process using computerized templates developed in-house. The program automatically populates different data fields based on current prices. Hitzfield said proprietary systems like the estimating template should make the company more valuable to a potential buyer five or 10 years down the road.
"You've got to have intellectual property you can sell, too," he said. "People change."
That certainly has proved to be true over the last few years. Despite the internal turmoil, longtime client Michael Brimer said ProClad has continued to provide stellar service.
"A lot of contractors come in with issues, but they provide solutions," said Brimer, manager of business development for New York-based Turner Construction's Indianapolis office. "They're very proactive that way."•
Please enable JavaScript to view this content.