There's good news for Hoosiers who want to experience the city's Super Bowl moment in the spotlight without battling traffic and crowds: All aspects of the big event will be broadcast.
Local TV news operations have built temporary studios downtown, budgeted thousands for overtime, assigned special Super Bowl beats to field reporters, and will broadcast hours of extra news coverage between now and Feb. 6, the day after Super Bowl XLVI.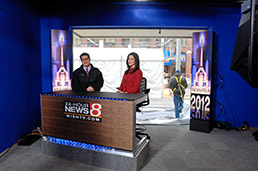 WISH-TV Channel 8 anchors Scott Sander and Lauren Lowrey rehearse from the station's Super Bowl digs at The Huddle in Circle Centre. (IBJ Photo/ Perry Reichanadter)
The stations hope to capitalize on the city's biggest news event in years to gain viewers and give themselves a strong start to the critical February sweeps period, which runs through the entire calendar month.
"Our investment is whole and total," said Jeff Rosetti, assistant news director at WTHR-TV Channel 13. "We will be throwing all of the resources of this TV station at the Super Bowl for 10 days."
The NBC affiliate hopes to build on its advantage as the broadcast home of the Super Bowl by investing in two full temporary studios and alternating between them based on newscast timing.
The station generally will anchor its morning, noon and 11 p.m. broadcasts from a 15-foot platform overlooking the Super Bowl Village at Georgia Street and Capitol Avenue, Rosetti said. Evening newscasts will originate from a studio on the floor of the NFL Experience, next door to the NFL Network set.
WISH-TV Channel 8 is anchoring its broadcasts from a full studio—including green screen for Angela Buchman's weather forecasts—at The Huddle at Circle Centre (formerly Nordstrom). Visitors will be able to watch the newscasts in person inside the building, and outside from a picture window facing Georgia Street.
The CBS affiliate even rigged up an outdoor microphone and speaker so the anchors can have impromptu conversations with Super Bowl visitors.
Fox station WXIN-TV Channel 59 opted to set up its broadcast headquarters blocks away from the Super Bowl Village in the second floor of the IPL Building, a spot that offers an impressive view of the Soldiers and Sailors Monument and the Super Bowl Roman numerals.
News Director Lee Rosenthal expects hundreds will gather at the city's most recognizable landmark. And it should serve as an attractive backdrop even during very-early or late newscasts when attractions like the Super Bowl Village or NFL Experience are closed.
"We're trying to be different," Rosenthal said. "We expect lots of activity on Georgia Street but still think everybody will come to the Circle to take their pictures in front of the Roman numerals."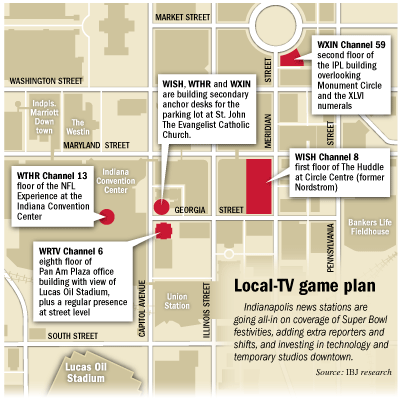 ABC affiliate WRTV-TV Channel 6 has subleased space on the eighth floor of the Pan Am Plaza office building with a panoramic view of Lucas Oil Stadium. The temporary studio will accommodate two anchors and a guest, supplemented by a street-level roving news crew "tethered" to the studio's perch.
WRTV is subleasing a portion of the former home of Hetrick Communications, which closed last year. The station also has invested in new equipment and neutral density screens on the windows to ensure a consistent broadcast look as sunlight fluctuates.
Channel 6 plans to focus most of its coverage on the "shared experience" outside Lucas Oil Stadium, stationing reporters all over downtown and encouraging viewers to send in cell phone photos and videos, said News Director Kevin Finch.
The stations declined to disclose specific dollar figures for their investments in Super Bowl coverage, but industry sources said the cost of equipment and overtime spent covering the event likely will range from$20,000 to $50,000 for each of the four local affiliates.
The cost of advertising spots during local television newscasts is up about 15 percent during Super Bowl week, said Bill Perkins, president of locally based media-buying firm Perkins Nichols Media.
The stations also will collect more revenue from advertising by replacing syndicated programming, where advertising is split, with news programming, where the local affiliates own the entire ad inventory, Perkins said.
Flooding the zone for the biggest story in town certainly makes sense for TV news departments, but the cost of the coverage won't necessarily pay off with higher ad revenue for any station besides WTHR, since it has broadcast rights to the game, said Rick Doyle, media director for MZD Advertising.
Every news station is beefing up its coverage, but there are only so many ads to go around, he said. Advertisers who want a Super Bowl-focused audience could find in-person promotional options, including billboards and bus wraps, more attractive.
"People are going to be outside experiencing the activity, not necessarily staying in and watching it," Doyle said. "I don't know if outside of NBC there will be a big payoff for everybody."
At a minimum, the stations will want to defend "their share of the pie" and pick up more intangible, long-term benefits by building a reputation among viewers as a go-to resource.
WISH plans to present its Super Bowl coverage as an "all-access pass" for central Indiana viewers, said Jeff White, the station's general manager.
"If you don't want to come downtown, you don't need to, since we're going to show you everything," he said. "If you do plan to come downtown, we'll give you everything you need to know."
White said every employee at the station, including non-news staff, is pitching in to handle logistics like crowd control at its temporary studio.
WISH also plans to operate a second, smaller broadcast location from the corner of Capitol Avenue and Georgia Street, a vantage point it will share with WTHR and WXIN.
The overarching goal for WTHR is putting the Super Bowl in perspective for viewers "who want to be part of the event one way or another," Rosetti said.
That includes suggestions from veteran reporter Rich Van Wyk, who will serve as the station's "Super Bowl Insider," on where to eat, where to park and how to stay safe. Also expect behind-the-scenes access to late-night host Jimmy Fallon and guests of his show, which will be recorded at the Circle Theatre.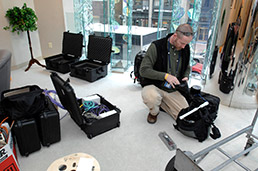 Stacey Cutshaw, director of engineering and operations for WXIN-TV Channel 59, sets up equipment at the station's temporary Super Bowl studios at the Indianapolis Power & Light building, overlooking Monument Circle. (IBJ Photo/ Perry Reichanadter)
The station plans to produce a series of news specials branded as Indy Super Week.
WRTV hopes to pick up viewers looking for local content when the NBC affiliate has to switch over to a national feed, Finch said.
Each WRTV reporter has a special Super Bowl beat. Among the assignments: Derrik Thomas will examine how the city is being portrayed; Tanya Spencer will cover cell phone reception and temporary towers; Jack Rinehart will cover security issues; and Rafael Sanchez—naturally—will cover ticket scams and the sale of unlicensed merchandise.
WXIN plans to feature inside details about celebrities and parties from two local celebrities: Sara Snow, a green-living expert and Fox 59 alum; and Mackenzie Roth, a former morning-show co-host for WNOU-FM 100.9.
The station also has invested in new streaming cameras that allow live shots on air and online from just about anywhere without using satellite trucks, Rosenthal said.
"Our goal is to really be with the fans and the people in the trenches everywhere people are enjoying the festivities," he said. "We're pulling out all the stops to ensure viewers can get more live coverage from us than anyone else."•
 
Please enable JavaScript to view this content.