Super Bowl Village's opening weekend met local organizers' expectations—and then some—drawing more than 205,000 visitors from Friday through Sunday.
That's more people than would come downtown for an average Final Four weekend, and Host Committee officials think with the influx of out-of-towners expected to begin Thursday, next weekend's crowds could be even bigger.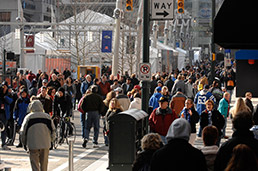 Organizers were happy with the turnout downtown last weekend. (IBJ Photo / Perry Reichanadter)

Members of the local committee and the Indianapolis Convention and Visitors Association are crediting an aggressive regional marketing campaign in places like Louisville and Chicago for the early success. ICVA spokesman Chris Gahl said the turnout of central Indiana residents also was "phenomenal."
Downtown hoteliers are reporting a 6-percent to 8-percent increase in occupancy Friday through Sunday over the same period a year ago.
"We are very pleased with the last three days and how the Village kicked off," said 2012 Host Committee CEO Allison Melangton.
According to NFL officials, a record 42,238 attended the NFL Experience on Saturday and another 42,156 on Sunday. All told, 100,563 people have visited the attraction inside the Indiana Convention Center since it opened Friday.
The record attendance for the NFL Experience is about 200,000, set at the 2008 Super Bowl in Glendale, Ariz.
"Attendance at the Super Bowl Village and NFL Experience has been strong—very strong," said committee member John Dedman. "At this point, we are exceeding some expectations and I would expect to break the NFL Experience attendance mark."
The only issues over the weekend occurred shortly after 3 p.m. on Sunday when high winds caused several tents in the Super Bowl Village to be evacuated. Those tents were reopened about 5 p.m., officials said.
"Everything went very well, and we're proving just how much [pedestrian] traffic the Super Bowl Village and Georgia Street can handle," said ICVA's Gahl.
The zip line along Capitol Avenue also was an overwhelming success, host committee members said. More than 3,000 people have zipped above Capitol Avenue so far, and that number would have been higher had high winds not limited capacity Sunday.
The Host Committee is looking at making several "tweaks" to improve Super Bowl Village, Melangton said. Among the tweaks: changing the flow of foot traffic to eliminate "pinch points" and an effort to make sure pedestrians don't block crosswalks so vehicles can make left turns.
Melangton also noted that all 7,000 tickets the NFL made available for Tuesday's media day have been sold. NFL officials announced there will be no autographs given by Super Bowl players, but other players will be on hand to talk to fans and give autographs.
Please enable JavaScript to view this content.