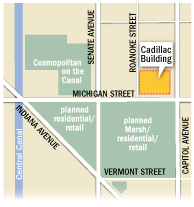 An 82-year-old downtown commercial building that's had trouble luring tenants is suddenly positioned to thrive courtesy of an $85 million mixed-use project planned for a site right across the street.
About a third of the 50,700-square-foot Cadillac Building at the northwest corner of Capitol Avenue and Michigan Street has been empty for more than 10 years. The Stough Group, the Cincinnati-based company that owns it, decided last year to give the building a boost by investing $350,000 in a modest exterior renovation.
But the building's biggest selling point arrived last week. The city and locally based Flaherty & Collins Properties announced Jan. 24 plans to transform what is now an entire city block of surface parking outside the Cadillac Building's front door. A Marsh grocery store, 487 apartments, additional retail space and a parking garage will be built beginning next summer on the south side of Michigan Street between Capitol and Indiana Avenue.  
"It's a great amenity for our building," said Scott Lindenberg, a broker with Echelon Realty Advisors who was hired to take over the leasing effort about a year ago. Lindenberg said the building owners were thrilled when he called them with news of the mixed-use project the day it was announced.
Lindenberg had been marketing the roughly 16,000-square-feet that's available in the building for $9.95 a square foot. He'd been targeting small office users, but news of the mixed-use project changed the equation. "We have a different asset to market now," said Lindenberg, who thinks the building could be attractive now to retail users—a class of tenant that could pay 35 percent to 40 percent more than an office user.
The best retail spot is undoubtedly an 8,000-square-foot, first-floor space that fronts Michigan Street. The building, which once housed a Cadillac dealership, used to have large first-floor windows. Those were filled in long ago but could be reopened, Lindenberg said.
Another 7,700 square feet is available on the second floor, which has 12-foot ceilings and exposed beams. The second floor is already home to Indianapolis School of Ballet, which leases about 13,000 square feet, and Riolo Dance, a dance studio that leases 3,500 square feet.
The building's oldest tenant is PlasmaCare, a plasma donation center that occupies the majority of the first floor in a space that fronts Capitol Avenue. PlasmaCare moved into the building not long after Stough Group bought the property in 1983.
A plasma center might not be a selling point when trying to lure mainstream retail tenants, but PlasmaCare has a long history with the building owner. Stough owned PlasmaCare, which has facilities in Virginia, Alabama and throughout the Midwest, until about five years ago and got into commercial real estate by purchasing properties suitable for housing the centers, said Polly Benzing, an asset manager for Stough.
When Stough sold PlasmaCare it kept the real estate. About 65 percent of its holdings are still single-tenant buildings that house plasma centers, Benzing said. She said PlasmaCare has been a good tenant for the Cadillac Building and will stay there for the time being.
But she wouldn't rule out big changes for the building, which sits on a block bounded by Senate Avenue on the west and North Street on the north. Stough owns more than half the block, including 276 parking spaces, and is well aware of its potential down the road.
Company owner Michael Stough thought from the start that the Cadillac Building and surrounding area would eventually be a prime area for development, Benzing said. In 1993 Stough added to its holdings in the area when it bought the building immediately west of the Cadillac. That building is leased to Mo'Jo Coffeehouse.
Stough also developed and owns the 22,000-square-foot Lockefield Commons retail center at 901 Indiana Ave and the Pavilion at Castleton, a 42,000-square-foot retail strip center on the north side of Castleton Square Mall that Stough built in 1986.
Please enable JavaScript to view this content.