Christopher Allen sat down with the man who signed his paychecks for six years—former ATA Airlines founder and Chairman George Mikelsons—and bought him lunch.
Allen told the airline legend that he wanted to restore to Indianapolis a membership-based airline similar to ATA's predecessor, Ambassadair Travel Club. Latvia native Mikelsons founded Ambassadair here and piloted its planes in the early 1970s.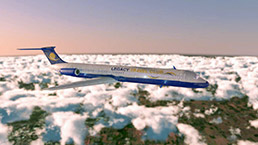 Proposed livery of Legacy Travel Club's MD-83. It would seat 114 and offer luxury amenities. (Rendering Courtesy Legacy Travel Club)
Mikelsons' reaction? "He thought I was nuts," Allen recalled.
"He said, 'Why would you want to do this?' I said, 'Why did you?'''
Touche. Mikelsons then spelled out what worked and what didn't in the early days of Ambassadair, which carried thousands of leisure travelers around the globe.
Almost two years later, with his business plan spit-shined, Allen is trying to raise $5.3 million to finance the first six months of Legacy Travel Club.
Even if he can find investors, odds don't favor such an upstart.
The economy remains tepid. Operating an aircraft is expensive, especially fuel. And since the Baltic buckaroo took flight in 1973, the airline industry has been deregulated, such that the scheduled airlines are much more flexible in routes and pricing.
"Ninety-something percent of travel clubs died after deregulation," said Alan Bender, a professor of aeronautics at Embry-Riddle Aeronautical University.
But for locals who enjoyed Ambassadair when Mikelsons ran it, there's no denying that Allen's proposal is tantalizing.
Many can still recall Mikelsons driving them in a bus to the awaiting plane. He tossed in the baggage, then put on his pilot's hat and flew the plane—to the horror of new club members.
"There are many people of all ages who have fond memories of traveling with the original Ambassadair. Even my generation remembers their trips as children with their families, and wish there was still a direct, nonstop, no-hassle vacation service," said Kristi Gaynor, a member of Legacy's outside advisory board.
With at least one former ATA pilot at the helm—Geoff Brown, ex-husband of former Ambassadair president Sally Brown—Legacy would fly to many of Mikelsons' old haunts, such as Florida, Mexico and the U.S. Virgin Islands.
"Our plan is to regain the loyal ATA and Ambassadair demographic," said Allen, 40. He works at IUPUI's admissions department; plans are to hire a president to run Legacy.
So far, no angel investors have offered a check. Three said they'd chip in some money only after Legacy shows $50,000 in the bank. But the former ATA logistics employee who started in the airline's mailroom diligently makes the rounds like the Energizer Bunny.
He's pulled in accomplished businesspeople to serve on Legacy's advisory board, including Greg Downey, an executive at StepStone Business Partners. StepStone, which is focused on life sciences investments, took a pass on Legacy.
Downey, though, sees an opening for Legacy, particularly as scheduled carriers consolidate. They've slashed a number of nonstop flights that Indianapolis once enjoyed, while cramming seats together to squeeze out every last dime of revenue.
"It's getting worse. The customer service is worse. The planes are nasty," Downey said.
In contrast, Legacy would lease an MD-83 (a more modern derivative of the DC-9), gut it and install 114 seats spaced 6 inches farther apart, front to back, than on typical airliners.
Legacy would offer complimentary meals, booze and even free pillows and blankets—the type of things for which airlines now charge. Legacy plans free Wi-Fi and perks such as monitors that allow passengers to view the plane flying via views from cameras attached to the plane's belly.
Members arriving for a flight would park for free at a facility on airport grounds. They'd board a bus for the terminal, where they'd be screened and then board the MD-83.

For some, the biggest perk would be nonstop flights. It's not clear how many nonstops the city has lost over the years through airline mergers and hubbing, but Indianapolis International currently has 150 daily departures to 34 nonstop destinations.
"More mergers means less choices out of Indianapolis," Allen said. "Indianapolis is being strangled out of options."
Indianapolis Airport Authority officials say they'd welcome additional service and are aware of Allen's plans. Nonstop flights envisioned by Allen would be especially welcomed by families flying with children who loathe connecting flights, said Christofer Matney, air service director for the IAA.
He noted that many of the Cancun-bound nonstops flown by Frontier and Delta Air Lines have been packed to the gills, despite the economic slowdown.
"I think our market responds really well when those nonstops are available," Matney added.
Landing investors
Of course, Legacy Travel Club isn't going anywhere without money.
Allen initially turned to Mikelsons' playbook, attempting to sell 100 memberships in the club. When Mikelsons was starting out, he got access to the former members of the Indianapolis travel club Voyager, for which he worked as a pilot before Voyager ceased operations.
Allen's proposed membership ranged from $149 to thousands of dollars for those wanting a lifetime membership.
While the plan worked for Mikelsons, it didn't for Allen. For one thing, Indianapolis-based Grueninger Travel about seven years ago purchased from ATA the Ambassadair membership list, and went on to run Ambassadair (sans its own plane).
"I got one membership," Allen said.
Given that aviation is so much more expensive now than in the 1970s, it might not have mattered, anyway. Angel investors likely will have to be persuaded. He's seeking to make a presentation to the Indiana Venture Club.
The 74-page business plan, developed with help from a retired executive in the SCORE program, spells out a lean operating plan. Legacy needs only 24 employees, all of whom would receive modest salaries (the president would earn $104,864, but not until the fifth year of operation).
Projected first-year revenue is $15 million.
As for the MD-83, it's a gas hog relative to a new Embraer 170 or some Boeing 737s. But its monthly lease cost is around $64,000, or nearly three times less that of an Embraer 170.
The current owner of Mikelsons' former Ambassadair club—Grueninger Travel—decided against obtaining its own plane after running the numbers. Instead, it buys blocks of seats aboard scheduled carriers.
"I don't think it will fly. It's hard to run a one-aircraft operation," said principal Michael Grueninger. "I wish them well."
He noted that one of the few remaining travel clubs with its own plane, Detroit-based Nomads Inc., filed for Chapter 7 bankruptcy last year. Published reports blamed everything from Detroit's economic decay to alleged mismanagement.
Embry-Riddle's Bender said such clubs thrived when airlines were highly regulated in part because they were more nimble. After deregulation, scheduled airlines could be more flexible on price and destination. And in the era of the Internet, passengers can book vacations by themselves rather than go through an agency or travel club.
Niche could work
Yet a veteran airline industry expert isn't ready to dismiss the travel club concept.
"It can work if it's going to vacation destinations. If it goes to Seattle, forget about it. If it goes to New York, forget about it," said Michael Boyd, of Evergreen Colo.-based Boyd Group International.
The key is not to "end up being in the airline business" per se, but to focus on being a "travel club," Boyd said. "You're going after Home Depot's money, not Southwest Airlines'."
What is not economically quantifiable is what's driving Allen and others from the ATA days. It was more than a business to them.
In his six years at ATA, Allen got a look at most every department and how an airline worked. He got the aviation bug at ATA—something his father and grandfather, both of whom were private pilots, caught years earlier.
While at ATA, he also met his future wife, Sandy Hulen, who worked in the Ambassadair division.
If Allen can raise $5.3 million to launch Legacy, he expects to begin service in 2013, pending Federal Aviation Administration approval.•
Please enable JavaScript to view this content.