Talk of bringing another Super Bowl to Indianapolis began soon after week-long festivities kicked off for the 2012 game.
Sportswriters and visitors raved about the city's sharp new airport, compact downtown and festive Super Bowl Village. The week's unseasonably mild weather and a record turnout for NFL Experience—both in contrast to last year's game in Dallas—added to the narrative of Indianapolis as a more-than-capable host city.
Only a few weeks earlier, the common wisdom was that Super Bowl XLVI is a one-time thank you from the NFL for the publicly financed Lucas Oil Stadium, years of strong community support for the Indianapolis Colts, and a nod to the team's respected owner.
But the idea of hosting the big game in future years isn't new to the city's Super Bowl planning team.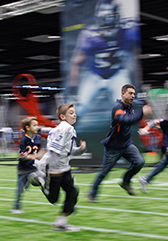 The NFL collected all revenue from record attendance at this year's NFL Experience. (AP Photo)
It's true that when money is the only factor, the game winds up in warm-weather cities with larger stadiums. But those behind this year's game have always seen it as something more: an opportunity to prove a city once known as Naptown is ready to host events on a global stage. Including future Super Bowls.
City leaders will have to find a way to generate more revenue for the NFL and its 32 team owners for Indianapolis to muscle its way into a regular Super Bowl rotation. Lucas Oil Stadium has fewer seats than regular-rotation Super Bowl stadiums in Florida and Arizona. And the bid for last year's Super Bowl, in Dallas, promised the league $20 million more than Indianapolis could muster, most of it thanks to the Cowboys' 103,000-seat stadium.
City leaders are on the case: They're floating plans to incorporate NFL sponsors and other revenue-generating features into future iterations of the Super Bowl Village. And they're emphasizing Lucas Oil Stadium can actually accommodate 7,000 more fans than the 68,000-person capacity on Super Bowl Sunday. (The league wants another event to try out temporary seating first after unsafe seats marred the event in Dallas.)
As for the relative shortage of hotel rooms in central Indiana compared with other Super Bowl host cities, the city plans an incremental approach. It's counting on hoteliers to add rooms supported by events at the newly expanded Indiana Convention Center.
Remember when it was novel for Indy to host a Final Four? Now it's old hat; Indy has hosted six of them and is on a five-year rotation to host the men's and women's events.
"I don't want people to think this [hosting] is one-and-done," Mayor Greg Ballard said in an interview on Media Day at Lucas Oil Stadium. "We can pull people together and make it happen."
A day earlier, Ballard suggested at a press conference that the NFL put Indianapolis on an eight- to 10-year rotation for hosting the Super Bowl.
The comment got the attention of Frank Supovitz, the NFL's senior vice president of events and its point person for the Super Bowl, who spoke with IBJ a few days before the game.
"Indianapolis has proven to be an ideal host for Super Bowl 46," he said.
As to whether Indianapolis could land in a regular host rotation: "We have to play this one first," he said, adding the decision ultimately is up to the league's owners.
Repeat engagement?
Lucas Oil Stadium is both a blessing and a drawback for the city's chances to host future Super Bowls. Its amenities and central location are among the advantages.
"The stadium's terrific—it's a world-class facility with a lot of bells and whistles," Supovitz said. "But when you have a smaller stadium, it's very, very difficult to make up that revenue."
Based on the stadium alone, Indianapolis can't compete with cities like Dallas, said Indiana University Athletics Director Fred Glass, a former president of the city's Capital Improvement Board who led the city's bid for last year's game.

"Dallas just had more money-making inventory than we had," Glass said. "Cowboys Stadium was a financial juggernaut we simply couldn't compete against."
Indianapolis did have at least one ace to play when it bid in 2007 for last year's Super Bowl and in 2008 for this one.
Colts owner Jim Irsay, unlike Cowboys owner Jerry Jones, was willing to give up all the money, primarily money from suites, that he was entitled to from the game.
The city also promised an engaged fan base and a physical set-up it said would result in better NFL Experience attendance and Super Bowl merchandise sales.
NFL Experience attendance easily exceeded the 200,000-person record set by Glendale, Ariz. The attraction in the Indiana Convention Center is right next to Super Bowl Village, which had drawn more than 430,000 people by the time IBJ went to press; event organizers expected the total to exceed 750,000.
Another feather in our cap: Indianapolis is small enough that the Super Bowl would always take center stage.
"Anyone who comes into Indianapolis knows the Super Bowl is in town," Supovitz said. "The Super Bowl won't get lost here."
It's a particularly popular host city among NFL staff members, he said, because the proximity of downtown's hotels meant the league's morning meetings could start 30 minutes later than usual.
Getting a few extra minutes of shut-eye wasn't the only thing about Indianapolis that impressed the NFL staff. They gave Super Bowl Host Committee CEO Allison Melangton and her top deputies a standing ovation early in the week at one of several morning briefings.
No room at the inn?
By population, Indianapolis is the smallest Super Bowl host city since Jacksonville, which saw its first and likely last Super Bowl in 2005, one in which cruise ships were floated in as auxiliary hotels.
Indy's hotel inventory also is seen as a liability. Downtown has 7,100 hotel rooms, but that's far fewer than the 17,000 the NFL requires for its management, team players and personnel, media and sponsors.
Indianapolis has 33,000 hotel rooms city-wide, but still there have been complaints that some league partners and other corporate interests are staying too far from the action.
Former Indianapolis Convention & Visitors Association CEO Don Welsh had advocated for another 1,000-room convention hotel to be built downtown in the next five years. That would go a long way toward helping earn Indianapolis another Super Bowl.
But Leonard Hoops, who took over for Welsh in May, is more conservative.
"We have to let market demand drive hotel development," Hoops said. "I'd say when you get to 68 to 70 percent year-round hotel occupancy, you can start thinking about a project of that magnitude."
In 2011, downtown hotel occupancy was 66.4 percent, up 1.8 percent from 2010 despite the opening of the 1,005-room JW Marriott in February. In the metro area, 2011 hotel occupancy was 57.5 percent, up 5.9 percent from 2010.
The ICVA's ability to book annual conventions could be more of a driver than the Super Bowl in expanding the hotel market.
This year's game has been a powerful tool to that end. The ICVA was set to host three big groups Super Bowl Sunday that currently hold their convention in Chicago, Hoops said. Those groups could bring more than $100 million in annual economic impact if they are impressed by the way Indianapolis handles the Super Bowl.
"The economic impact of this Super Bowl is just the tip of the iceberg," Hoops said. "Feb. 6 is the beginning of a new era. It's our coming-out party, and we certainly hope luring another Super Bowl party is part of the celebration."
Built for the Super Bowl
This year's Super Bowl might never have come to fruition if city fathers didn't specifically plan and design Lucas Oil Stadium to host the NFL's biggest game.
The stadium was placed on the lot in a way that allows people to easily enter and exit the stadium and walk to and from the heart of downtown.
It was as if city leaders already had the Super Bowl Village in mind in 2006, said Brian Trubey, design principal for Dallas-based HKS Sports & Entertainment, which was the lead architect on the project.
"The way the stadium was laid out on the site and linked to the Convention Center was key to luring a Super Bowl," Trubey said.
Key to the design was maximizing revenue potential without making the stadium too big for Colts regular-season ticket demand.
To do that, HKS put all the club seats between the 20-yard lines instead of the traditional ring around the bowl. More suites were put along the sidelines and fewer in the corners than in traditional football venues.
All that premium seating in prime real estate allows the NFL to generate more money than it would from a similar-size venue built in an earlier era, Trubey said.
Still, there's no getting around the NFL's thirst for revenue, and the city's stadium makes Indianapolis a Super Bowl underdog, said Marc Ganis, a Chicago-based sports business consultant who counts the NFL and several of its teams as clients.
"You have to sell a lot of NFL Experience tickets at $25 each and T-shirts for $30 to make up for each and every extra seat another stadium can fill for $1,000," Ganis said.
Downtown an asset
A future Super Bowl bid could lean on the city's compact downtown and the stadium's proximity to help generate additional revenue.
"Indianapolis is hosting one of the most urban Super Bowls ever," Ganis said. "There could be some real untapped opportunities there."
Host committee Chairman Mark Miles, Melangton and other city leaders are pondering ways to drive more revenue to the NFL through the massively popular Super Bowl Village.
"The village is so unique, we think it gives the NFL a new option [in revenue generation]," Miles said. "If I were [NFL officials], I'd think about coming back and partnering in the village and weave sponsors throughout that attraction."
Miles doesn't want to charge admission to the village, but thinks there are ample opportunities for the league to use the stretch along Georgia Street to serve its corporate partners.
If Indianapolis and the NFL partnered in such a deal, it would be the first such Super Bowl business collaboration.
Miles said the village, operated by the host committee, is a financial loser because it was set up as a test attraction and not a money-generator.
"Honestly, we set up this party, and we didn't know how many people would come," he said. "The response to it from the local community and visitors has been overwhelming."
Miles wouldn't say how much of the committee's $29 million budget was spent on operating the village other than, "It is a significant expense. It cost millions."
The pitch
Ultimately, the NFL's owners are the folks the city would have to convince to bring back the league's marquee event.
At least one of them, Colts owner Jim Irsay, is committed.
"On the face of it, when you think about hosting a Super Bowl, you wouldn't necessarily think about Indianapolis, Indiana," Irsay said. "But I really think we have a serious case for this event returning. I'm fully committed to trying to make that happen."
The host committee paid special attention to the league's owners during the Super Bowl festivities: A special VIP Services Committee assigned a local business executive—including representatives from Hunt Construction, KPMG and Indiana University Health—to personally attend to the needs of each of the 32 NFL owners.
Before they arrived in town, team owners were given cards with the name and contact information for their personal concierge. The volunteers helped arrange hotel rooms, offered travel advice, and reserved tables at St. Elmo.
It's not a new approach for Indianapolis, which set up similar arrangements to welcome high-profile visitors for the U.S. Grand Prix at Indianapolis and the World Basketball Championships.
"Our goal is to make Indianapolis the best city to host any event, including the Super Bowl," said Ersal Ozdemir, CEO of Keystone Construction and co-chairman of the VIP committee. "Do we hope to host the Super Bowl again? Sure. Who makes the decision? Team owners. When we go back and bid again, hopefully they remember the extra touches."•
Please enable JavaScript to view this content.