The Indiana State Fair Commission has broken ground on a 5,520-square-foot structure called the "Glass Barn" that will "immerse visitors into the everyday life of a grain and livestock farm family."
The $2.9 million building on the 250-acre fairgrounds campus will feature interactive exhibits focusing on new technologies used on modern farms, along with live video interaction between farm families and state fair visitors.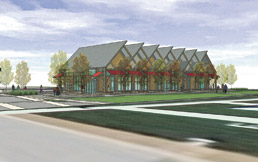 The "Glass Barn" at the fairgrounds will aim to teach visitors about modern-day Indiana farming. (Rendering Courtesy Indiana State Fair)
The mostly glass building, designed by Jonathan Hess of locally based Browning Day Mullins Dierdorf Architects, is scheduled to open Aug. 3, the first day of the fair.
The Glass Barn will serve as the welcome center for The State's Largest Classroom, the fairgrounds' agricultural education program. It will be paid for primarily using funds from the federal soybean checkoff program, along with contributions from the Indiana Corn Marketing Council.
Please enable JavaScript to view this content.