Kevin Emmons and Joshua Mitchell haven't always been dating gurus.
The business partners met three years ago in a cafe where Mitchell was working through the pain of a breakup and Emmons was working up the nerve to talk to women.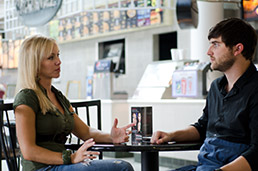 Mandi Hill and Miss Pivot co-owner Kevin Emmons role-play for a promotional video touting the social communication skills the service teaches. (Photo courtesy Miss Pivot)
Now they run Miss Pivot, an Indianapolis-based business that aims to help others understand—and master—the science of relationships.
The firm offers one-on-one coaching from professional "wing" women, group classes on topics like starting conversations, and now a mobile app that promises users the knowledge they need to "Fire Cupid."
"We're in the confidence business," said Emmons, 29. "These aren't skills for picking up other people, necessarily. These are skills for … knowing how to put your best foot forward."
That's a lesson they had to learn the hard way. The pair bonded over Mitchell's inability to get women to respond to his overtures—"They were totally shutting him down," Emmons said—and decided to figure out what they were doing wrong.
Analytical by nature, they began studying the science of human interaction and soon realized others could benefit from their insight. So they set out on a road trip to a Startup Weekend event in North Carolina and Miss Pivot was born in the blink of a batted eye.
"People don't know what box to put us in," said Mitchell, 27. "We're not an online dating site. We're not an escort service. We're not pickup artists. … There is a lot of science behind what we do."
Indeed, reading facial expressions is paramount to successful human interaction, said Sayaka Matsumoto, a representative for Humintell, a California-based company that provides micro-expression training and certification.
"They can give insight into how the person is really feeling," Matsumoto said. "It can give you insight on what to dig more into or what makes someone uncomfortable."
And that, Miss Pivot's owners say, can be the difference between a strikeout and a home run.
Emmons and Mitchell, who is certified in reading facial expressions, teach non-verbal communication skills to clients and wing women alike. Miss Pivot has coached both men and women—more than 100 so far—but male clients are more likely to opt for the $85-an-hour one-on-one sessions and "pivot" service. Female clients tend to prefer group classes, which run about $40.
The wing women, called "pivots" because they help clients turn the corner in their love lives, accompany clients on trips to bars, malls or other venues to practice what they've learned. The company works with about a dozen such women on a contract basis, accepting referrals and throwing parties to audition potential pivots.
The partners spend a great deal of time training the wing women and learning about their personalities in order to help match them up with clients.
"We expect them to have certain skills," Emmons said. "You don't want some loud, crazy-looking girl going out with a bookworm-type guy."
Emmons, who has a computer science degree from Miami University, leads Miss Pivot's media development efforts. Mitchell focuses on the company's vision and growth. And a third partner, University of Indianapolis graduate Andrew Gouty, offers strategic advice. Gouty and Mitchell were high school classmates in Bluffton.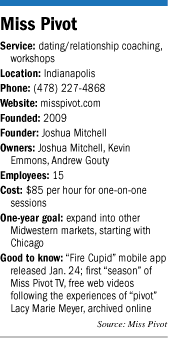 They declined to release financial results, saying only that the company is coming close to breaking even despite expenses that total about $4,000 a month—more than Miss Pivot spent during its first 18 months of operations.
Much of that cost is tied to development and promotion of the new Fire Cupid mobile app, released to the Apple marketplace Jan. 24. The $12.99 app, billed as a "portable wingman," offers interactive instruction—including video demos—on face-to-face communication.
"The idea is that you want to fire Cupid and learn the science of dating because what he's been doing for you obviously hasn't been working out," Mitchell said.
It covers some of the same ground as Miss Pivot TV, a series of online videos following the experiences of new "pivot" Lacy Marie Meyer. The first five episodes of the first season are available online, with the remainder set to be released this month.
In the most recent episode, Meyer and Emmons showed viewers how to recognize and safely navigate the "bubble" of personal space most people expect to maintain in social settings. Emmons recommended approaching targets from the side, rather than head-on, for example, to avoid coming across as a threat.
Mitchell and Emmons said they hope an inside look at the Miss Pivot world will help the public understand what the company is all about. The service is increasingly necessary, Mitchell said, as adults become less social and more absorbed in technology.
And it doesn't hurt that about 40 percent of U.S. residents older than 18 are single, according to 2009 U.S. Census data.
"The savvy companies who cater to the singles market are going to not only be ahead in the future, but they will also be more profitable by having access to a much wider audience, simply due to the number of singles that are growing in population in this country," said fellow entrepreneur Erin Albert, founder of Indianapolis-based Yuspie, a hub for single professionals.
A lot has changed since 2009. The formerly bashful Emmons now has a girlfriend, and Mitchell has turned his focus to his growing list of startup ideas. The partners are optimistic about growth possibilities here and elsewhere.
By summer, they're looking to expand the service to Chicago, and possible franchising opportunities also are on the table.
In the meantime, the serial entrepreneurs are working on other projects—including Denver marketing firm Rella SEO and book application developer Pixl Publishing—to supplement their income.
Onetime client Brandon Bowen is a believer, even though his Miss Pivot experience didn't result in a full social calendar. Bowen, a 35-year-old Ivy Tech Community College student, said the training was worthwhile, anyway.
"I walked away with some realizations that I think ultimately made it easier for me moving forward," Bowen said. "I was just amazed at how easy it is to just start talking to a random woman, at the bar, or the mall or wherever you happen to be."•
Please enable JavaScript to view this content.