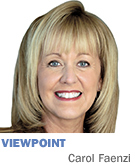 Within my circle of friends live creative people who devote their lives to bringing beauty and healing into the world via sculpture, writing, teaching yoga and other forms. As someone who left the corporate world to pursue a path that could contain both "business" and "art," I have a deep appreciation for those who make difficult choices to honor the gifts they have to offer society.
Often, the choices involve departures from what society has labeled as "norms." Even if one has inherited money or has built reserves from a career, these departures are daunting. If one's identity has been based on being a manager, CEO or president of something, what happens when he chooses an unconventional path?
Most of the time, this kind of news is met with, at best, cautious reserve and at worst, a fearful backlash. It's as if the person is about to plunge into an abyss.
I know a woman in her early 40s, a breast cancer survivor, successful in her career but deeply unsatisfied with her work and life. She visited a favorite foreign country several times and decided she wanted to experience living there. Many of her friends were shocked and took pains to tell her all the reasons she should not take the risk, most of these having to do with financial security or otherwise "throwing away her career."
She wavered, but ultimately went on her own. There was no man or job waiting for her. The road was at times rocky. There were moments she thought she had made a mistake.
But there was also this, she told me: "If I come back and don't re-enter the corporate work force, I have no chance of getting affordable health insurance with my pre-existing condition."
A similar refrain plays constantly among those who have chosen or are contemplating a departure. (Talk about a deterrent to would-be entrepreneurs.)
Then there are the ones who, in spite of it all, live their lives doing what they were born to do, but have no insurance whatsoever, or perhaps they have a policy with a sky-high deductible in case something catastrophic occurs.
Choosing to do the work one feels compelled to do in American society, when it does not fit into the margins of how success is defined here, is a courageous act. We want artists and writers to inspire us. Ironically, many people who seek these services do so because they are not working in environments that bring them much fulfillment.
It is a travesty that a country that aspires to greatness is not great in making sure everyone has basic health care. I tire of hearing the label "socialist" attached to anyone who dares speak of how other countries like Sweden or France take care of their citizens in this regard. Many are so fearful of what they might lose, minds remain closed to what we might gain by starting with the premise that health care is everyone's right.
All around us are people who want desperately to do something they love, to make a difference, too, to let their light shine creatively, positively. They are willing to take some risks and don't require guarantees. They understand they are probably going to take an income hit. Some will go ahead, hoping they will never need an insurance policy or that one day they will be able to afford one.
Others will not because they have a health issue or families. So creativity is aborted and many people live "quiet lives of desperation and go to the grave with their song still in them," as Thoreau once put it.
Herein lies a big chunk of our health care crisis.•
__________
Carol Faenzi is an author, public speaker and life coach. Send comments on this column to ibjedit@ibj.com.
Please enable JavaScript to view this content.