Charter schools for adults continue to pick up steam, as Christel House International prepares to launch the fourth such school in Indianapolis.
Christel House will open Christel House DORS, which stands for dropout-recovery school, in August.
The school initially will enroll 175 and gradually ramp up to 300 students. Each student enrolled qualifies Christel House to receive roughly $7,000 in funding from the state government.
Masengale
"The city's need is huge, but this neighborhood's need is drastically more significant than the rest of the city," said Emily Masengale, principal of Christel House DORS. The new school will use the same facility that now hosts the K-12 Christel House Academy at 2717 S. East St.
She cited U.S. Census data showing that 45 percent of adults on the southeast side of Indianapolis have neither a high school nor GED diploma—compared with 20 percent in all of Marion County.
Even that 20 percent is one-third higher than the national average, and means that one in every five residents of Marion County is effectively blocked from obtaining the postsecondary credentials required for more and more jobs.
Nearly two-thirds of new jobs created from 2008 to 2018 will require some kind of postsecondary degree, according to a 2010 analysis by the Georgetown Center on Education and the Workforce.
"Postsecondary education has become the threshold requirement for a middle-class family income," Georgetown's Tony Carnevale, Nicole Smith and Jeff Strohl wrote in their report.
Christel House DORS will borrow heavily from the successful Excel Centers operated by Goodwill Industries of Central Indiana. Those schools have 815 students, with another 110 on a waiting list.
Masengale, 27, said she had many discussions with Scott Bess, Goodwill's chief operating officer for education initiatives, and even spent a day observing classes at Goodwill's Excel Center on West Michigan Street.
Goodwill already has won approval for a fourth Excel Center, in Anderson, from the new Indiana Charter School Board. And Goodwill spokeswoman Marquisha Bridgeman said the not-for-profit is mulling another Excel Center for the east side of Indianapolis.
Beth Bray, who is director of charter schools for Indianapolis Mayor Greg Ballard, said her office has approved the four schools—and is open to more—because they are meeting a need that other schools clearly weren't.
"There probably will come a point, somewhere down the road, where we hit a saturation point," Bray said, but right now she senses a big gap is still far from being filled.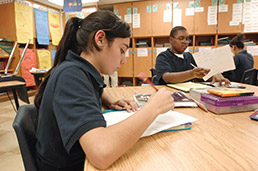 Since its founding in 2003, Christel House Academy has posted steady gains in student achievement. Now it will try to do the same with high school dropouts. (IBJ file photo)
"There really weren't many programs out there," Bray said, for adults to go back and earn a secondary degree. Finding one that also offered convenient hours was extra difficult.
The Excel Center offers lots of evening and weekend classes, as well as day care for kids. Christel House DORS also will offer both day and night courses, and will give students vouchers to help pay for day care.
"While certainly it's not the cure-all for the dropout crisis Indianapolis is facing," Bray said, "we see this as just one avenue."
Christel House DORS has set up a partnership with Ivy Tech Community College to offer dual-credit courses. That way, Masengale, said, DORS students who are ready for it can finish their high school degrees and get a head start on college.
In part because it's relying on Ivy Tech, Christel House plans to hire only part-time teachers, as many as a dozen, Masengale said.
Christel House DORS' full-time staff will consist of Masengale and three "resource specialists," who will recruit students and meet with them regularly to coach them through the challenges of going to school while also working, being parents or struggling to cope financially.
Christel House, which is a charitable organization formed by Resort Condominium entrepreneur Christel DeHaan, is funding the upfront expenses for the school—before state funding kicks in. Christel House DORS also has received a startup grant from the Arkansas-based Walton Family Foundation to launch the school.
Masengale, an Indianapolis native and Indiana University graduate, was hired away from Indianapolis Public Schools, where she had been an assistant principal for a year at School 91, one of IPS' K-8 Montessori schools.
Before that, she was part of Teach for America in St. Louis for two years and stayed on teaching there for an additional two years.
"I did want to get back to Indianapolis because I knew the education needs were growing here," Masengale said. "I knew I wanted to put my experience to work here."•
Please enable JavaScript to view this content.